Reviews
Finn's in Joplin is a Cozy Secret Dining Spot
Tucked into a quiet corner of Joplin Missouri's The Emerson event space is Finn's, a cozy dinner destination serving stick-to-your-ribs fare, such as fried catfish, chicken fried chicken and bacon and seafood stuffed shrimp.
By Claire Porter
Nov 2019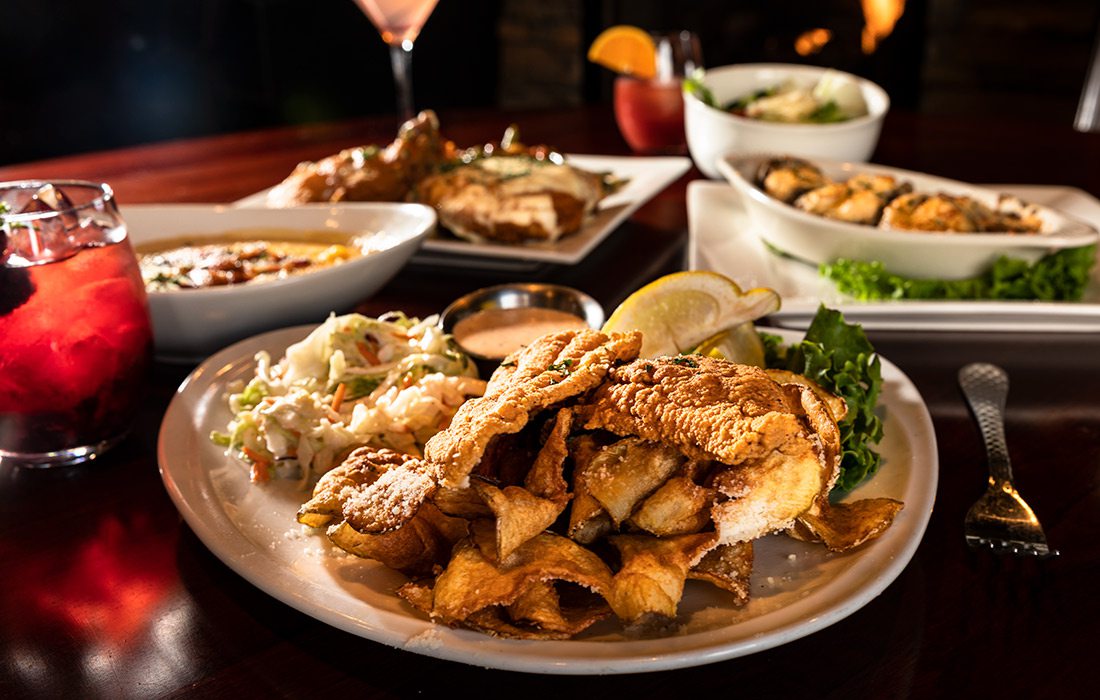 As a Springfieldian, I don't head out to Joplin often enough, and when I do, I typically hit my tried-and-true favorites. A naturally restless person, I like to shake up my routine, so hearing that there was a relatively new dining experience in the area was exactly the push I needed to try something different on a recent Joplin visit.
Finn's (2707 E. 32nd St., Joplin, 417-624-3466) is an extension of the Clark's Cuisine mini-empire. Clark's is a catering business that also operates a food trailer and a restaurant in Carls Junction, and all of it is connected to an event space and event planning business as well. The restaurant is tucked in the back corner of an unassuming strip mall, but when you enter, the bright, airy interior of The Emerson event center belies the exterior. An immediate right turn takes you into Finn's, a cozily modern room with dark walls, a crackling fireplace and tall leather chairs.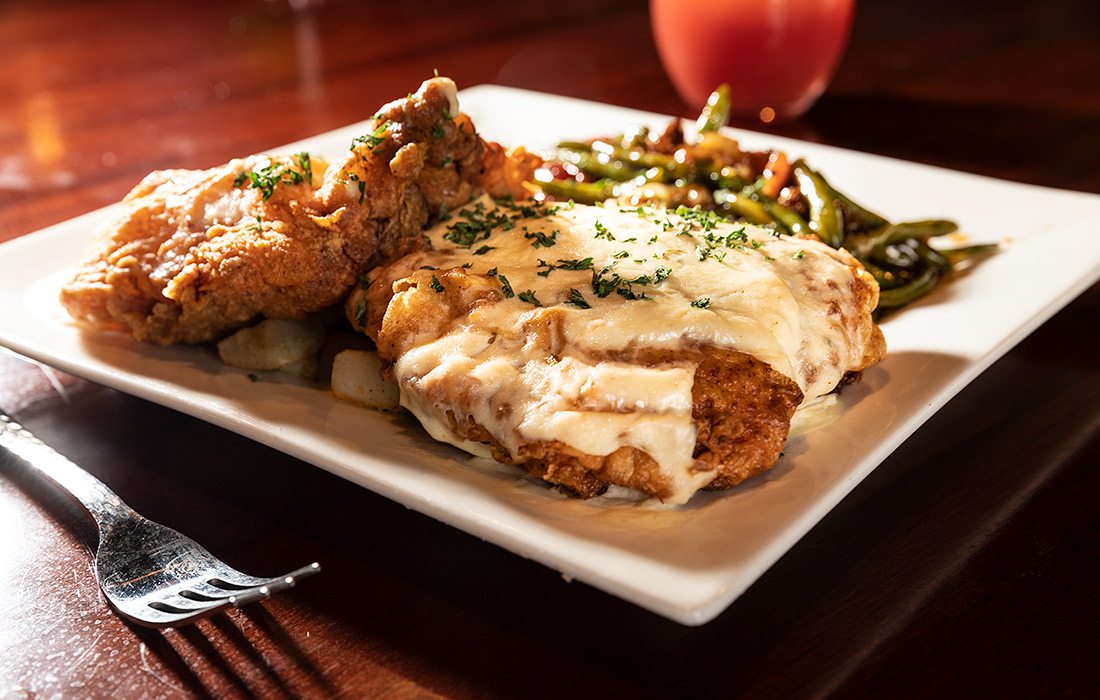 The menu at Finn's leans into steakhouse territory with plenty of steaks, chopped salads, steak salads, seafood entrees and dip appetizers, but there are enough casual options, like sandwiches, burgers, fried appetizers, ribs and fried chicken, to please a varied palate.
My companion and I started out with a cocktail from the signature drinks menu. Each item is named after a Joplin landmark or a business in the Clark's family, which is a pleasantly personal change from standard cocktail menus. We decided to start our meal with something warm and cheesy—so the bacon and seafood stuffed mushrooms were calling our names. Plump button mushrooms were packed with bacon cream cheese, hearty chunks of shrimp and crab meat and gooey mozzarella, all of which was swimming in a pool of hot butter. We knew our arteries would hate us for it, but we polished off the plate.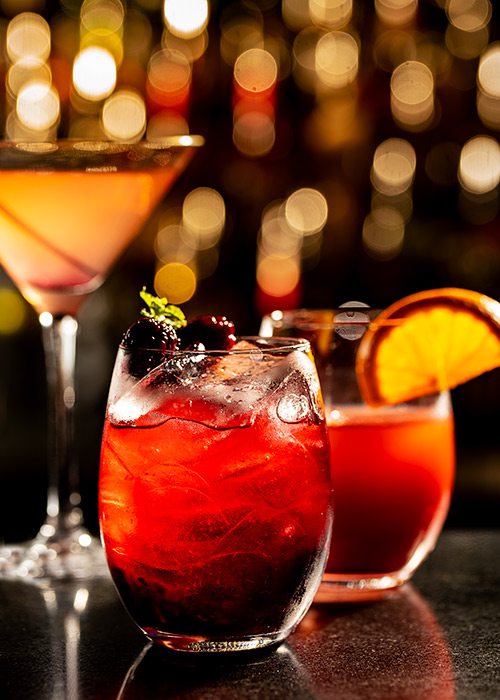 One of the draws of Finn's in Joplin is the list of signature cocktails including the 32nd St., the Fal & Al and The Joplin.
Purchase Photo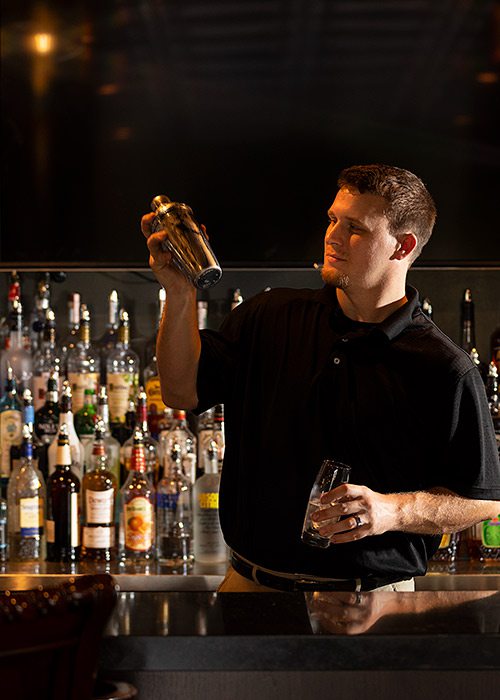 At Finn's cozy bar, Alfred Mains IV can whip up one of the restaurant's signature cocktails, all of which are named after a 417-land locale or another Clark's Cuisine business.
Purchase Photo
Photos by Brandon Alms
Because we had already taken in enough cheese and calories for four adults, the two of us decided to go for something lighter and healthier for our intermezzo—or, rather, one of us did (it was me). A small side salad helped counteract all the dairy I had just consumed, though a few bites of my companion's potato soup proved I had made the wrong decision. It was hearty, starchy and warm—oh, and also quite cheesy.
Our entrees were equally as stick-to-your-ribs as the starters. The Clark's Catfish sandwich was huge and made up of a crispy, flaky catfish filet and house-made tartar sauce, and the Clark's Chicken Fried Chicken was a massive, juicy chicken breast smothered in gravy and set atop crispy home fries. Each dish was so filling and large we both ended up taking leftovers for lunch the next day. The expansive menu does have lighter entrees like salads and seafood for those not wanting to indulge, but the dark and subdued atmosphere makes you want to hunker down. No matter your palate, the menu has enough options that you could easily find something that piques your interest at this little corner restaurant that's full of surprises.
There's More to Enjoy at Finn's
Sit on Finn's Patio
Towering heat lamps, spacious lounge seating and eye-catching fire pits outfit the patio at Finn's, making it a tempting way to spend a warm (or cool!) evening.
Selfie Station
The interior of Finn's and its conjoined The Emerson are carefully designed, and no detail escaped notice—including the bathrooms. The sleek white marble interiors include bright mirrors begging to be used to snap a fire selfie (they even encourage it with a bathroom selfie hashtag).
All in the Family
Finn's is operated by catering business and Joplin-based food trailer Clark's Cuisine. The group also operates The Junction Cafe, serving classic pub fare and homestyle dishes in Carls Junction; the Emerson Event Center, connected to Finn's; and Precision Events, an event planning, design and rental business.