Reviews
Our Review of Traza Contemporary
With a top-floor location and a chef from Tulum, Mexico, Traza Contemporary serves a chic menu packed with wordly flavors.
By Katie Pollock Estes
May 2023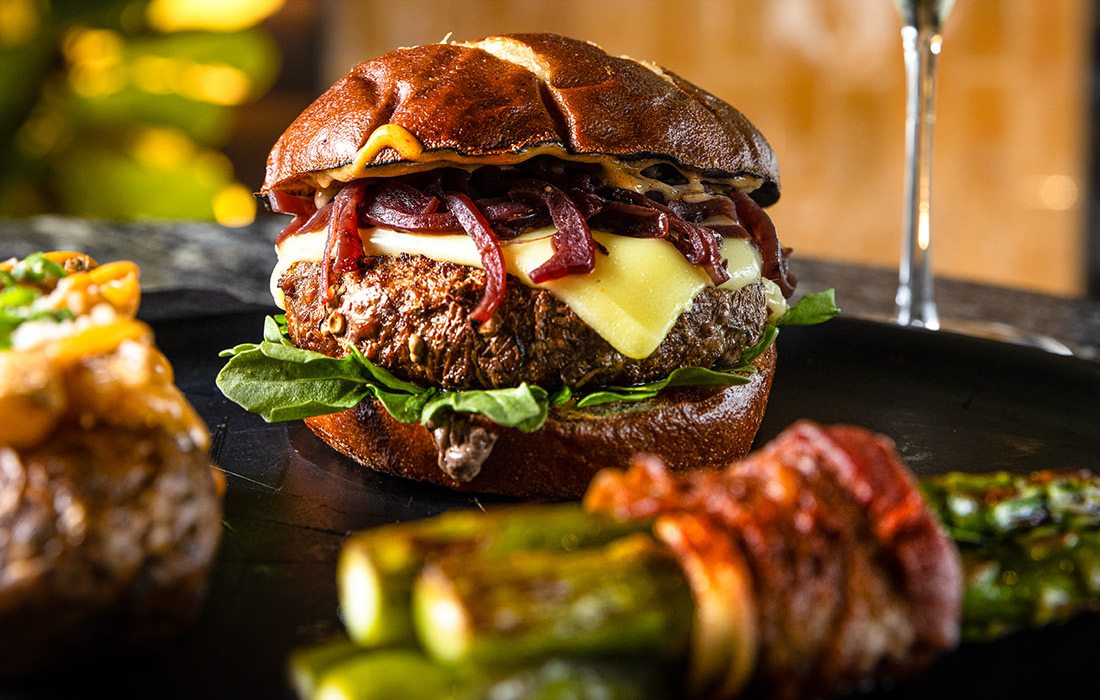 On the top floor of Farmers Park, Traza Contemporary brings a chic dining experience to southeast Springfield. The dimly lit and well-decorated dining room has an upscale, moody, sexy vibe—and the menu is honestly pretty sexy too.
Traza is owned by Alejandro and Catherine Hernandez, who also own another popular south Springfield eatery: Catrina's Modern Mexican. Executive Chef Eddy Saavedra is at the helm at Traza, and he comes to Springfield via Tulum, Mexico, bringing worldly flavors with him. The menu reflects that, and dishes come to the table beautifully presented, colorful and creative.
I dined at Traza shortly after they opened, along with my husband, Eli. Since then, the menu has undergone a big revamp, and most of what we ate is no longer available. You can read about the dishes and drinks we tried here in this story, and check out some of the new menu offerings in the photos to get a feel for what you can try if you visit now.
We started our meal with the scallop fumet appetizer featuring clam-coconut sauce, fresh herbs and salmon roe. The scallops were absolutely delicious—big, tender and perfectly seared. I could have eaten an entree's worth of those beauties, which were served on scallop shells for a lovely presentation.
Eli was in the mood for something light and bright, so he ordered the burrata salad for his entree. It was a fresh and colorful meal that brought together a variety of textures and flavors in the form of fresh herbs, creamy avocado, tender arugula, juicy tomatoes, crunchy cashews and pepitos and more. There were also indulgent little nibbles of sliced Spanish sausage. He enjoyed the flavors and felt like satisfied but not stuffed when he was finished. 
I was in the mood for seafood, though, so I ordered the crispy sea bass entree. The fish was seared with crust of thinly sliced golden potatoes, and it was cooked perfectly: tender and delicately flaky. It came with a cauliflower puree that I loved almost as much as the fish. Delightfully seasoned and oh-so-smooth, this creamy side was irresistible. 
We loved the cocktails we tried, and our favorite was by far the Mai Taime. This take on a classic mai tai was beautifully balanced and supremely sippable (I had two, in fact), made with Diplomatico rum, lime, orgeat and aperol. The Pink in Paradise was a fun fruity option too, with Casamigos Blanco, yuzu, grenadine, agave and grapefruit soda.
To cap off our meal, we ordered the restaurant's blueberry cheesecake dessert. The cheesecake was swirled with blueberry, topped with fresh blueberries and blackberries, and served with a side of vanilla ice cream. It was a little on the sweet side for us—but hey, it's dessert, right? The ice cream on the side was a fun touch.
A couple of dishes survived the menu update and are still available, like the beautiful-yet-comforting beef wellington and the impressive Traza Tomahawk (a 40-ounce beast of a steak  served with red pepper sauce and chimichurri). Those were both dishes I was eying on my first visit but didn't get a chance to try. Maybe I'll taste them on my next visit. But honestly, the new Tiradito Scallops appetizer with clever ingredients like pop rocks and pineapple chips has sparked my curiosity the most. Either way, I'm sure my next visit will feature as many flavorful surprises as my first, and I am truly looking forward to it.