Reviews
For a Meal That Will Take You to Church, Head to The Finley
If you've been looking for a fine-dining experience in Ozark highlighting local ingredients, consider your prayers answered at The Finley.
By Claire Porter
Sep 2019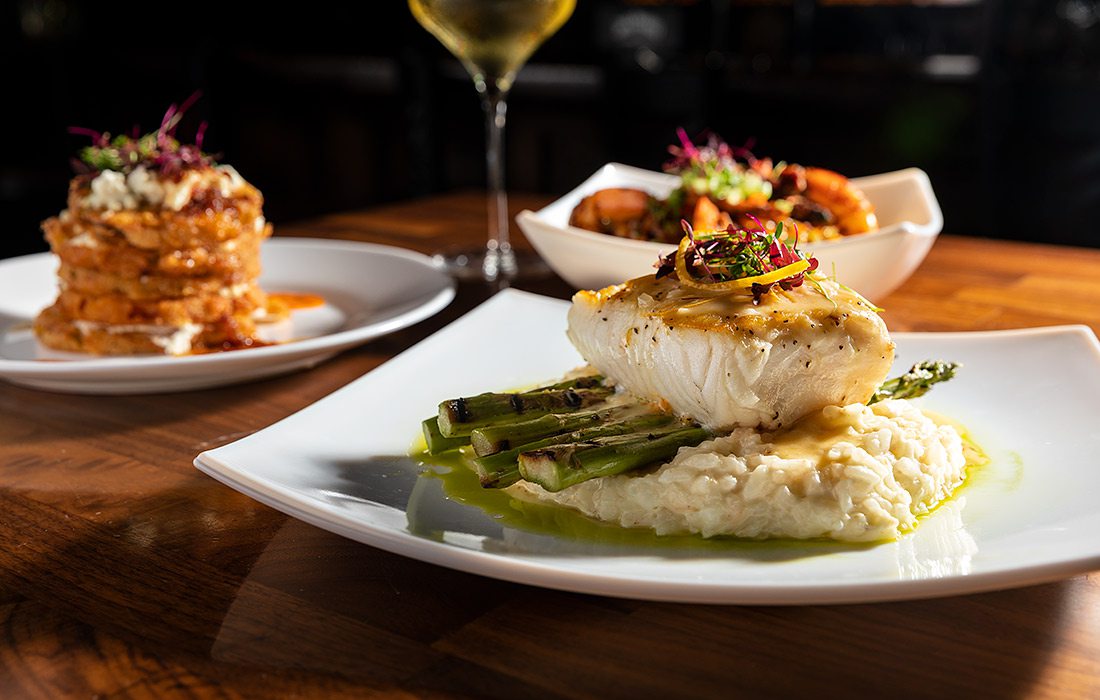 Food is always a near-religious experience for me. For proof, just look at all the meal photos I've captioned, "This took me to church." I can't count how many times I've responded with, "You're preaching to the choir" to someone who has tried to tell me about a restaurant I already love. And let's not even attempt to quantify my practically infinite utterances of "Oh my God," in response to a stellar bite or sip. Seeing that I worship at the altar of appetite, it seemed only fitting that I head to an actual church for dinner. Well, let's not get ahead of ourselves—I went to a restaurant inside what was once a church.
What Is The Finley?
What I call Restaurant Church is perhaps more formally known as The Finley, a fine dining establishment housed inside a renovated church off the Ozark square. The building itself is historic, but updates over the years have expanded its footprint beyond the original church. A sprawling back room, a bar and a downstairs speakeasy are all part of the renovated space. The main dining room is in the nave, and instead of pews, tables are scattered across the polished wood floor, with crisp white walls soaring toward the heavens and stained-glass windows dappling the light. At first glance, it seems like it might be cavernous and full of echoes, but curtains around the room kept the noise level manageable, and the high ceilings lighten the space.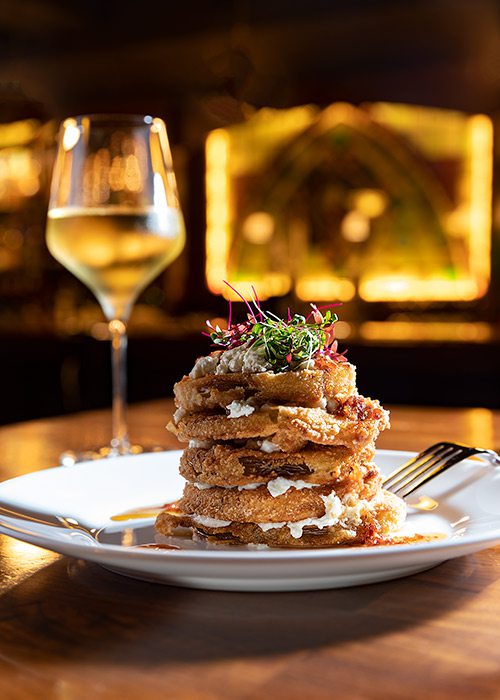 The Finley Fried Tomatoes are coated in a crisp batter and come drizzled with a slightly sweet read pepper vinaigrette. The dish is paired with goat cheese.
Purchase Photo
Photos by Brandon Alms
Local Soul Food
Although the atmosphere is reminiscent of a holy experience, the meal is the true revelation. In celebration of the abundance of the Ozarks, the menu at The Finley highlights local farms and suppliers, like Edgewood Creamery, Neighbor's Mill, Millsap Farm and more. We started our meal with the Finley Fried Tomatoes. Juicy green tomatoes are encased in a light and crispy batter and come drizzled with a sweet-yet-smoky roasted red pepper vinaigrette and studded with tangy goat cheese. As our waters turned to wine (no miraculous transformations here thanks to a well-priced wine list), we selected entrees.
While You're at The Finley
Head downstairs to The Finley's speakeasy for an intimate lounge atmosphere and extensive spirits offerings. The dark wood-paneled space has plenty of cozy couches and stained glass and exudes a secret library vibe.
Mirroring the lush landscape of the Ozark square a few feet away, The Finley has a flower-filled courtyard with a gurgling fountain, setting a calming scene for your meal ahead.
Although the restaurant's main dining room is the main attraction with its open floorplan and soaring ceilings, tuck away to the private dining spaces in the rear of the building for a more personal setting.


Salvation Through Seafood
The menu emphasizes seafood and shellfish, so we continued our Southern journey with the shrimp and grits. Juicy Cajun shrimp brought peppery bite to creamy, smoky corn grits. Craving something fresh, light and acidic, too, we couldn't pass up the seabass special. Poached sea bass was served with Grand Marnier butter sauce and perched atop a smooth crab risotto alongside tender asparagus. Every bite was ambrosial with a hint of lemon, and each element was as worthy of savoring on its own as it was commingling with the other components.
Portion sizes were small enough that we didn't feel overwhelmed but generous enough that we had some leftovers—and this is a meal you're guaranteed to want to taste again. The next time your appetite needs some salvation, consider hopping down to the Ozark square for a near holy flavor experience. And maybe if you feel like sinning a little, you'll save some room for dessert.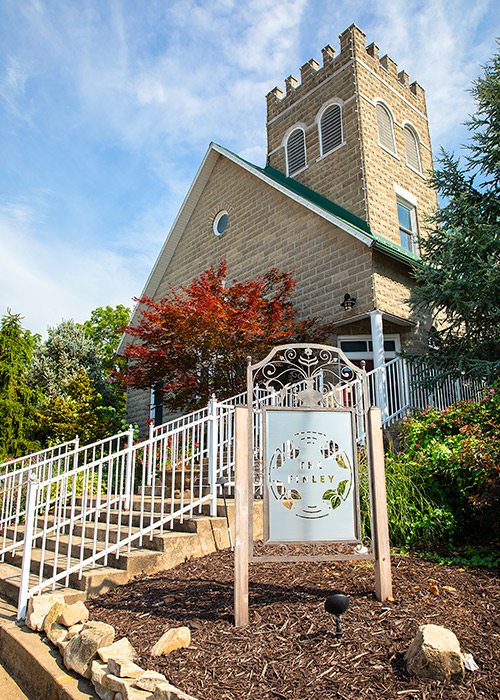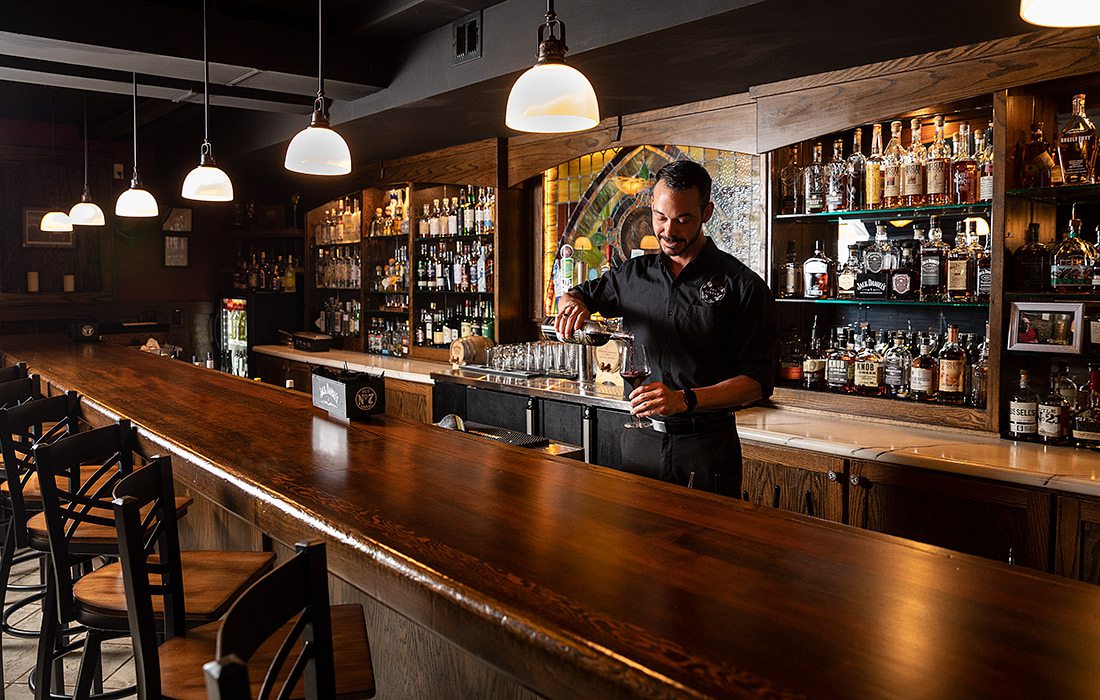 206 E. Elm St., Ozark, 417-582-1912
Tue., 11 a.m.–2:30 p.m., 4 p.m.–8:30 p.m.; Wed.–Fri., 11 a.m.–2:30 p.m., 4 p.m.–9 p.m.; Sat., 5–10 p.m.