Guide To Farmers' Markets
When it comes to sustainable living, farmers' markets are the latest national craze, and smack dab in the middle of farming territory, 417-land is ripe with dozens of them. Some of these markets have been around for decades, and others are just startin...
Apr 2013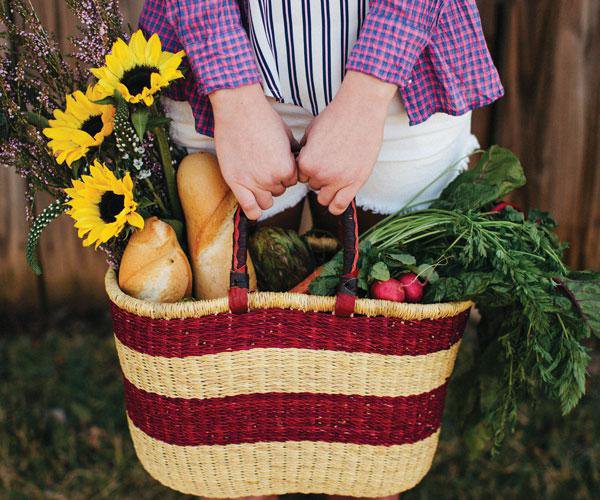 When it comes to sustainable living, farmers' markets are the latest national craze, and smack dab in the middle of farming territory, 417-land is ripe with dozens of them. Some of these markets have been around for decades, and others are just starting their first or second seasons. For this story, we scouted a few of southwest Missouri's most-talked-about markets and met some of the many producers, growers, bakers and ranchers who are keeping them stocked. Read on to explore 417-land's biggest farmers' markets, then plan your own trip, and fill your pantry with locally grown and produced food.
By Ettie Berneking | Photos by Alex Crowder, Jamie Kalil and Kevin O'Riley
Model Bekah Ogden • Hair & Makeup by Ty Harshman • Styling by Jamie Kalil and Ty Harshman
Located along Commercial Street in Springfield, this neighborhood market is nestled under the pavilion at the foot of the Jefferson Avenue footbridge and prides itself on being smaller and more intimate. Thanks to the efforts of the Commercial Club, a civic organization that represents the interests of business and property owners along Commercial Street, the market began in 2000, and it has an average of 20 vendors in attendance each Saturday. Drury architectural students have had their hands on a few structural components of the market, and they built the pavilion that acts as its Grand Central Station, which is always buzzing with neighborhood chatter and activity.  
Acting as a community gathering point, the C-Street Market offers much more than fresh produce and baked goods. It's a place to meet friends and neighbors, then join them at a picnic table to chat over a cup of hot coffee or fresh cinnamon rolls. Vendors sell everything from fresh fruits, locally grown produce, eggs, free-range fowl, organic vegetables and baked goods to bouquets of flowers. The bustle of the market is often accompanied by the sounds of live music, and there's even a masseuse who can help work out the stress of the workweek.

Cheddar jalepeño bread from Sisters in Thyme bakery is a C-Street Market favorite.
Sisters in Thyme
After working as a surgical technician for 25 years, Marty Cooper decided she wanted to learn to bake. To hone her skills, she began selling her homemade goodies at C-Street Market. Cooper partnered with her best friend who grew herbs, which Cooper then used in many of her breads and rolls. In 2011, she opened her own store, Sisters in Thyme Bakery, located right across the street from C-Street Market. Cooper still carts dozens of loaves to market each week.
Julia's Java
Julia Snyder has been selling locally roasted coffee for more than 10 years. For many of these years Snyder co-owned a coffee shop in Branson where she brought gourmet java to 417-land. Besides her regular stash of customers who bought their weekly supply of beans at her shop, Snyder was also busy mixing up batches of coffee made specifically for a string of Branson stars. Now that she's moved to Springfield, Snyder is selling her coffee at the C-Street Market. 
Anna Rose GreenHouse
Susan Tolliver and her husband, William Hutcherson, own Anna Rose Greenhouse. When she was 24, Tolliver tried her hand at canning green beans and tomatoes for the winter. Those first few cans led to a love of heirloom vegetables. Today, Tolliver grows 12 kinds of peppers and some 1,000 heirloom tomato plants, and she sells dozens of pepper, tomato, onion and cucumber plants at the market.
Started in 1978, the Greater Springfield Farmers' Market is the oldest market in the Springfield area. It originally began as a way for farmers and gardeners to sell off their surplus produce, but eventually, people began planting extra crops just to sell at the market.
Over the years, the number of vendors climbed steadily, and a stream of regular shoppers started showing up as early as 6:30 a.m. Henry Beardsman, who served on the market board and was one of the first vendors to join the market in 1978, remembers arriving before the sun was even warm to sell his produce by flashlight.
Today, the Greater Springfield Farmers' Market is celebrating its 35th season and includes vendors from 20 counties across southwest Missouri. The 70-plus vendors who cart in their goods still operate the market as a grower-and-producer-only market, which means everything sold here is either made or produced by the vendors, and nothing is supplemented. It's a more traditional way of running a market, but ''local'' is this market's mantra and one of the reasons why it's still going strong.
Along with the hustle and bustle that takes over the market each week, an array of cooking classes, competitions and fundraisers keep the atmosphere lively. And since giving back to the community is a big part of how this market operates, a large portion of its excess produce and fundraisers help S.H.A.R.E. (Greater Springfield Hunger And Relief Efforts).
Miller's Produce and Greenhouse
Tim Miller drives 80 miles to and from Springfield three days a week to sell his truckload of produce. One of the few Mennonite vendors at the market, Miller's 80-acre-farm stretches across Jerico Springs. Raised on a dairy farm, Miller switched to produce, a slightly less hectic farming venture, to have more time with his wife and four kids. He opened Miller's Produce and Greenhouse in 2008 and harvests basically every kind of produce available. During the peak season, Miller carts in 25-pound boxes of tomatoes and hundreds of pounds in melons. Veggies aside, he also has a blossoming flower business, thanks to his greenhouse.
Madewell Meats
When you stop by the Madewell Meats truck, you can be sure that Jane (pictured) and Steve Madewell will greet you with a smile. Nestled between Aurora and Mount Vernon, the 90-acre farm is run by the couple and their three sons. Steve got his first two hogs when he was 12 years old as payment for work he did for a hog breeder. When he graduated high school, he bought his first farm. Steve says farming is in his blood, and bloodlines have helped him build a successful hog farm with pigs whose bloodlines go back to the '70s. The family joined the market seven years ago, and Steve has served as president of the market's board for the last three years.
Lorenae Dairy
Bruce and Debbie Salisbury were only retired for three and a half years before Bruce decided he was bored to tears. In 2004, the couple opened Lorenae Dairy in Stone County along State Highway 413. Seven days a week, 365 days a year, Bruce wakes up at 3:30 a.m. to milk his 40 dairy cows, which are milked twice a day. At the end of the day, Bruce's cows produce 240 gallons of raw milk. Along with fresh milk, the cows produce the fixings for delicious cheddar cheese curds and ricotta cheese that are both made on the property. A true labor of love, Lorenae Dairy is the only dairy farm in the state of Missouri licensed to sell raw milk. 
In 2012, Matt O'Reilly teamed up with Lane McConnell to create a new kind of farmers' market. The goal was to create a market with an emphasis on a lively social atmosphere and a place where mixed-use space (a combination of community gardens, apartment complexes and office buildings) could expand the market's possibilities. Located in the soon-to-open Farmers Park, the Farmers Market of the Ozarks (FMO) features products from farmers and vendors from southwest Missouri and Arkansas. To keep products local, all vendors (with a few exceptions) have to be located within 150 miles of the market.
Celebrating a successful first season, the FMO has grown well past its originally estimated 40 vendors and now features 95 vendors with a waiting list of farmers and producers eager to set up shop. With its festival atmosphere and distinct social life, the FMO calendar is packed with events, market dinners, cooking competitions, fundraisers and more. Along with the typical produce, the FMO offers ready-to-eat munchies from 417-land eateries including tamales, croissants, coffee and bagels, to name a few. Locally grown produce and products include the usual fruits and vegetables as well as herbs, baked goods and handmade art and jewelry. With the new market pavilion set to open this year, customers will soon enjoy shopping in the wintertime, thanks to a heated pavilion with windows and walls.
MO Pro Farms
Short for Missouri Produce Farms, MO Pro Farms in Ozark harvests 1,200 heads of lettuce each week and shuttles them off to grocery stores (like Harter House and MaMa Jean's Natural Market) and several local restaurants. Owner Allen Shevey grew up on a cattle farm in South Carolina, but when he moved to Missouri, he decided to grow lettuce. He had zero experience, but he knew it was something he could grow and sell, so he bought a greenhouse and now grows bibb, romaine and red oak lettuce year round. The greenhouse keeps Shevey busy, and while it's not quite a family business, his three young kids get their hands dirty, too, growing and selling
lettuce in exchange for the latest toys on their wish lists.
J. Rae Pottery
With a studio in Marshfield, Jennifer Farr, owner and artist of J. Rae Pottery, cranks out hand-crafted mugs, bowls, candle holders, pie plates and much more. Crafting earthenware is a full-time gig for Farr, who first became interested in this hands-on art form when she tried her first pottery class at age 12. Since then, Farr has been able to transform her passion for pottery into a full-blown career, apprenticing under seasoned craftsmen and then throwing pottery at Silver Dollar City before opening her own shop. While schlepping her ceramics to and from the market keeps her busy, Farr's calendar is also jammed with birthday parties and children's classes where she shares her passion for pottery with kids who, like her, can't wait to get their hands dirty.
Real Farm Foods
Located in Norwood, Dawnnell Holmes and her husband Cody raise practically everything but water buffalo. Sitting on 1,000 acres, the farm houses nearly 1,500 animals, all free range. There are grass-fed beef, lamb, pastured pork, chicken and turkey, plus six acres of vegetable gardens. Dawnnell and Cody started selling their produce eight years ago, but Cody has been farming for 41 years. The operation started off as a cattle farm, but it has since ballooned and is now a multi-species ranch that includes a CSA (Community Supported Agriculture) program with home delivery service. At one point, the couple was selling products at nine farmers' markets.

So Fresh and So Clean: Handmade soap from Flower Child in Springfield is aromatic and herbaceous.
When Eileen Nichols, Chair of the Downtown Committee for the Webb City Area Chamber of Commerce, began looking into starting a farmers' market in town, she first turned to the farmers themselves, who suggested housing the market under the city's pavilion. From there, Eileen worked with the Missouri Department of Agriculture and several representatives from other markets around 417-land to draw a blueprint of how the Webb City market should run. The guiding principle Nichols worked off of was simple–everything sold at the market should be producer grown or made. With that building block in place, Eileen kicked off the market's first season in 2000. Today, the market pulls in nearly 50 vendors from a 70-mile radius, crossing into Kansas and Oklahoma.
Helping provide local farmers and vendors with an outlet to reach customers, the Webb City market is also a venue for area non-profits to raise funds and spread their messages. Nichols helps an average of 35 charities set up at the market during the season. Packing each market day with a plethora of locally grown produce and handcrafted goods, Nichols keeps the market's social life hopping with an assortment of cooking classes, festivals and live music. The tomato festival is one of the most anticipated events, with awards going to the biggest and the ugliest tomatoes. Another aspect of market life that keeps people hustling back each week is the large percentage of Hmong growers who sell a variety of Asian produce. Forty percent of market vendors are Hmong, and their bounty of cool-weather crops helps keep the market bustling with activity even during the winter season.
Fredrickson Farms
Tami and Steve Fredrickson were among the first farmers to join the Webb City market. Located in Carl Junction, the Fredrickson Farm is stocked with a variety of herbs and hanging baskets along with plenty of vegetables, such as green beans, cucumbers, tomatoes and green peppers, that get hauled to the market each week during the spring and summer. And while flowers and vegetables keep the Fredricksons busy during peak market season, their biggest crop is actually pumpkins. The family tends to 20 acres of pumpkins each year and welcome people who come to the farm to pick pumpkins and mums.
Xiong Produce
Nia and Ying Xiong are among many Hmong vendors who frequent the Webb City market. Growing up in Laos, Nia and Ying moved to Thailand and then to the U.S. in hopes of planting roots for a better life for their six kids. In 2008, they started Xiong Produce, located in Anderson, Missouri, and expanded their vegetable garden. Over the years, Nia and Ying have developed green thumbs for growing the Asian vegetables they couldn't find in the states. From Chinese broccoli and African okra to raspberries, blackberries and strawberries, the Xiong family sells their produce at several
markets, including Webb City.
Shoal Creek Garden & Greenhouse
Located in Galena, Kansas, Tim Green, owner of Shoal Creek Garden & Greenhouse, is one of the few vendors who is still stocked with tomatoes, cucumbers, lettuce and bell peppers during the winter. And it's all thanks to a high tunnel system (a greenhouse-like system that recently hit 417-land where vegetables are planted in the ground and heated through the winter). Green started farming after he retired from the highway department and was looking for something to keep him busy. With five acres to work on and a year-round produce business, Green now has plenty to do.

NUTS FOR FARMERS' MARKETS: Pecans from Luman's Farms are a savory wintertime treat.
The Fair Grove Farmers' Market was named Market of the Year in 2010 and 2012 by Missouri's Director of Agriculture, but Fair Grove residents have been swooning over the market since it opened in 2001. Located under the pavilion at the historic Wommack Mill in downtown Fair Grove, the market is now in its 14th season, and as a producer- and grower-only market, no vendor is allowed to buy or resell produce from auctions or outside farms. Shoppers can be assured that the produce and goods they're buying are made, grown or raised by the person ringing them up. To help keep market goods local, market manager Deb Phillips looks for vendors from within a 50-mile radius. Over the years, the market has brought in a variety of growers and producers who bring pantry staples such as fresh corn, honey, blueberries, blackberries, watermelons, cantaloupe and jams and jellies. 
Nestled in the heart of a farming community, the Fair Grove Farmers' Market has become a social event each Wednesday, and its calendar of festivals and cookouts help keep hungry patrons flocking each week. From barbecue nights and brat nights to an always-popular pie festival, the folks at the Fair Grove Farmers' Market know how to enjoy good food.
Brooks Farm
Jack and Janet Brooks have been raising honeybees on and off for the last 40 years. Intrigued by the power of these tiny insects, Jack started the hives as a way to pollinate his five acres of fruits and vegetables located a few miles outside of Fair Grove. He now manages more than 70 hives and sells his raw honey at the market. 
Pape's Orchard
Located in Stockton, John Pape's Orchard is home to 1,400 fruit trees, and most of them are peach trees. With the help of his son "Young John," John Senior grows 20 varieties of peaches, and his wife, Barbra, turns bushels of the fruit into jams and jellies. The orchard's peaches have quickly become one of the most popular items at the market.
Leah's Tortillas
Now selling homemade tortillas, sweet fruit tamales, savory meat tamales and sugary sweet sopapillas, Leah Maria Cathro started mixing up her from-scratch tortillas three years ago when she sold them door-to-door. The tortillas went over so well that people started asking her to make tamales as well, so she set up a booth at the Fair Grove Farmers' Market. 
1. Carthage Farmers' Market
Located at: corner of Main and 3rd St. (on Courthouse square), Carthage
Open: April–October, Wednesdays and Saturdays from 6:30 a.m.—mid-afternoon
More info: 417-358-3579

2. C-Street Market
Located at: 321 E. Commercial St., Springfield
Open: April 27–October 19, Saturdays from 7:30 a.m.–1 p.m.
More info: 417-496-1968,
itsalldowntown.com/cstreetmarket

3. Fair Grove Farmers' Market
Located at: Hwy. 125 and Main Street, Fair Grove
Open: April–October, Wednesdays
from 3–6:30 p.m.
More info: 417-759-1175,
fairgrovefarmersmarket.com

4. Farmers market of the ozarks
Located at: James River Expressway and Republic Road at 4139 S. Nature Center Way, Springfield
Open: year round; Tuesdays and Saturdays from 8 a.m.–1 p.m. Starting in November, it will also be open on Thursdays from 4–7 p.m.
More info: 417-766-8711, loveyourfarmer.com

5. Greater Polk County Farmers Market
Located at: 950 S. Killingsworth Ave., Bolivar
Open: year round; winter hours are Saturdays from 8 a.m.–noon and spring and summer hours are on Tuesdays from 3:30–6:30 p.m. and Saturdays, 8 a.m.–noon.
More info: 417-777-4586

6. Greater Springfield Farmers' Market
Located at: Corner of Battlefield and Glenstone Ave., Springfield
Open: year-round; April–October on Tuesdays, Thursdays and Saturdays from 8 a.m.–noon; November–December on Saturdays from 8 a.m.–noon. Find winter hours on the market's calendar, website or Facebook page.
More info: 417-708-1909,
springfieldfarmersmarket.com

7.James River Farmers Market
Located at: 1655 W. Republic Rd., Springfield (Behind the All Pet Supplies store)
Open: November 1–March 31, Saturdays from 10 a.m.–2 p.m.; April 1–October 31, Tuesdays, Thursdays and Saturdays from 8 a.m.–noon
More info: 417-887-1424

8. Lebanon Farmers' Market
Located at: 200th block of South Jefferson, Lebanon
Open: April–end of October, Wednesdays from 2–6 p.m.; Saturdays from 7:30 a.m.–1 p.m.
More info: 417-426-5690

9. Marshfield Farmer's Market
Located at: Orscheln Farm and Home parking lot (off of I-44)
Open: April–November, Fridays from 3–7 p.m.
More info: 417-839-1857

10.Ozark Farmers Market
Located at: The Ozark Square
Open: April–October, Thursdays starting at 5 p.m.
More info: 417-582-6246

11. Republic Farmers Market
Located at: 1055 U.S. Highway 60 East, Republic
Open: May–September, Thursdays from 5:30–7:30 p.m.
More info: 417-732-4455
   

12. Webb City Farmers Market
Located at: South of 555 South Main St., Webb City
Open: year-round; Fridays from 11 a.m.–2 p.m.; open during warm weather on Tuesdays and Fridays from 11 a.m.–2 p.m. and Saturdays from 9 a.m.–noon. Hours vary each season, so check the market's website for updates.
More info: 417-673-5866,
webbcityfarmersmarket.com

13. West Plains Farmers Market
Located at: 711 Washington Ave., West Plains
Open: March 23–December, Wednesdays and Saturdays from 9 a.m.–2 p.m.
More Info: 417-277-5784
Vendor Classes
Market: Webb City Farmers' Market
For farmers looking to improve their market business or for local crafters and bakers looking to start their own booth at the market, the Webb City Farmers' Market offers classes that touch on a little of everything. There are classes on how to can, how to protect water supplies, how to build functional irrigation systems and even how to best display your goods at the market. Classes are open to everyone and have trained more than 250 farmers and producers. 
Food Trucks
Market: Farmers Market of the Ozarks
While the dozens of produce and meat vendors who set up at FMO are reason enough to wake up early for the Saturday market, the food trucks that sling out a handful of tasty breakfast items make it even easier to get out of bed. From handmade toasted bagel sandwiches and refreshing fruit smoothies to flaky croissants and cups of hot coffee, there are plenty of breakfast treats to drool over.
Kids Club
Market: Fair Grove Farmers Market
It's never too early to learn how to garden. That's why the Fair Grove market gives free seeds to kids so they can start planting their own crops. Seasoned gardeners help each kid sow his or her seeds and offer tips to yielding a bountiful harvest. Many of the tiny tots in the kids clubs have had so much luck with their gardens that they've been able to join the ranks of market vendors and sell their herbs and produce.
Co-Op Booth
Market: C-Street Market
For the urban farmer who doesn't have dozens of acres to tend to, sometimes a sunny windowsill can yield a bounty of lush herbs, or a crowded kitchen can cook up heaps of homemade pies and breads. Without having to commit to selling for a whole season at the C-Street Market, these small-scale farmers and bakers can sell their goods at the market's co-op booth. 
Cooking Competitions
Market: Greater Springfield Farmers' Market
Each season, the Greater Springfield Farmers' Market serves up a handful of cooking competitions that customers can sink their teeth into. One such event, the annual Harvest Soup Cook-Off, pits local restaurants against each other to see who can whip up the tastiest soup, and shoppers get to do the voting. And while everyone always enjoys free samples, it's also nice to know that the funds from the event benefit the local nonprofit S.H.A.R.E.
A few 417 Magazine staffers who frequent local farmers' markets share their shopping tips.
• Bring Your Own Bags. Markets are all about being green, and reusable bags are a terrific way to transport groceries without taking up too much room in your car. If you really want to be prepared, bring a basket, which helps prevent bruising and smushing of  your goodies.
• Arrive at an Appropriate Time for Your Needs. Late-comers often have less selection, but if selection isn't a big concern, arriving late can often mean lower prices.
• Wear Walking Shoes. The market is not the place to worry about keeping up with the latest fashion trends. Dress comfortably, and wear shoes that allow you to walk on gravel, dirt or pavement. 
• Bring Cash. While some markets are starting to take credit and debit cards, not every market has adopted that amenity. To be on the safe side, always bring plenty of cash and small bills to the market—even if it says it takes debit.
• Get to Know the Farmers. Farmers often have great recipes and tips for using their produce.
• Ask What You're  Buying. Maybe you're looking for organic produce, or hydroponic tomatoes, or beef that was raised on non-GMO grains. It's all buyers' preference, so get to the market knowing what it is you're looking for.
• Walk a Loop. If you spend a little time checking out prices and quality, you can often find a terrific deal. While farmers' markets are heavily focused on supporting local farmers, they are also running a business, so prices vary.
• Keep Your Dog on a Leash. Most markets are super dog friendly, but when they're busy and there are multiple pooches walking around, it's safer for everyone if your dog is leashed up.
• Always Take Home One Item You've Never Tried Before. Farmers' markets are a great place to pick up unusual produce, and researching new dishes is a great way to expand your cooking know-how.