Layton Russell & Brandon Alsup
September 1, 2012; University Heights Baptist Church
By Ettie Berneking | Photos by Christine Bonnivier Photography
Apr 2013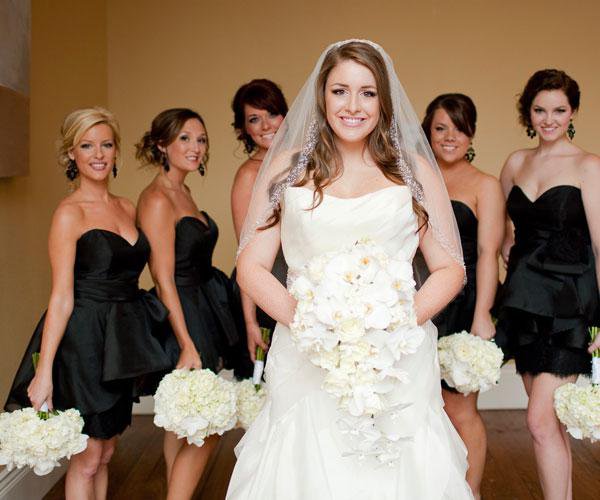 It was a pot full of crawdads that brought Layton and Brandon together. The two first met at a crawdad cookout, and a friendship began soon after. Even though neither of them were looking for a relationship at the time, it was impossible to deny that their friendship was budding into a romance.
After a year and a half of dating, the couple was celebrating a relaxing Christmas Eve dinner with Layton's family. Surrounded by all of her loved ones, Layton could hardly believe her eyes as Brandon dropped to one knee while making a memorable toast before dessert. "If Christmas is intended to be spent with those in our lives we love the most, I couldn't imagine a more appropriate group to be with tonight," Brandon said. "You aren't like family; you are family. So here's to spending the evening with the most special people in our lives and (at this point, he dropped to one knee) spending the rest of my life with the most beautiful girl I know."
Nine months later, the happy couple walked down the aisle at University Heights Baptist Church, then celebrated with friends and family at The Veridian. During a cocktail hour, guests munched on hors d'oeuvres, including bacon-wrapped dates and lobster macaroni pops, then enjoyed a three-course meal catered by Touch Restaurant. Serving lobster bisque, walnut- and pecan-encrusted sea bass and mushroom truffle risotto, Layton and Brandon made sure no one went home hungry.
Today the couple is busy decorating their new home in Battlefield. Layton owns Nu Essence Spa in Springfield, and Brandon is the training administrator at Russell Cellular.
The Details
Photographer: Christine Bonnivier Photography
Wedding Planner: Lenette Kujawa, Aflair Events
Dress: Ella Weiss Wedding Design
Tuxedos: Men's Warehouse
Reception Venue: The Veridian
Food: Touch Restaurant
Cake: Celebrations by Sonja
Flowers: Artistry In Bloom
Music: All That Music
Rings: Kay's Jewelers