Recipes
The Devilish Return of the Deviled Egg
Deviled eggs are making their way back into the foodie scene, and a local chef shares a great recipe for making them at home.
By Savannah Waszczuk
Apr 2014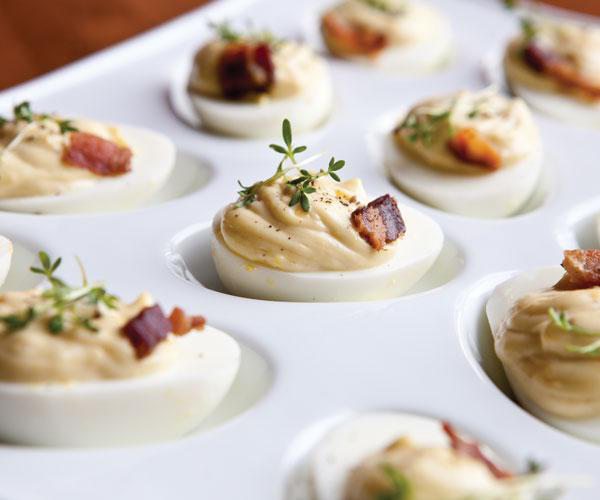 There's no getting around the fact that deviled eggs are delicious. Whether you're whipping up a batch for a potluck or adding them to the spread at your latest barbecue, they're always a safe choice. But that's just it: They're safe. There's really nothing new or exciting about the deviled egg. Or at least there hasn't been until recently.
After noticing a deviled egg smear served with the bread salad at Metropolitan Farmer (2144 E. Republic Rd., Springfield, 417-720-1665, metropolitanfarmer.com) (Editor's note: Metropolitan Farmer has closed since this article was initially published), we called up Chef Wesley Johnson and asked his view on the safe side staple. "In several places, especially in the last few years, deviled eggs have been making a resurgence," Johnson says. "Homestyle and Southern-style cooking in general have been on the upswing, along with heritage recipes." Lucky for us, this includes the beloved deviled egg. 
On the Metropolitan Farmer menu, an egg smear is served alongside a salad made with Artisan's Oven French bread, pickles, bacon, greens and red onion. "Basically, you make the filling for the deviled egg and use it as an accompaniment," Johnson says of the recipe. But this new take is certainly not the only way Johnson is whipping up the old favorite. "We also have a traditional deviled egg on our catering menu," he says. But of course, he added his own personal touch to the dish. "Instead of yellow mustard, we use spicy Dijon mustard, a hint of horseradish and local bacon from Circle B Ranch," Johnson says. He shares the recipe, so you can give it a try yourself.