Style
Cocos Boutique in Joplin
Ericka Hamilton and her sister Misha Wilson have brought stylish finds to Joplin, Missouri.
Apr 2014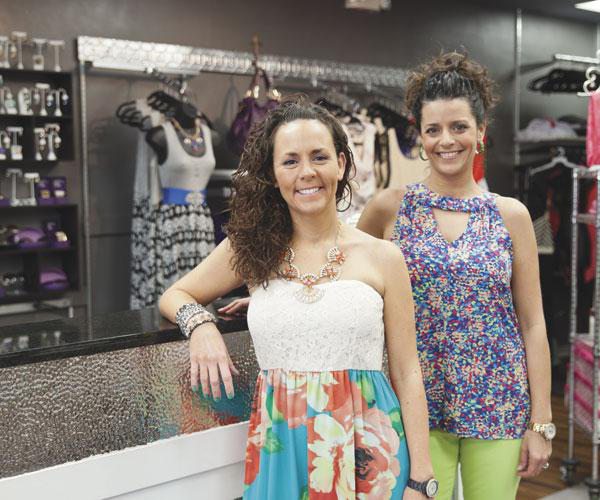 The Shop: Cocos
2901 E. Fourth St., Joplin, 417-850-2620; open Mon.–Sat. 11 a.m.–6 p.m.; Sun. 1 p.m.–5 p.m.

Ericka Hamilton and her sister Misha Wilson have an eye for fashion. As owners of Cocos—a women's clothing boutique in Joplin—the two are always on the prowl for up-and-coming trends. Hamilton can't pass up animal print while Wilson has a more toned-down style and goes for denim, black and gray. 
The two looks might be polar opposites, but together, Hamilton and Wilson have used their personal styles to curate the store's boutique atmosphere and chic merchandise. Back when the sisters opened Cocos in 2012, Hamilton was coming off a six-year stint at Talbots, and Wilson was leaving behind the world of real estate. "I had always wanted to be in business for myself," says Hamilton. "And I knew from working at Talbots what shoppers in our area were looking for." With an affordable price point (the average item costs $45), the store caters to women in their mid-30s to 50s. "That is a hard age group to dress," says Hamilton. "You don't want to look like a grandmother, but you also don't want to look like your teenage daughter."
Cocos boasts a large selection of handbags, shoes, dresses, tops, denim and an assortment of accessories including Cocos' bracelet bar—one of Hamilton and Wilson's favorite items in the store. They started the concept as a way to offer customizable accessories. Glass jars house beaded-bracelets in all colors. Customers can assemble a selection of bracelets or have Wilson and Hamilton create something for them. They also started carrying their own line of T-shirts called "Sunday Chic." 
Only two years in, there's already talk of expanding. It might be the affordable prices and stylish fashions Cocos carries, or it might be the shopping parties and Champagne Thursdays from 4 to 7 p.m. when Cocos unveils a secret sale, but whatever it is that keeps bringing customers in the doors, it's definitely working.


---
Q&A with Cocos Owners Ericka Hamilton and Misha Wilson
417 Magazine: What three words describe the merchandise at Cocos?
Ericka Hamilton and Misha Wilson: Original, inviting, fun.
417: Who is your fashion icon and why?
E.H.: Jennifer Aniston. She has a great casual look. Your icon should be someone who shares  your sense of style.
M.W.: Our grandmother. Her purse always matched her outfit.
417: What is your favorite item in the store?
E.H.: The bright skinny jeans.
417: What is one item every women should have in her closet?
E.H.: A properly fitting pair of jeans. Most women wear a size too big.
M.W.: A pair of comfy boots.
417: What is your shopping weakness?
E.H.: Little accessory bags.
M.W.: Raybans.
417: What is your staple fashion item?
E.H.: Sparkly earrings. 
M.W.: Boots.
417: What is your dream shopping trip?
E.H.: Because we're always looking for items that would sell well in the store, I'd love to go shopping and not think about that—and also not even need to look at the price.