Spaces
The Space: Scotch & Soda
Downtown Springfield's Scotch & Soda boasts a swanky atmosphere reminiscent of a 1920s-style bar.
By Savannah Waszczuk | Photographed by Jeremy Mason Mcgraw
Apr 2014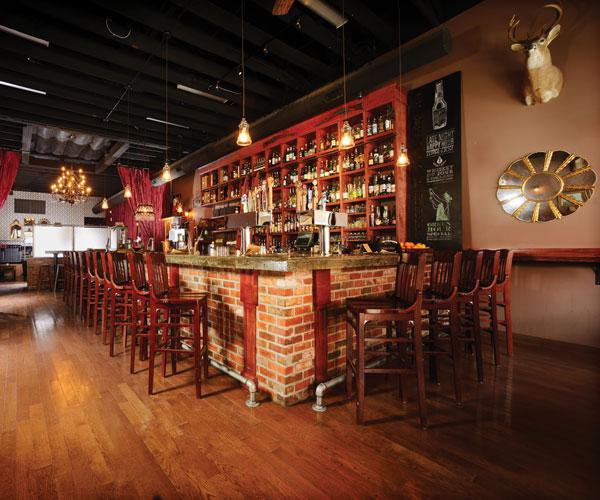 While working on the concept for Scotch & Soda, Joshua Widner and Andrew Heilman weren't just looking to create a new bar—they were looking to recreate an old era right along with it. "We wanted to focus on quality cocktails of the pre-prohibition and prohibition era," Widner says. And of course, they wanted the atmosphere of their new place to match its menu. 
But long before the two could start planning interior details, they needed a location. "We actually had a meeting at another bar to go over our plan, and we saw a 'For Rent' sign in the window here while we were walking back to our cars," Widner says. "We were here touring it at 7 a.m. the next day, and we had a key by the end of the week."
They had acquired a prime location on downtown Springfield's South Avenue, and Widner and Heilman knew was perfect for their business. The downside was the interior–it didn't have much to offer at first. "It was really just a shell," Heilman says. "We molded our concept to fit this space." 
The two quickly began working on the renovation. "We completely gutted it and took it down to four walls," Widner says. Next, they worked with a few family members and friends to transform the empty old building into a 1920s-style bar. "My grandfather, Gordon Bond, built the back bar, some stairs in the back and the wainscoting that we added a few weeks ago," Widner says. This massive back bar is one of the most eye-catching features of the whole space, reaching to the ceiling and holding the bar's expansive selection of whiskey and other alcohol. According to Widner, Scotch & Soda has one of the largest Scotch collections in the state. 
Widner's mom, Lori Bond-Widner, sewed the curtains that separate the bar's back area. This area is intimate and cozy, featuring an elevated space with plush lounge seating and era-appropriate wallpaper. Widner and Heilman refinished the oversized chandelier that hangs from the ceiling, and they had concrete countertops and tables poured throughout the space. Lastly, they scoured local flea markets to find mirrors, artwork and other era-appropriate pieces to bring the space to life. The result is a swanky, low-lit atmosphere that truly feels similar to bars in the 20s, 30s or 40s. "People say that when they walk through the doors, they're transplanted to another place and another time," Widner says. "That's a huge compliment." 


The back area of Scotch & Soda features plush seating and a lounge-like atmosphere. Wallpaper adds a dramatic look to the space, and vintage mirrors and artwork found at local flea markets add character. 
The back bar and ladder at Scotch & Soda were built by co-owner Joshua Widner's grandfather, Gordon Bond. The space also features concrete countertops and a sign with hand lettering by Joshua Sullivan of The Basement.
Scotch & Soda owners Joshua Widner and Andrew Heilman focus much of their menu on quality cocktails of the pre-prohibition and prohibition era. Drinks here are all made with thought, and the spot has a massive collection of Scotch, whiskey and other liquor.


---

Resource Listing
Countertops/Poured Concrete Tables
Triplett Overlays LLC
Marshfield, 417-353-6153
Lighting
The Light House Gallery
4113 S. National Ave., Springfield, 417-889-1088, thelighthousegallery.com
Logo, Graphic Text and Lettering on Custom Signage
The Basement (Note: The Basement has stopped production since this article was first published.)