Life
Jane Troup's Artist Studio
Ever want to see the lovely spaces where inspiration happens? This month, we peek inside the studio of Jane Troup, whose sunny space lets her capture nature at its brightest.
Written by Savannah Waszczuk | Photos by Kevin O'Riley
Apr 2016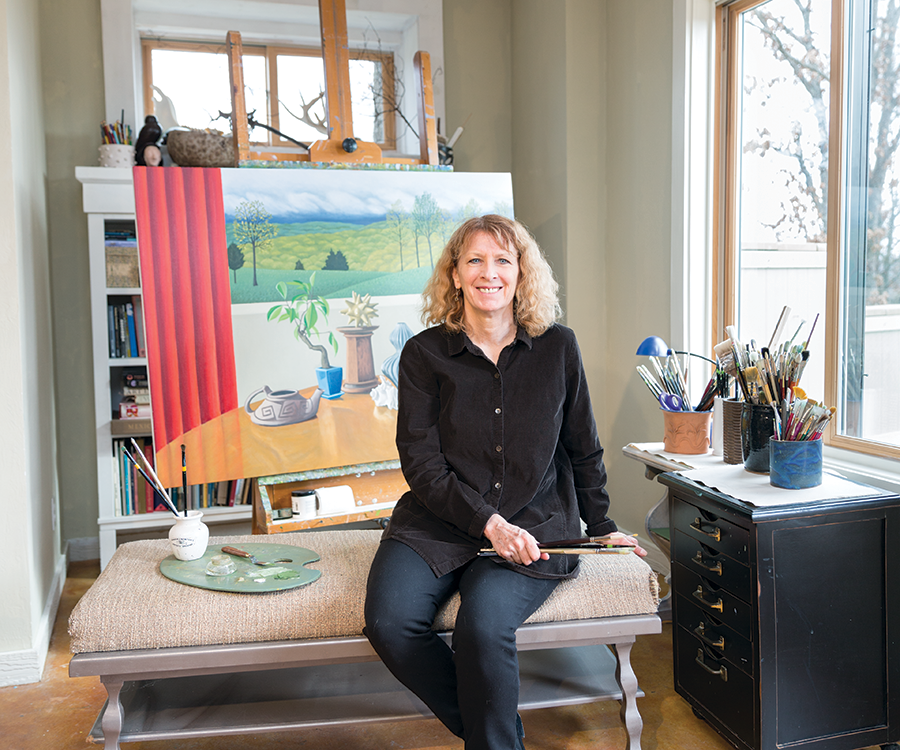 Artist Jane Troup lives her life surrounded by beautiful things. She and her husband, Gary Brown, share a picturesque timber-frame cabin plopped on a hill and surrounded by 275 acres of rolling hills and wooded forest. They love to explore the miles of trails that weave their way through their scenic property and even beyond it, with endless connecting paths that stretch deep inside the neighboring Mark Twain National Forest. Any time she needs a bit of inspiration for her creations, which are often landscapes alive with animals, Troup simply has to walk outside, or even just look out the large east-facing windows in her in-home studio. Take a peek at the space, where she regularly transforms paint and canvas into one-of-a-kind works of art. 
1. Stained Concrete Floors
Located on the lower level of the cabin, the floors in Troup's studio are stained concrete. This was a practical choice, Troup says, because they're super-durable and make for easy clean up. 
2. Painter's Palette
Any time she's working on a painting, Troup loads her palette up with different paint colors, palette knife and turpentine—all the tools essential for creating her work. 
3. Found Treasures
While hiking on the property, Troup often collects interesting pieces she finds. The bookshelf behind her easel is home to this variety of collected items, which are mostly natural things including skulls, seeds and pods.
4. Wooden Easel
Troup has used the same wooden studio easel for 30 years. The easel has a crank, which makes it easy to raise and lower when needed. She also has a travel easel used for smaller pieces outside of the studio.
5. Work in Progress
While Troup is best known for her landscapes that feature often-playful animals, one of her latest creations is something new. "This piece features a landscape in the background and a still life up front," she says. 
6. Essential Tools
Troup's collection of paints are arranged in the small chest of drawers near her easel, and her many paintbrushes are conveniently located on top of it. While she is always ordering new brushes, she says she still has some from when she attended art school. "I probably use about 10 different brushes per painting," she says.