Reviews
PaPa Verde Canning Company
PaPa Verde Canning Company combines homegrown flavors and a southwestern kick to bring you a truly tasty local salsa.
Written by Lillian Stone | Photo by Vivian Wheeler
Apr 2016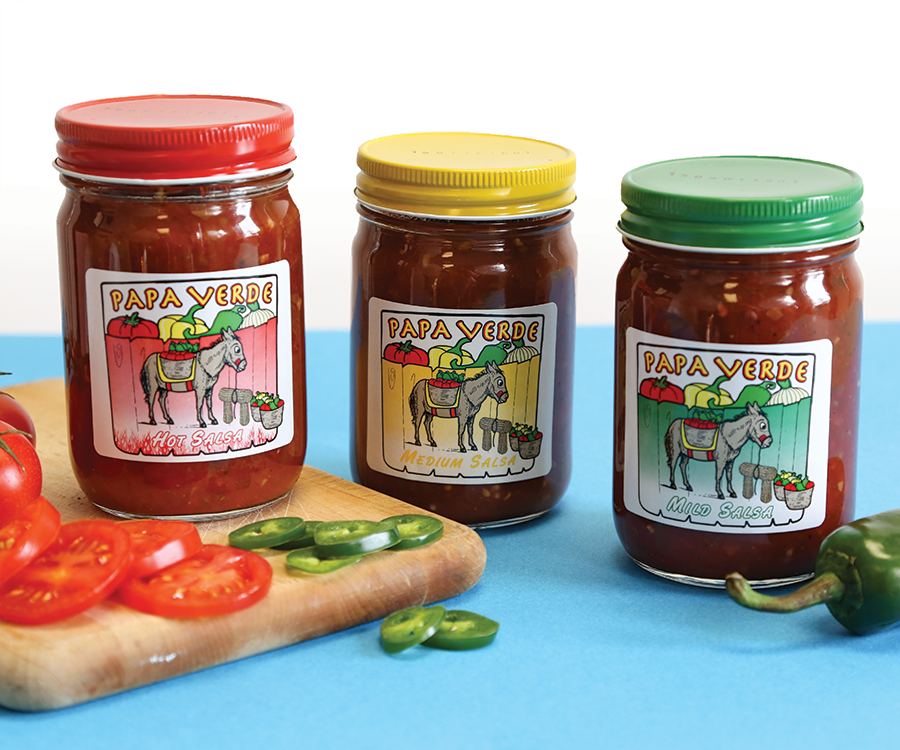 Looking to add a little spice to your pantry? One family in Crane is working to heat up the Ozarks. PaPa Verde Canning Company is based in Crane and offers three homegrown salsas in varying degrees of heat. We spoke with Sam Vaught, heir apparent to the PaPa Verde empire, about the origins of the family business.
Owner Dean Vaught—otherwise known as PaPa Verde—enjoyed gardening as a pastime, but quickly had to find a way to use his large crop of tomatoes, jalapeños and bell peppers. He decided that homemade salsa was the perfect use for his veggie surplus. "We could hardly keep any of it for ourselves because anybody who tried it, wanted it," laughs Sam. "We just thought about maybe making something for a little extra income, and something for the family to do." The idea of a family business appealed to the tight-knit Vaughts, and several family members jumped on board. The Vaughts created a separate facility for salsa production, and PaPa Verde Canning Co. was born.
Most of the vegetables and all of the tomatoes used in PaPa's salsa are grown in Crane, with occasional outsourcing for other ingredients depending on demand. "We get the freshest local produce that we can find," says Sam. "We raise a lot of tomatoes and try to make most of our salsa during the growing months so we can use the freshest tomatoes and the freshest produce." The family's commitment to freshness means that most of PaPa's salsa is made during the warmest months of the year, during the peak of the tomato crop. "We'll do what we can, and then we'll dial it back a little bit in the winter months, because we don't want anything getting out there that isn't just 100 percent our best product," says Sam.
PaPa Verde Canning Co. offers mild, medium and hot salsas, each with a remarkably fresh flavor. The family's secret recipe is the result of Dean's trial and error in the beginning stages of the business. According to Sam, the family's next project is an enhanced version of the hot salsa that'll give heat lovers something extra spicy to talk about. The company is also hoping to expand to more retail locations and participate in more local tastings in the upcoming year.