Dishes
Happy Apple Snacks Bring the Flavors of Fall On the Go
Embracing the emerging trend of on-the-go healthy bites, Don Schmedeke founded Happy Apple Snacks, turning apples and kale into flavor-packed dehydrated treats ready for snacking on the trail, in the car—or even on your couch.
By Claire Porter
Oct 2018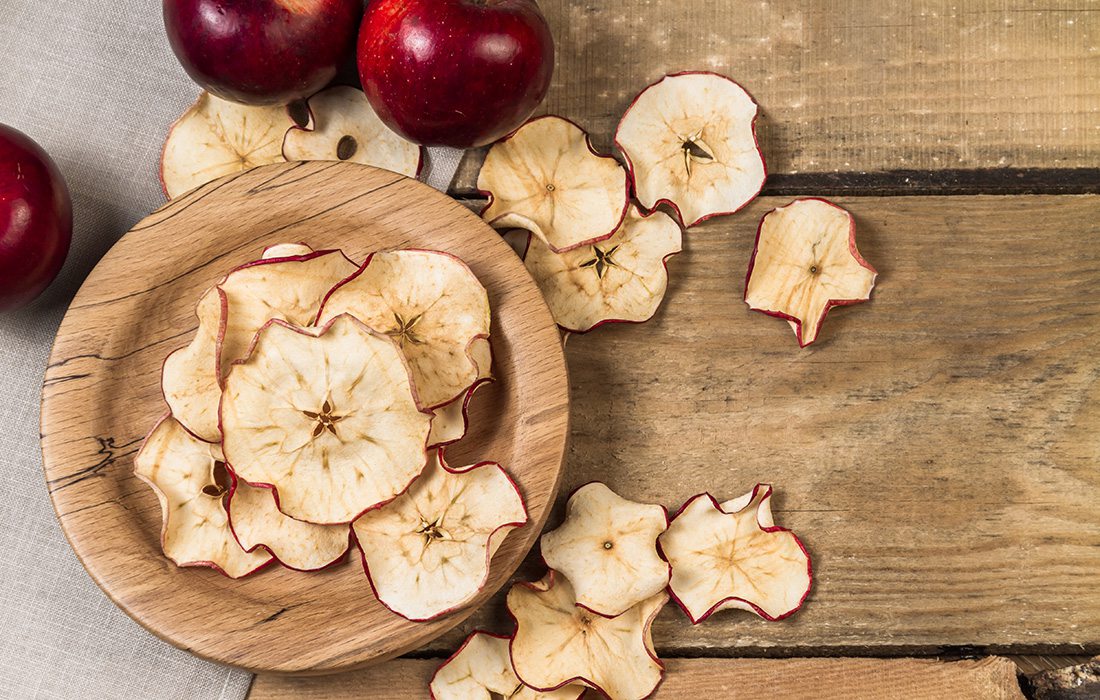 Don Schmedeke's leap into Happy Apple Snacks happened almost by accident—or by Mother Nature's intervention. Schmedeke, a now retired former farmer, salesperson and loan officer, had initially gotten interested in dehydrated foods because of the food's longevity and health benefits. He started slicing apples very thinly by hand and tinkering with flavoring and then dehydrating them. Schmedeke is an avid gardener and uses compost in his garden on his acreage in Mount Vernon. "I core the apples, and I started throwing them in the garden, and over time I started seeing all these little trees coming up," he says. "So I picked out four or five that looked pretty nice, and I nursed them for about a year. I ended up planting some and then purchased some from a nursery, and now I have a small orchard."
Schmedeke's small orchard of Fuji apple trees isn't enough to sustain what turned into his booming business, Happy Apple Snacks, a line of dehydrated apple treats that come in flavors like cinnamon, caramel and cranberry. Schmedeke says he is a natural salesperson, so early in the product's development, he brought a dozen bags to MaMa Jean's Natural Market to start selling them. "It wasn't but about three days later that they called and said, 'We're out; we have to have more of these,'" Schmedeke says. His orders doubled, the snacks took off, and now they're sold at retailers across 417-land. 
The three flavors of Happy Apple Snacks are notable for their healthy formula. Schmedeke grows and sources Fuji apples for their mild taste and hearty texture that holds up to dehydrating. The apple slices are marinated in flavor using only natural fruit sugars or stevia before being dried and packaged. Noting a trend in kale chips, Schmedeke expanded his line and started dehydrating kale for his spiced kale and Parmesan kale chips. 
With help from his wife, Karen, and investment and logo, label and tech development from his son Jeff, Schmedeke is still expanding Happy Apple Snacks, trying new formulas and thinking up new flavors. "You do it by hit and miss," he says. "You start developing something, and if it tastes right, you stop right there, and if it doesn't, you change something and keep going." The latest flavor coming out of Schmedeke's workshop is apple cheddar, harkening all the sweet and savory flavors of a crisp fall apple and sharp, creamy cheese. What's not to like?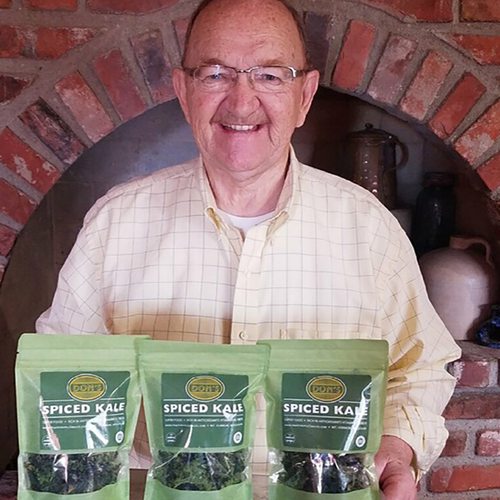 Nab a Bag 
Find Happy Apple (and kale!) Snacks at these local retailers: