Spaces
Look inside Refine Studio's Airbnb Loft on C-Street
This rentable boho loft on Commercial Street, designed by Refine Studio's Charity Evans, feels just like indoor recess, making it the perfect setting for a staycation.
By Beth Campbell
Apr 2018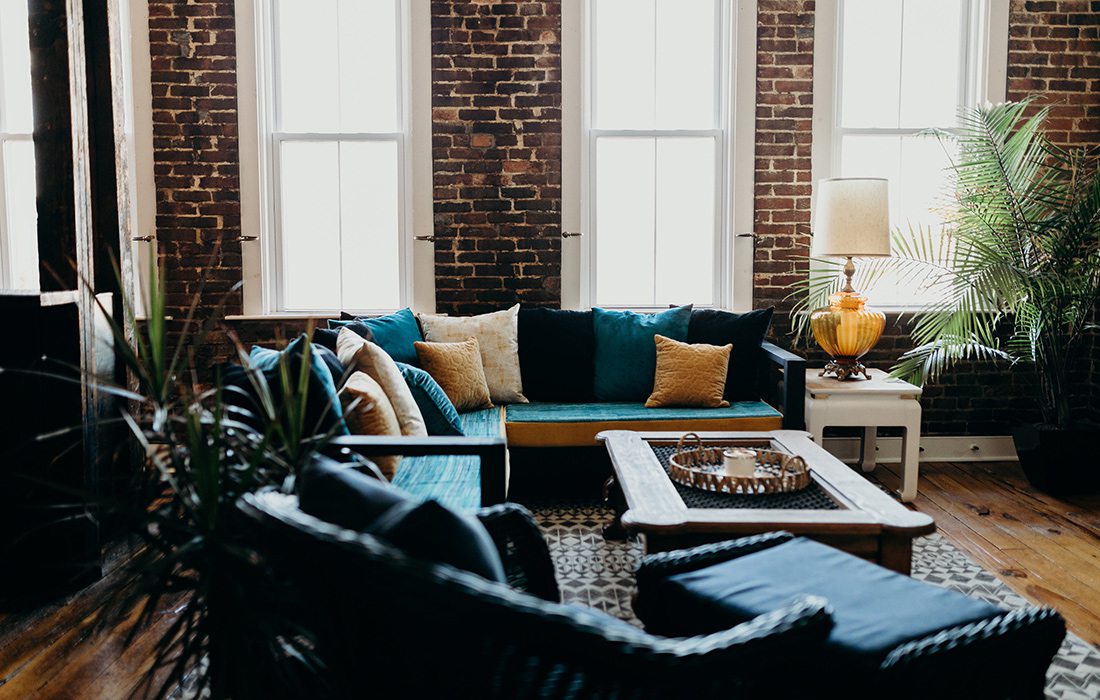 When interior designer Charity Evans decided to open an Airbnb loft above her store, Refine Studios, on historic Commercial Street, she was limited only by her imagination and a very meager budget. Undaunted by that challenge, she devoted herself to the hunt for eclectic and beautiful pieces from local thrift shops that could be repurposed to achieve her creative vision without breaking the bank. The only items purchased new were plumbing, light fixtures and soft goods including fabrics, rugs and linens; the rest of the furnishings and decor were essentially others' unwanted stuff. In Evans' capable hands, the mismatched, thrifted items come together beautifully with a chic, bohemian look that conjures thoughts of travel and adventure.
"I opened the Airbnb to showcase my design skills," Evans says. "Ideally, I'd like to work on a national level. My idea with the Airbnb was really about getting my name out there." She also wanted to experiment with a design vibe that channels fun and relaxation. "I wanted to take advantage of the space being an Airbnb versus a home and do some really fun, creative things that I wouldn't necessarily do in someone's house," she says. 
Mission accomplished. Among the many charming and quirky features of the space are a lofted bed, swings that function as seats and a bar built in the former elevator shaft. Evans made every effort to lend a Springfield influence to the entire project, commissioning local artists to paint murals throughout the space and hiring area craftspeople to build a few pieces of furniture and provide upholstery services. "When people visit from out of town, they find themselves immersed in local things," Evans says. "I have all of the information recorded in a guest book for those who are interested to know more about the space." She is especially proud that most of the work was done by her and her father, a custom home builder who graciously lent his skills and talent. 
Evans herself is a local, born in Monett and a graduate of Missouri State University with a degree in interior design. After graduating, she moved to Florida and worked for a luxury design firm with a global reputation. But Evans was driven to open her own company and returned to Springfield to launch Refine Studios out of her apartment in 2015. One year later, she opened her space on C-Street. Since then, she has had an opportunity to experiment artistically and entrepreneurially, shape-shifting as needed to grow her business and build her reputation as a full-service interior designer. "This year, we're focusing on what's working well," she says, referring to her recent decision to concentrate on client services and the transformation of yet another loft in her building, while limiting retail operations to appointment only.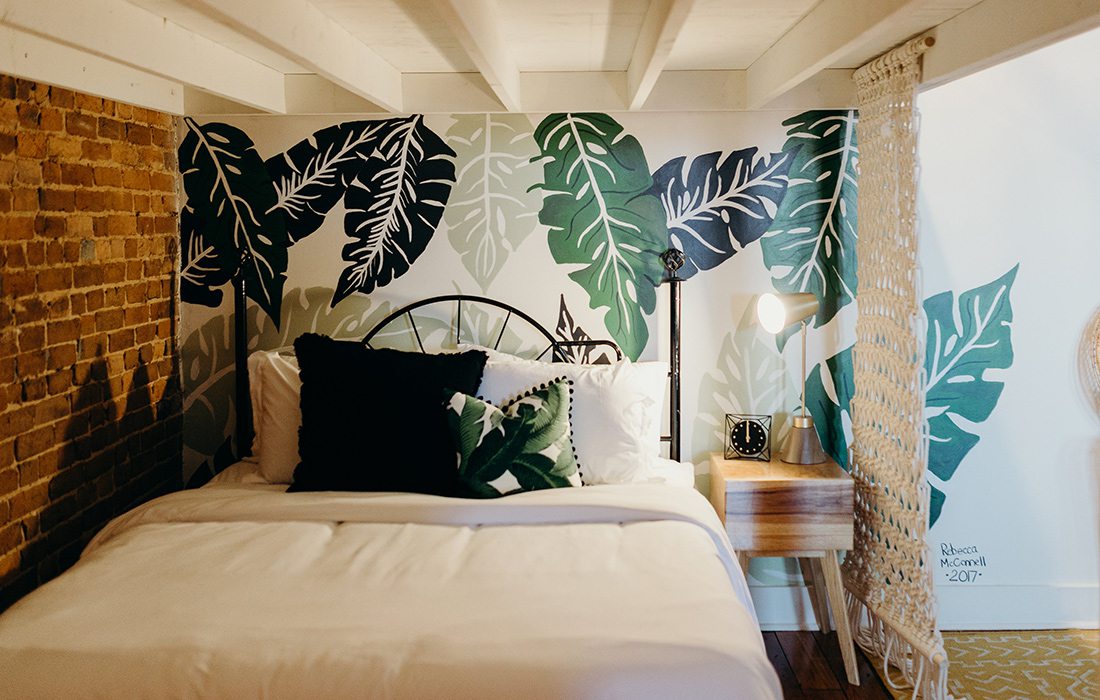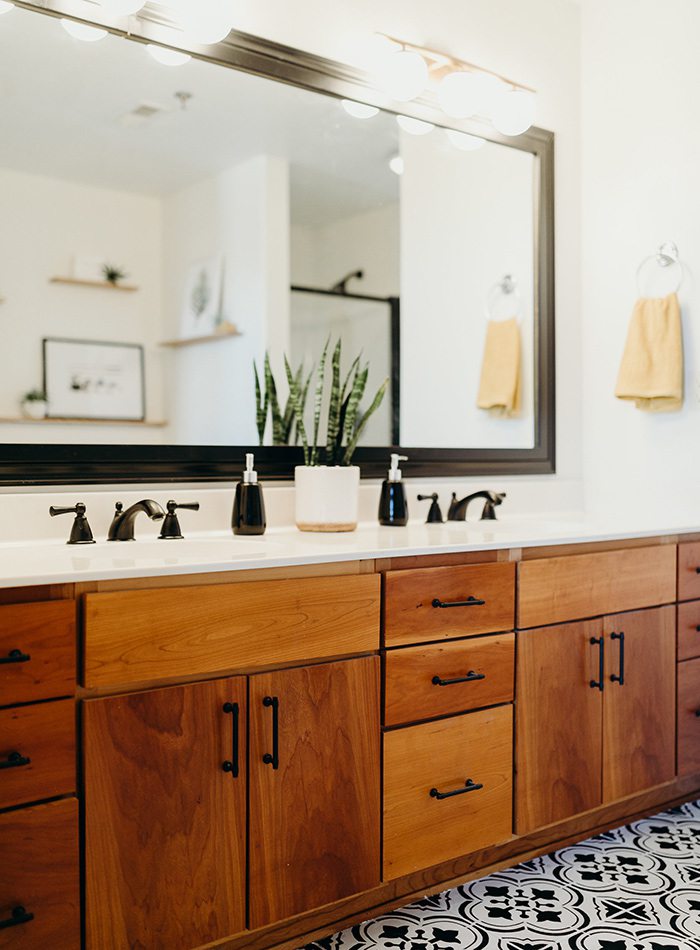 MASTER BATH: Evans gave this bathroom a low cost face-lift by simply updating the vanity hardware and fixtures, adding a chunky frame to the mirror and installing modern picture ledges. The painted and stenciled floor, done mostly by artist Kaitlin Hewitt, steals the show.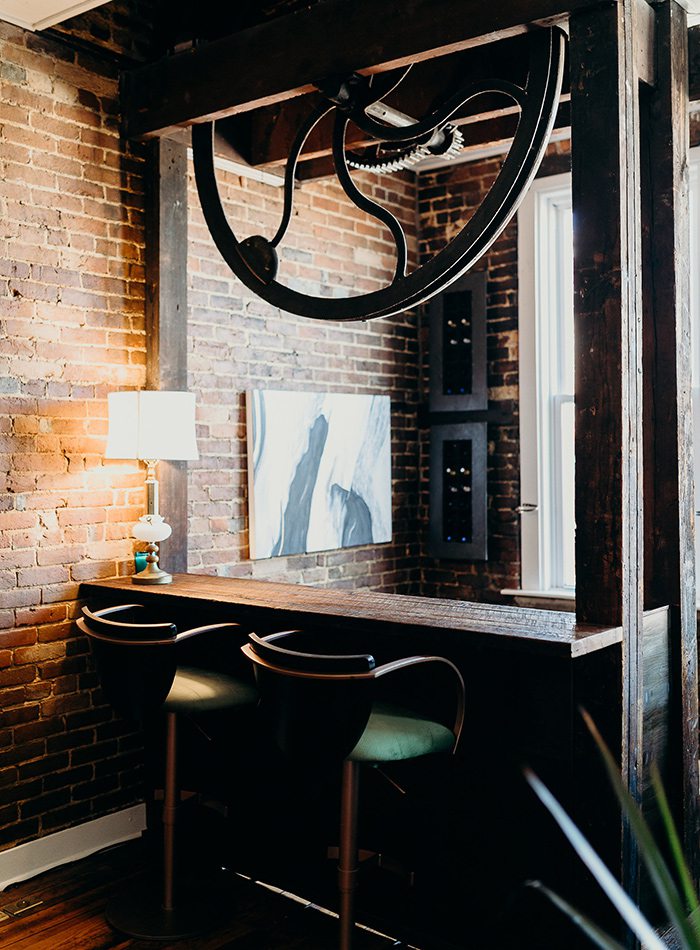 BAR: The elevator shaft, original to the space, is even more of a focal point after DG Stewart Hardgoods built a bar for coffee or cocktails. Perched on barstools that Evans upcycled with spray paint and new velvet upholstery, guests can watch trains that routinely pass by Commercial Street.
Photos by Beth Solano Photography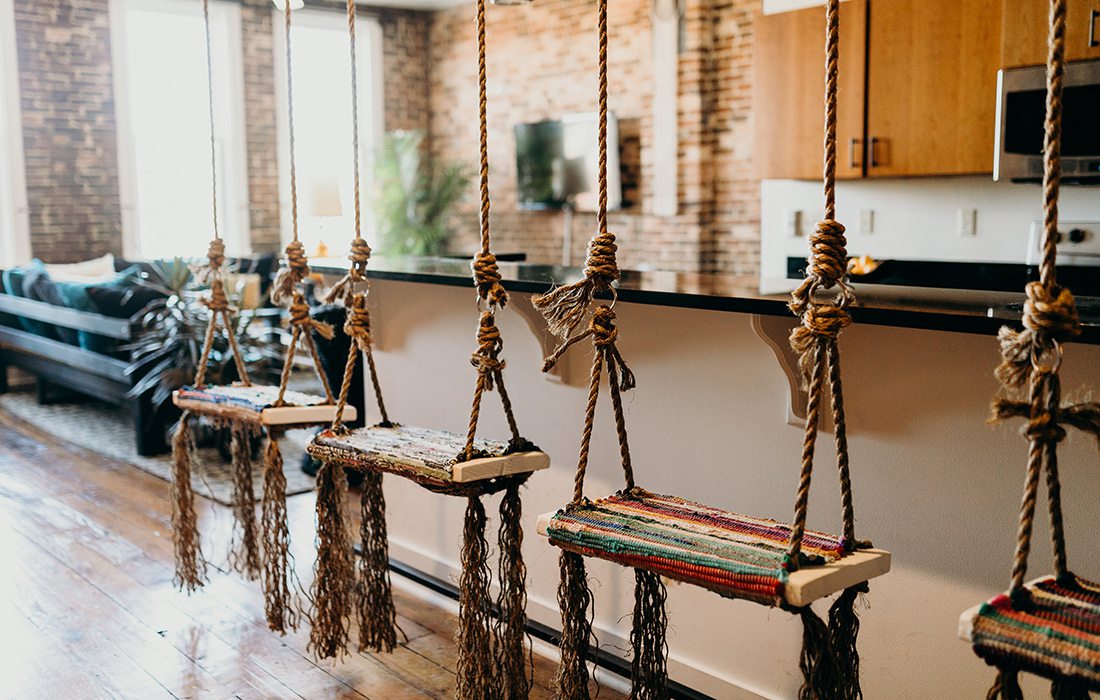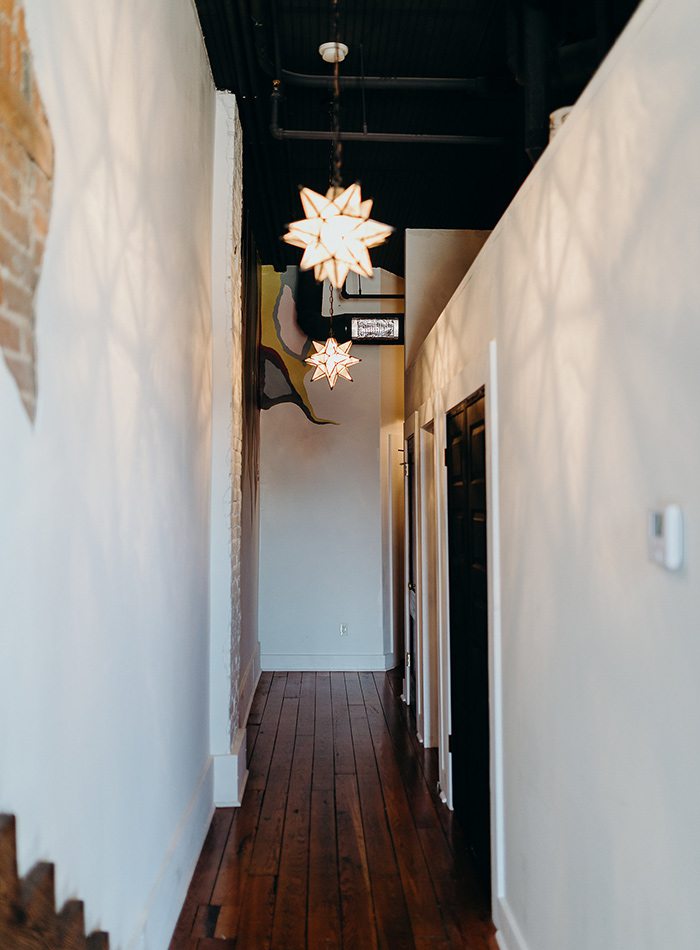 HALLWAY: Evans chose the Moravian star fixtures for their exotic look and the intricate light patterns they cast on the walls. The mural peeking out at the end of the hall is by local artist Amy Jenkins.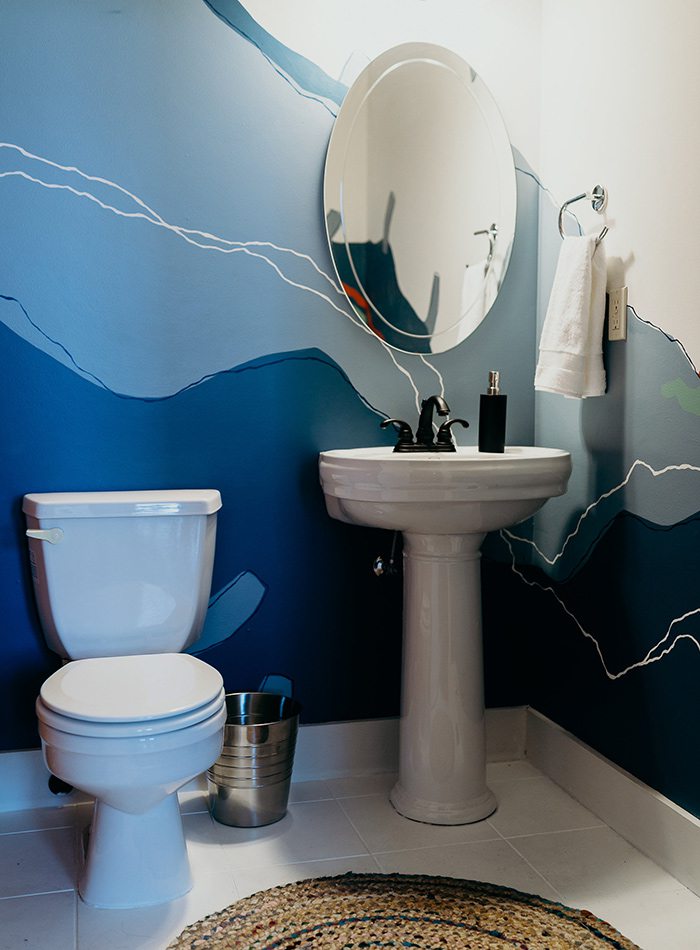 POWDER BATH: Springfield artist Kori Smalley created this mural that is evocative of the sea for the powder room. "I wanted all the artists to use their creative talents in whatever way represented their style and aesthetic," Evans says.
Photos by Beth Solano Photography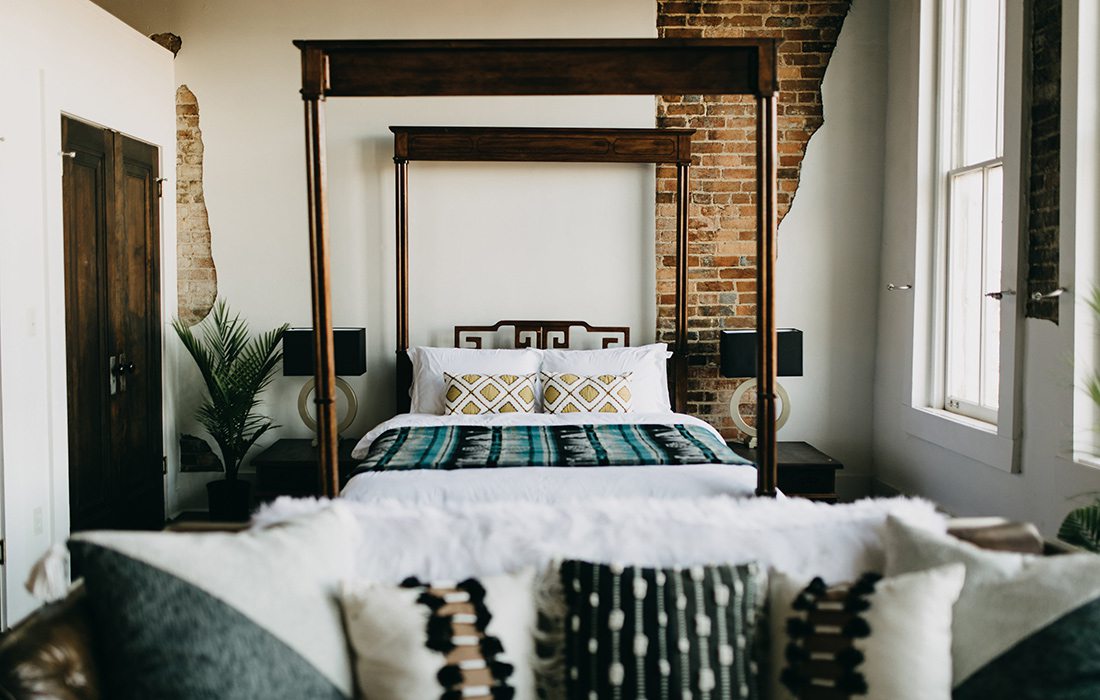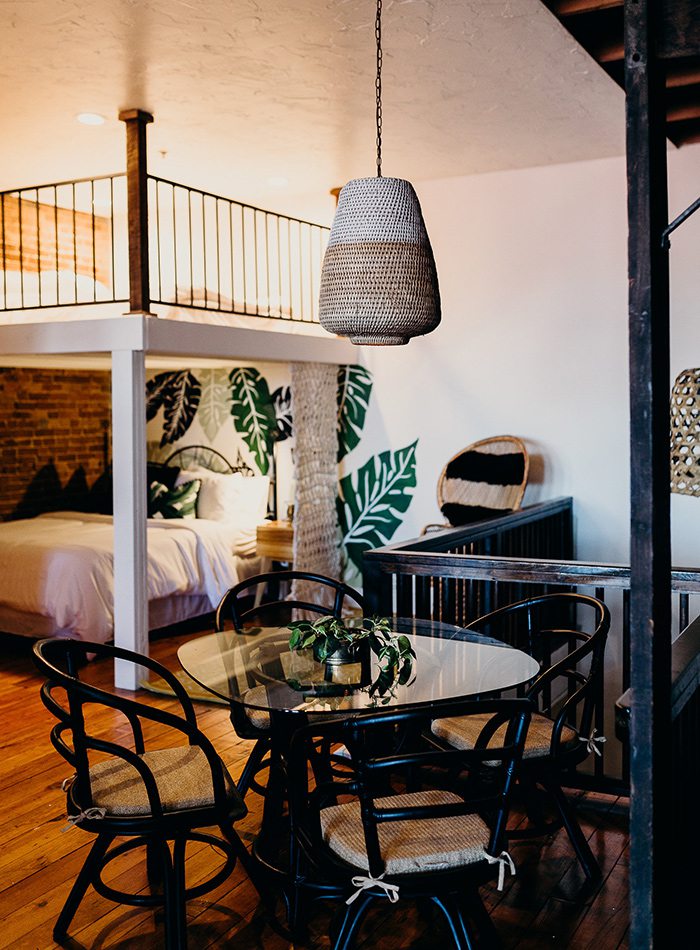 DINING NOOK: One of several light pendants made from repurposed baskets hangs over a thrifted and restored rattan dining set. The peacock chair by the wall boasts hundreds of individually tied pieces of yarn that add color and comfort.
ENTRY HALL: This private spot offers a place to read or have a quiet conversation. Evans plans to convert the two cubby holes underneath the stairs (mostly hidden from view in this photo) into reading nooks for kids.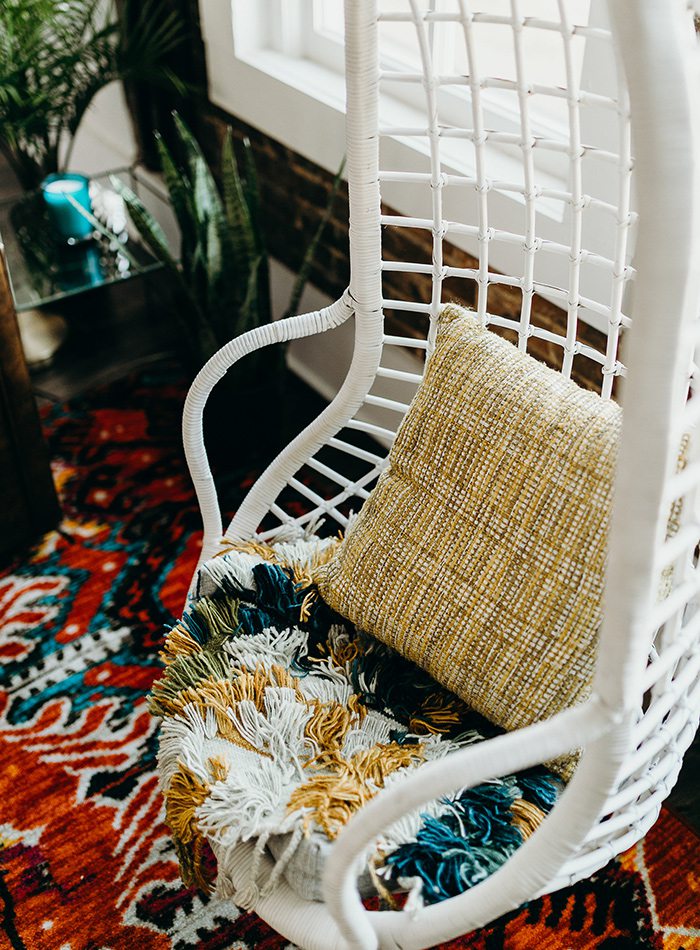 MASTER BEDROOM SITTING AREA: Guests can hang out in style in this vintage rattan chair that is suspended from the ceiling. A fresh coat of paint, a comfy pillow and a vibrant rug sample up the wow factor.
Photos by Beth Solano Photography