Things to Do
Birding for Beginners
April is prime bird-watching time, so get prepped to peep some birdies this spring. David Catlin and Charles Burwick, two members of the Greater Ozarks Audubon Society, share everything a birding newbie needs to know to make the most out of the season.
By Vivian Wheeler with additional reporting by Tessa Cooper
Apr 2018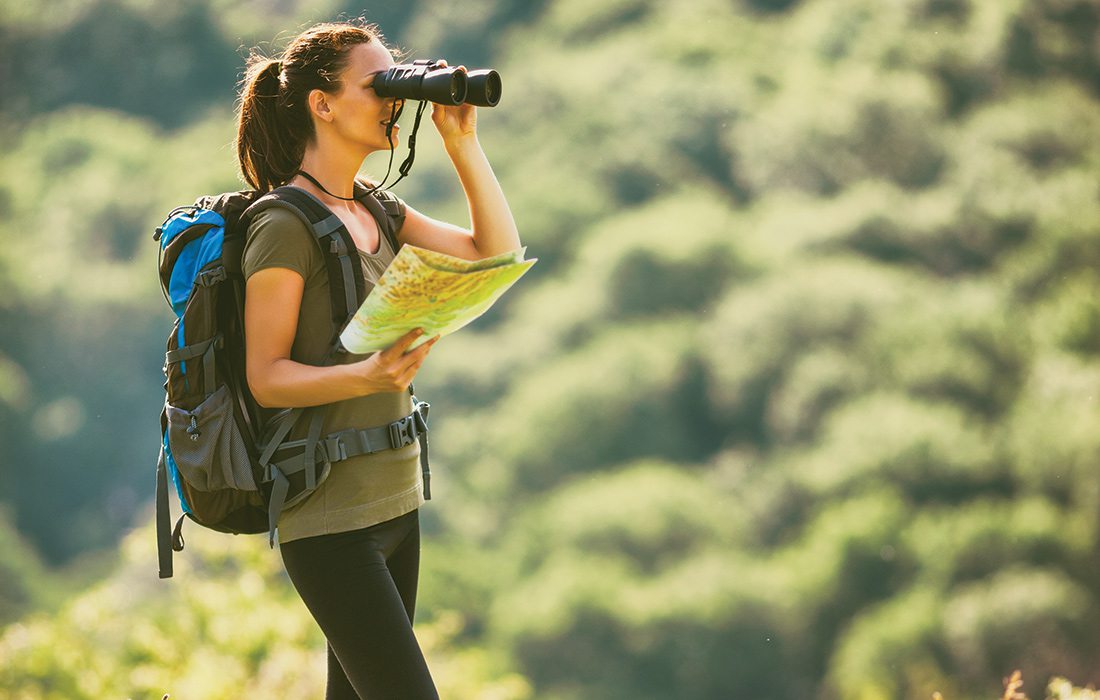 'Tis the Season
According to David Catlin, past-president of the Greater Ozarks Audubon Society, the beginning of April is the ideal time for aspiring birders to take up the hobby. It's early enough that leaves have not yet emerged on the trees. This makes spotting birds much easier than when trees are covered in foliage. Birds are also particularly vocal in the spring, and their singing is a real aid in finding them. April is also an ideal time for migration patterns. "It's late enough in the spring that migrating birds—birds that have gone south for the winter—are beginning to arrive, so you have a lot of interesting things that you can see," Catlin says. 
Also, don't just look up to see birds. Charles Burwick, a longstanding member of the Greater Ozarks Audubon Society, says because birds are always on the move, you should be observant in all directions.


Get in Gear
Fortunately, unlike golf or skiing, birding doesn't take much equipment or investment to get started. Catlin does, however, recommend investing in a decent pair of binoculars. Brooks Brown, owner of Wild Birds Unlimited, suggests spending around $100 for a pair. There are a lot of options out there when it comes to binoculars, but for beginners, Catlin suggests opting for a pair with specs of either 7x35 or 8x30. The first number, the 7 or the 8 in this instance, refers to the magnification and the second number, 35 or 30, correlates to the lens size. Catlin says that sometimes beginners make the mistake of buying a pair of binoculars with a magnification of 10. "A lot of times people feel like more magnification is better, but more magnification is not better if it makes it very difficult for you to find the bird," he says. The higher the magnification, the smaller the area you see in your view, and that can make it difficult for beginners to find birds. 


Book It
The other piece of equipment that Catlin recommends purchasing is a field guide. In the past, this has traditionally meant a book; however, with the advent of birding apps, there are more options than ever. If you're going for a paper version, Brown says a customer favorite is Birds of Missouri Field Guide by Stan Tekiela. Catlin likes the Sibley Guide to Birds, which is available in print or app form. Another option Catlin recommends is the National Audubon Society Field Guide to Birds. One added benefit of choosing an app over a print version is the app will have audio samples of birds singing, which can help you identify them by ear. 


Spots to Spot
There are several local options ideal for bird-watching, Catlin says, but the best place for beginners is the Springfield Conservation Nature Center. "In addition to having trails and diverse habitats, they also have a big bird feeding station and you can go into the exhibit area and look out the window areas," Catlin says. "If you're just learning the common birds, it's a great place to do that. They're right in front of you." There's also a good chance there will be someone else there who can share some of their bird-watching knowledge. Other places Catlin likes to go birding are Lake Springfield, Valley Water Mill Park and Fellows Lake. 
Burwick says The Greater Ozarks Audubon Society goes on regular field trips, and newcomers are always welcome. For a list of field trip times, visit greaterozarksaudubon.org. According to Burwick, how far you choose to travel to see different species varies depending on your level of passion. "There are some of us who are out every day of the year and travel across the country or even out of the country," he says. In February, Burwick and his wife and friends even went on a birding trip to Ecuador!
Beginning Birder Checklist
This spring, see if you can cross these common birds off your bird-watching list.
The white-throated sparrow is a native bird that newbies probably don't know about. 
You can start looking for the Carolina chickadee early, as it hangs around all year long.
Spring is the perfect time to look for warblers, which are small, energetic and colorful. Many species pass through the Ozarks on their way north.  
If you're lucky you might just spy a Baltimore Oriole at your hummingbird feeder. They start arriving in April. 
The tufted tit mouse is a cute bird that will show up in feeders just about anywhere, even in neighborhoods, as long as the neighborhood has trees. 
Be on the lookout for woodpeckers. The downy and red-bellied woodpeckers are two you have a good chance of spotting.
Bring on the Birds
There's something calming and intriguing about bird-watching. With the right tools, you might not even need to leave your backyard. Learn how to stage your outdoor space and then sit back and indulge in the chorus of songbirds with some morning coffee.
Bird-Attracting Basics
For beginner bird watchers, you don't need to invest too much to bring all the birds to your yard. Like many hobbies, it's easy to jump in fast and purchase too many tools. David Catlin, past-president of the Greater Ozarks Audubon Society, says all you need is bird feeder and bird seed. "Black oil sunflower seeds have the greatest appeal to the broadest cross-section of birds and they're widely available," he says. Charles Burwick, a longstanding member of the Greater Ozarks Audubon Society, says he began with a cheap field guide and bird feeder. "How much money you invest in tools will depend on how deep your passion goes," he says.


Pimp Your Yard
Fill your backyard with some basic items to attract birds. Brooks Brown, owner of Wild Birds Unlimited, says birds come to your yard if you help them meet their three basic needs—food, water and shelter. Set your yard up with a bird bath, a birdhouse and, most importantly, a full feeder. Brown also recommends getting a seed mix with black oil sunflower seeds because it can attract a variety of birds, but if you have issues with squirrels, he typically recommends choosing safflower seeds over black oil seeds. Want to give your bird buds a place to call home? Set up a bird house. "A little wren house is a great purchase for the spring because wrens will nest just about anywhere," Brown says.
"If you have a little patience and you put out a bird feeder, they can be attracted to just about any yard," Brown says. "I live right in the middle of town, and I see an average of at least 20 or 24 species of birds in any given week." Once you've turned your backyard into an inviting space, grab a pair of binoculars and start watching.