Spaces
Your Guide to Decorating with Glam Metals
Aged gold, brass and other metals are having a moment. We asked two local designers about the best ways to flawlessly incorporate this trend into your space.
By Adrienne Donica
Apr 2018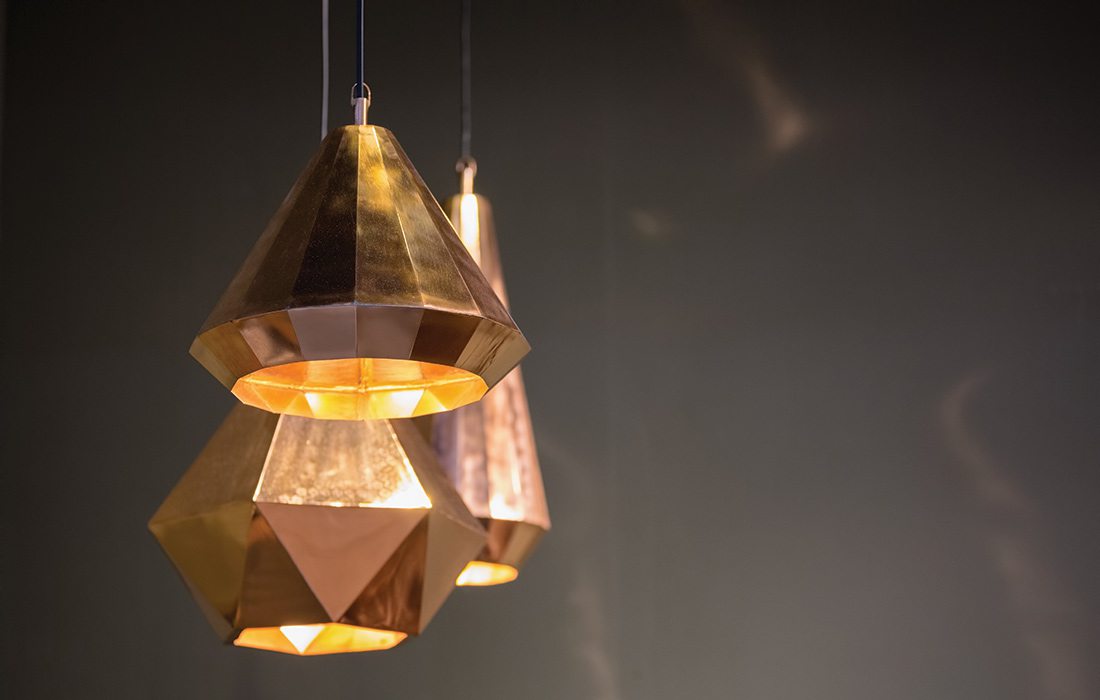 There's no time like spring to inspire change in your home. Outside, the world is turning green, flowers are blooming, and the days are getting longer. Inside, you've planned your attack for spring cleaning, maybe going as far as Marie Kondo-ing every room in your house. Everything feels fresh and new—except, perhaps, your home decor. Your saving grace? This season's chic metals are an easy way to add texture and warmth to your home in a sophisticated and timeless way. 


Know Your Style
Before browsing, decide what aesthetic you want, says 5908 Home Furnishings owner Patti Johnson. "That determines a lot of the different styles you would stay away from or go toward," she says. Thanks to numerous finishes and designs, metals can be incorporated in industrial, rustic and contemporary spaces. Having an idea of what you want helps create a cohesive look.


Find a Balance
The key to decorating with metals is to pair shiny and dull finishes. "There are so many variations that can go together," Johnson says. Your dull finishes don't have to be metal, either. "I think if you pair glam and glitz with natural materials, you get a really great mixture of lights and darks and depths and perception, so it creates a natural layered look," says Obelisk Home co-owner and principal designer Nathan Taylor.


Take Cues from the Runway
While you're at it, consider mixing the type of metals within one space. "In the fashion world, we always mix metals," Taylor says. "In the design world, a lot of people are afraid to mix metals, and I think that's one of the things that I love about the direction of the market is [that] the mixtures of texture and colors is awesome." For example, try pairing aged or brushed gold with polished nickel for a dynamic look.


Start Small
"If you want to test the waters of how you like the feel, do something simple that's not going to require to hire somebody else to come in and do it," Taylor says. "Don't hire a plumber to come in and put in all new faucets if you don't know if you're going to like the way it looks. Buy a vase. Buy a picture frame." Johnson echoes this: "Start with one piece that would be a metal and then build off of that."


Choose the Perfect Space
There are no hard and fast rules about where to decorate with metals, but Taylor loves how they elevate bathrooms. "Bathrooms, to me, [are] the best place to add the jewelry," he says, adding that metal light fixtures are also a great way to incorporate the trend. Johnson says metal works well in coffee and end tables, chairs, stools and all manner of accessories. However, she cautions against using these pieces in bedrooms.


Don't Go Overboard
Although Johnson and Taylor agree there are few rules when it comes to metal decor, it is possible to overdo it. "A piece of rose gold or copper mixed in is beautiful as a piece, but too much of it can be overwhelming," Taylor says. If you prefer a more conservative style, like Johnson, beware of mixing too many colors of metals together. "My rule is basically use one metal [in] different finishes, or possible two metals with different finishes, and that would be it," Johnson says.