Profiles
Boston Strong
Amy Robbins, a 417-land runner and neurophysical therapist, returned to run the Boston Marathon this year after crossing last year's finish line just 40 minutes before the devastating bombs went off. Her return was as much a healing process for her as it
By Ettie Berneking | Photo by Brandon Alms
Aug 2014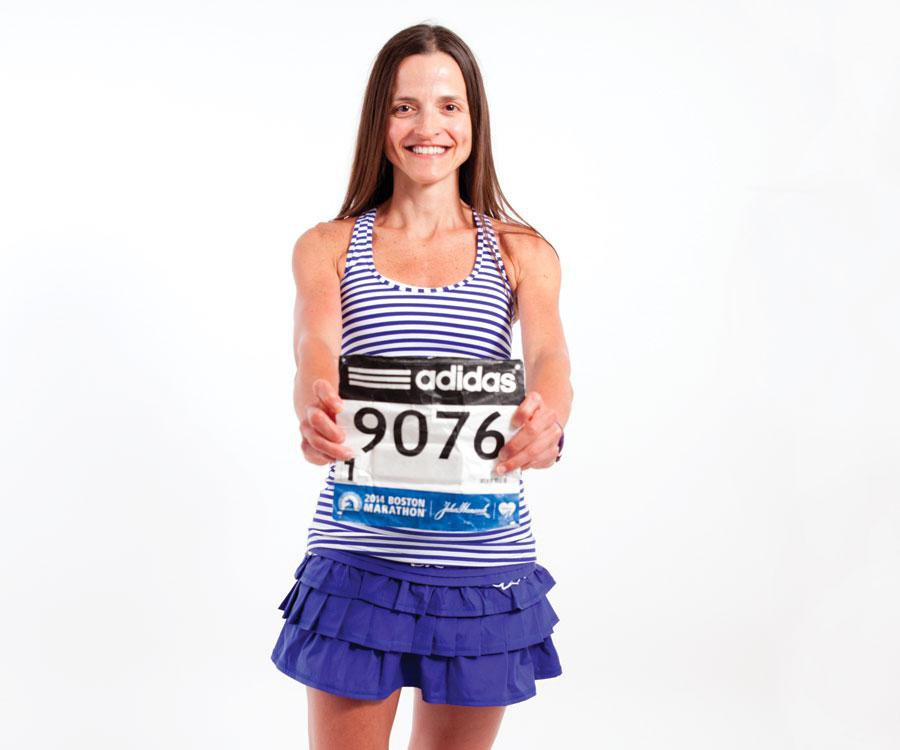 417 Magazine: When did you start running?
Amy Robbins: I started really running in college. My first race was The Kitchen 5K, and afterward I was talking to other runners and was getting ready to leave when they told me I had won my age group. I was hooked after that. 
417: So 2013 was your first year at the Boston Marathon. What was it like to finally be there?
A.R.: I had had a wonderful race in 2013. They bus you out to the start, and you run through all these towns. Every inch of that course is lined with spectators. I'd read so much about it in running magazines and was just waiting for everything I had read about to happen—like when you're passing Wellesley College. It's an all-girls college, and it's good luck if you can get a kiss from them. It was truly like being in a magical place.
417: Where were you when the bombs went off?
A.R.: My brother had come down to meet me and my husband. It was really chilly that day, so by the time I got my medal and drop bag, I wanted to go change into something warm, so we ducked into the Copley Square Hotel, which is just two blocks from the finish line. I went to change in the bathroom. They were in the bar in the lobby, and that's where we were when the bomb went off. So I went in feeling one way and came out to a whole different world. 
417: What were your first thoughts?
A.R.: You don't know what's going on. You don't believe it. A lady walked in and was just shaking. She said she'd seen people get limbs blown off, and she was trying to reach her family and friends. Our cells went down, so they let her use the landline, but she was shaking so bad she couldn't even dial. That made it so much more real.
417: What was it like to return to Boston this year?
A.R.: There was a small amount of anxiety when going back, but there was mostly determination. I trained harder and beat my finish time from last year. [I finished at 3:17:59.] To me it was truly like "Boston strong" was how I wanted my body to be. Every step was a healing process for me. 
417: What was the atmosphere like this year?
A.R.: It was huge. From the moment we got in the cab, our driver said people were coming to see the marathon who had never been to Boston and who just wanted to come support the city. I didn't see any fear on anyone, truly. I'm sure there was that fear and there were people who didn't want to come back and that's okay, too.
417: What spurred you to start running marathons?
A.R.: I was in my 20s and running 5Ks and 10Ks and decided a marathon was on my bucket list, so I started training and eventually ran my first marathon in Colorado. My goal was to qualify for Boston with that first race. I came across at 3:38 and was super-excited. Boston is the only one you really have to qualify for by running a certain time based on your age. 
417: Was the course everything you'd imagined it to be?
A.R.: It's not an easy course. The first 4 miles are downhill, and if you go too fast you've trashed your quads before you even start climbing. There's Heartbreak Hill at mile 21, and from there it's more rolling and flat into Boston, I came across the finish line and was so happy. I finished at 3:25.
417: Do you remember anything from the scene?
A.R.: My brother and husband's first thought was to get me to safety. We were staying across the Charles River, so we walked back across the bridge, and you could look over and see a sea of people just stopped in their tracks. I just said I don't know if I'll ever be back to Boston. I remember saying that.
417: What changed your mind?
A.R.: Coming back home, I went for my first run that next weekend. I had one running partner named Troy. He met me for my first run after Boston, and he's this big guy. Running with him made me feel safe like everything was going to be okay. 
417: Do you think this event united runners?
A.R.: I think everybody we know was saying "Boston strong." We went from fear to you're not going to stop us. I was completely determined to go back. And as soon as registration opened up, I signed up again. 
417: What is about running that you love so much?
A.R.: I just feel such joy when I cross every finish line because it's not just that day. It's all that training and all the work that goes into it. And it's not just me. My running partners and my husband will bike next to me on long runs. It's a team effort to get me there.
417: What does your normal training routine look like when you're preparing for a marathon?
A.R.: I'm kind of a crazy person. I get up at 2:30 a.m. or 3 a.m. every day and then spend two hours on the elliptical then run 15 miles. Every Monday, Wednesday and Friday, I bike 85 miles.
417: How many marathons have you run at this point?
A.R.: I just finished the Fargo marathon a few months ago and finished seventh female overall. I've now set a goal to run one in every state. I'm a goal-oriented person, and am always trying to find new things to do. That's how most runners are. They're always looking for new runs and new goals. It's an accomplishment.
417: Since you're prone to stress fractures, how do you handle the training when you're injured?
A.R.: I pool run. I have another friend who goes with me, and we can pool run for a few hours and chat the whole time. You get out and your legs are shaking. Stress fractures take three months to heal and can seem worse than if you'd just snapped the bone.