Life
Culture Boutique Hotel
You can find your next weekend escape right in town on historic Commercial Street. Culture Boutique Hotel houses six themed suites that are the perfect mix of local luxury and imported mystique.
Written by Lillian Stone | Photos by Brandon Alms
Aug 2016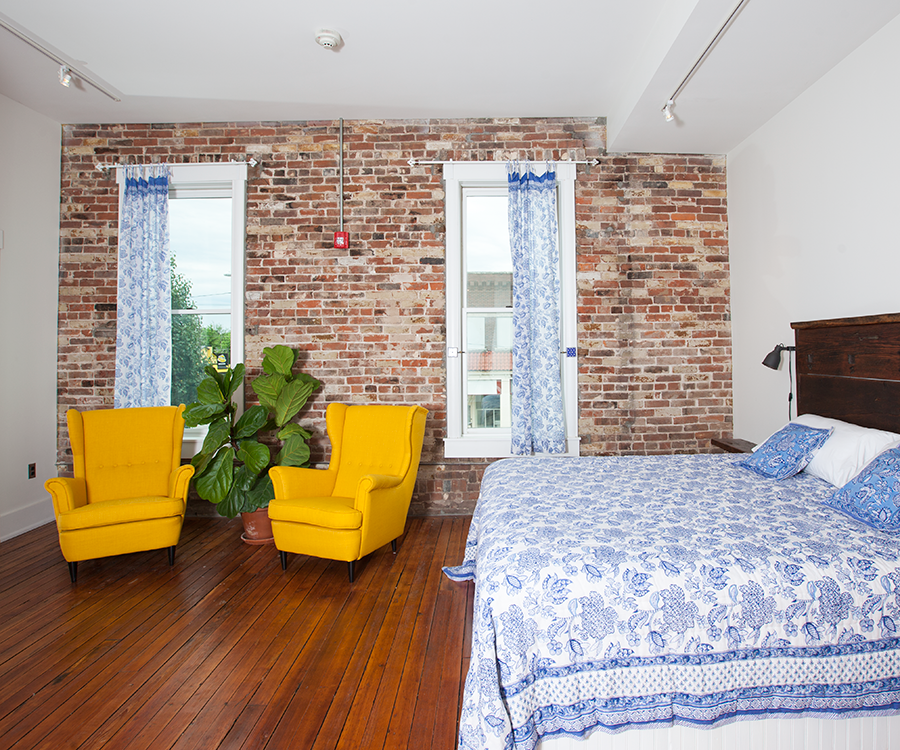 Itching for an exotic getaway? An escape may be closer than you think. Karen and Justin Beiler, owners of Culture Boutique Hotel, are giving guests a taste of Eurasia. It's refreshing to say the least. Most importantly, they're doing it with a good cause in mind. 
It all began when Justin Beiler decided to combine a passion for social justice with a flair for coffee. Justin initially founded Eurasia Coffee & Tea as a traveling coffee company and began selling wholesale products to local churches and businesses, returning 10 percent of all sales to social justice needs in Eurasia. Causes include modern slavery, education, healthcare and poverty, to name a few. In 2011, Justin purchased Eurasia's current space on Commercial Street. That's when Karen came on the scene. The two met in 2013 working at an Assemblies of God camp for college-aged "MKs," or missionary kids. They fell in love and, six months later, Karen moved to Springfield from New York. The Beilers were married in 2015, a little over a month after they opened Eurasia's flagship cafe and headquarters. 
The idea for the hotel, which held its grand opening on June 25, came later. "We were looking for opportunities to use the rest of the building because there was more space than we needed," Justin says. The Beilers ultimately decided on a boutique hotel to continue their mission of highlighting social justice projects in Eurasia.
A HOTEL WITH HEART
The hotel is the culmination of the couple's lifelong connection to the Eurasia region. Both were raised as MKs—Karen in Japan and Justin in Austria. Today, Justin's parents serve as the area directors for all Assemblies of God missionaries in the Eurasia region. Although they are now based in Springfield, the family maintains close ties to the region and the missionaries within. The couple's deeply rooted connections to the Assemblies of God also tie in perfectly with the hotel's location, as the Assemblies of God headquarters are just a few blocks away. According to Justin, the Assemblies of God acquires hundreds of hotel rooms annually for visiting missionaries and other guests. "If we even get a small percentage of their rooms, we'll be doing pretty well," he says. Lucky for the rest of us, the hotel is open to anyone—not just visiting missionaries. 

The Casablanca, Morocco room has a light and airy feel with lots of white and wooden details. 
ROOMS WITH A VIEW
Each of the hotel's six suites is named for a city in the Eurasia region: Jaipur, India; Kathmandu, Nepal; Casablanca, Morocco; Istanbul, Turkey; St. Petersburg, Russia; and Tallinn, Estonia. Between the two of them, Justin and Karen have visited every locale except Casablanca, which they plan to visit next year. The Beilers initially chose each city to share their connection to the Assemblies of God missions occurring therein. "We wanted people to be able to experience the cities that are highlighted," Justin says. "A lot of the cities aren't necessarily the first ones you'd think of, so we wanted to highlight what's special about those places." 
The Beilers hope that a stay at Culture Boutique Hotel will be not only a comfortable one, but also a cultural one. "It's that sense of stepping into another culture when you step into one of our rooms," Justin says. "It's kind of tying people into not only the local C-Street community here, but to those communities that we're working in around the world." The Beilers have achieved their goal. Take, for example, the Casablanca room, which Karen admits is her personal favorite suite. The airy room is reminiscent of Morocco's mystery, with whitewashed walls and exquisite woodwork throughout. Down the hall is the Jaipur room, which features linens brought directly from Jaipur by one of the Beilers' missionary contacts. Then, of course, there's the coffee. Each room is equipped with pour-over equipment, to be used with the guest's choice of house coffees.
A LEGACY OF LOVE
The grand opening of the boutique hotel marked the end of Eurasia's extensive building renovation process—but it could be just the beginning of the next phase for the Beilers. The Beilers are looking forward to spending more time in the countries after which each suite is named. That process will hopefully include starting sustainable coffee farms in Nepal and India. "Although we love everything that is a part of this building, we are more passionate about what the organizations are doing over there," Karen says. "So we're excited to get to spend more time with them."