Life
Grow Your Own Tomatoes
Tomato season is here, and the freshest way to get a bite out of summer's best fruit (sorry, watermelon) is to pick it straight from the stem. With a few simple tips, you, too, can grow the rubiest red tomatoes right in your backyard.
By Claire Porter
Aug 2016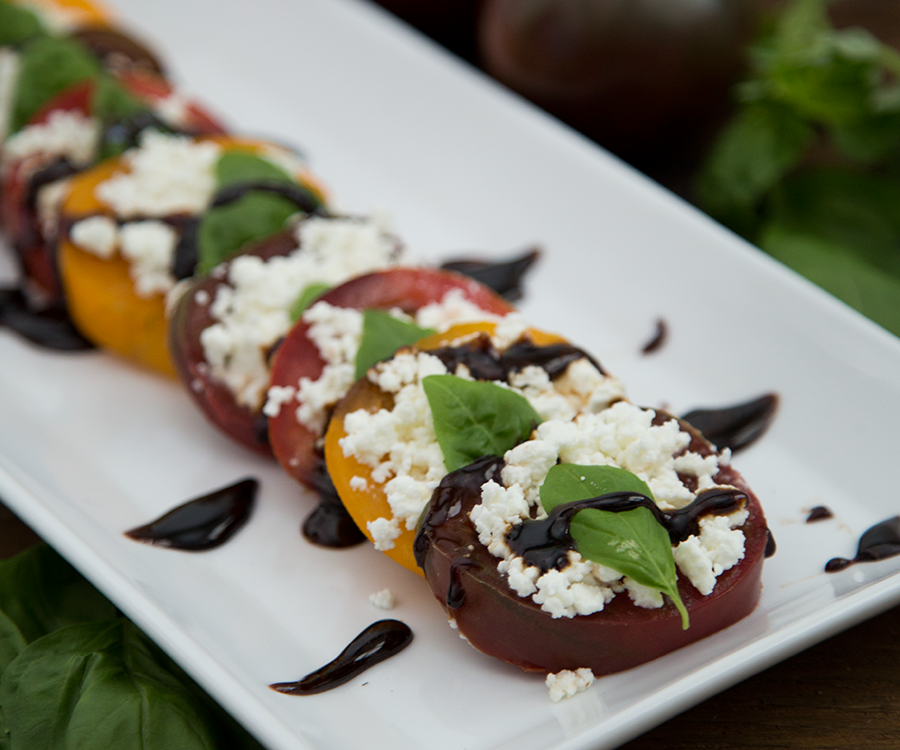 Nothing spoils a hearty sandwich or a crunchy salad quite like a bland, tough, mealy tomato. Fortunately, tomato season is here, and growing your own meal-ready juicy gems in your backyard has never been easier thanks to advice from local experts. 
Before you start tearing up your garden plot, head over to Baker Creek Heirloom Seeds (2278 Baker Creek Rd., Mansfield, 417-924-8917, rareseeds.com) to pick up your seeds or sprouts. Executive Chef Zachary White with The Order says Baker Creek is his go-to source for seeds, advice and planting expertise, and it's where he gets seeds for his own garden-grown tomatoes, which he uses in some of The Order's recipes. "Ones you grow in the garden always taste the best," he says. And if they're good enough for one of Springfield's most popular restaurants, imagine what they can do to your family's dinner-table recipes. 
If you're a bit of an amateur gardener and have a tomato plant or two already, Jim Parker, owner of Parker Farms (417-232-4512, facebook.com/ParkerFarmsLockwood), says you can bury a tomato stem or leaf to start your own plant. He says the little hairs that you see on the stem grow into roots when buried. Make sure you place your plant somewhere it can soak up a full day of sunlight. 
Parker says to fertilize your soil when you plant and to add a little more when the plant starts to produce fruit to give it a boost. Water frequently and consistently, but be careful when watering, because according to Parker, a lot of plant-damaging diseases are transferred when water droplets splash up from the soil and onto the plant's leaves. Make sure to heavily mulch or cover the soil at the base of your plants to trap moisture and prevent the transfer of disease. 
As soon as your plant has started fruiting, you can expect to reap a full harvest of tomatoes for the full season to work into all your salads, sandwiches and sauces. Parker says that if the first frost is approaching and your plant still has green tomatoes, you can pick them while they're green and let them sit at room temperature to continue ripening off the vine. Regardless of the color, variety or flavor of the tomatoes you're picking (or buying, we won't tell!), Parker and White agree that the key to the perfect flavor is storing your pick at room temperature—never in the fridge. With a little love, a lot of sun and a healthy amount of watering, you're on your way to a summer full of mouth-watering, perfectly plump tomatoes. 
Dinner without the Dirt
If your green thumb tends to kill more plants than it grows, you don't have to miss out on tomato season. Get garden-fresh tomatoes from these local spots for that straight-from-the-farm flavor: 

Millsap Farms and Urban Roots Farms CSAs
Subscribe to the farms' CSA services to have fresh produce and locally produced foods delivered to your door. 
Farmers Markets
Your best chance at gathering the greatest variety of tomatoes in one spot is at farmers markets such as Farmers Market of the Ozarks and Greater Springfield Farmers' Market. 
MaMa Jean's Natural Markets
If a traditional grocery store experience appeals to you more, you can still find locally grown farm-fresh produce—tomatoes included—at MaMa Jean's locations.
---
Hungry for Harvest
By early fall you'll be up to your ears in tomatoes. Don't let those garden goodies go to waste. Here's a list of tomato-based ingredients and dishes you can make with your bounty.

Salsa
You can make salsa with pretty much any tomato, but The Order Executive Chef Zachary White recommends mixing in a rainbow of varieties for a chip dip that's as beautiful as it is complex. He suggests trying purple Cherokees, black Russians, green zebras or yellow Brandywines for their pop of color and a complex flavor profiles. 
Tomato Paste
Tomato paste is the base of many sauces, soups and chilis. Jim Parker of Parker Farms says Roma tomatoes are great for making tomato paste because they have fewer seeds than most varieties, which makes for a smoother, richer paste. 
BLTs and Sandwiches
Whichever way you slice it, a sandwich is the perfect meal, and it's made even more perfect topped with a thick, juicy tomato. However, the type of tomato is totally up to you depending on your tastes and preferences. Parker says beefsteak tomatoes were originally bred for use on sandwiches because of their thick, sturdy texture and large size, but they don't have the best taste. For a flavorful punch, Parker recommends varieties such as Brandywine, Cherokee purple or big beef tomatoes. 
Tomato Sauce
Give Chef Boyardee a run for his money by whipping up your own tomato sauce using your garden gems. The beauty of the sauce's long cooking times and herb and spice blends is you can use pretty much any tomato you'd like. Parker says by the end of the season, he and his family whip up tomato sauce with whatever varieties they have on-hand. Although you can use whatever type of tomato you want to make your own custom flavor, the one tomato sauce requirement is using super-fresh ingredients for taste that'll make you say 'Mama Mia!' 
Naked
You don't have to be a master chef to enjoy the fruits of summer. Almost every variety of tomato tastes great sliced up and served with nothing but a dash of salt. "Salt and tomatoes go well together," White says. "Sprinkle a little bit on each slice, and you're sure to get the perfect bite each time." 
Because of the fruit's high acidity, tomatoes can be off-limits for those with certain stomach problems, but Parker says that yellow tomato varieties tend to have a lower acid count and might be a safe alternative. And the best part is they're just as delicious as any other tasty tom.