Style
Discover Fashionable Finds at Ozark's HuckaBella
Two Ozark natives came together this spring to open HuckaBella Boutique & Marketplace, a fashion-forward spot filled with local lines, vintage treasures and gifts for all ages.
By Stephanie Towne Benoit
Aug 2017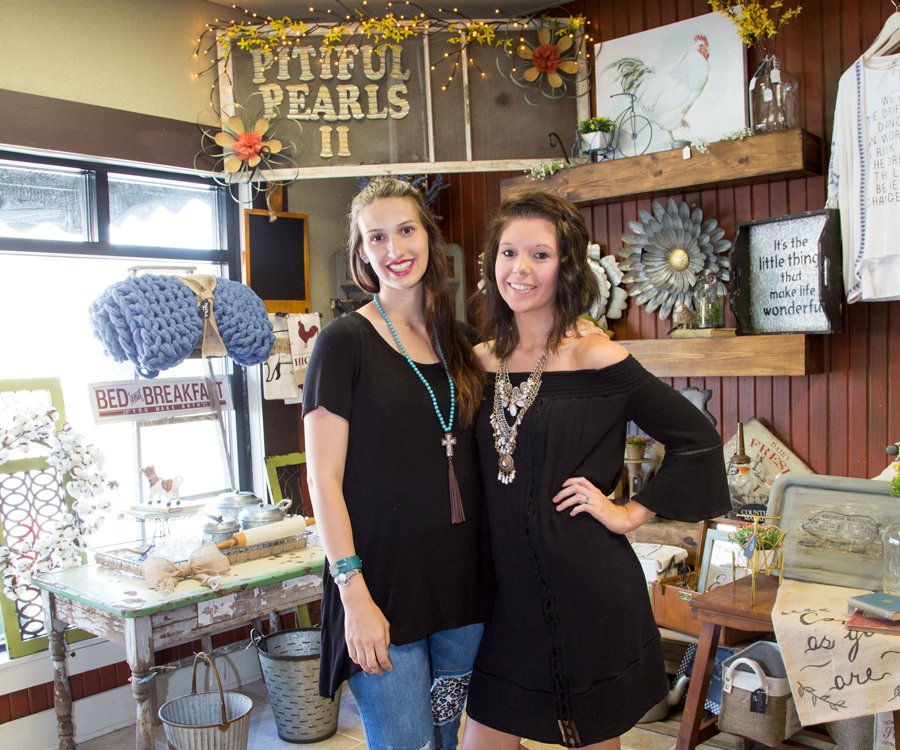 To best appreciate the aesthetics of HuckaBella Boutique & Marketplace (101 S. Third St., Ozark, 417-731-4171, huckabella.com), which opened this past spring in downtown Ozark, admire the contents of a small case near the checkout counter: authentic, refurbished Louis Vuitton purses and wallets bedecked with touches like leather fringe, turquoise-colored detailing and even furry tassels. Hand-finished by local artisan Brandy Grace, the darling accessories toe the line between luxe and country-chic, a balance struck by much of the shop's wares.
The boutique is the brainchild of childhood friends Savannah Malcolm and Sarah Huck, who had a clothing line together that they sold online. Eventually, their houses reached a point where they overflowed with inventory, so the pair made the jump to selling the clothing at a booth in Ozark's Rustic Romance Vintage Marketplace. But when The Avant Garde'n relocated to a new location and its old 4,200-square-foot space became available, Malcolm and Huck jumped at the chance to have a shop of their own.
Today, the welcoming boutique is filled with merchandise from more than 50 brands from around the region, such as Western-chic clothing and accessories from Buckthorn Designs, handmade necklaces and leather cuffs from Texas Soul, vintage clothing from The Retro Kitty, feminine tops and dresses from Humble + Kind, essential oils from Ozark Essentials, and many others. 
Vendors decorate and maintain individual portions of the shop where their items are displayed. For example, the space dedicated to home decor line Jojo's Cottage is a cozy, quaint nook in the back corner filled with refurbished furniture, pretty pillows and other treasures, while the sleek front space where Malcom and Huck's own HuckaBella line is situated features pretty tops, dresses and denim against a wall of rustic wood paneling constructed out of recycled pallets. Although the vendors' distinct styles shine through in their respective spaces, the pair worked to ensure the boutique maintained a sense of cohesion, rather than separation, between those displays. "We didn't want to have booths," Malcom says. "We wanted to be able to make it flow."

When thinking through that configuration, Malcom and Huck took care to consider a core demographic with which they are particularly familiar: mothers and children. As parents with five little ones between their two families, the pair sought to create a shopping experience that moms can enjoy, thanks to the curated assortment of darling kids' clothing, gifts and necessities and the aisles and displays arranged specifically with strollers in mind. "It's very rare that we get to go shopping by ourselves," Malcolm says. "We always have our kids with us, and I know other moms are generally like that as well, so we want to make sure that things are family friendly."

Q&A with HuckaBella Boutique & Marketplace
417 Magazine: How do you select vendors for the boutique?  
Sarah Huck: We try to have a variety of everything. We want people to come here for clothes. We want them to come here for kids' stuff. We want them to come here for home décor—just really anything that fits their life.
417: What is something that you think sets HuckaBella Boutique & Marketplace apart? 
S.H.: Plus-size [clothing] is more expensive to buy wholesale, and it's also harder to find cuter stuff. I want people to know that we also have plus sizes. 
417: What trends have you learned about through having the store?
Savannah Malcolm: Mixing patterns and things like that. I never would have done that before, but it's a thing that people are doing.
S.H.: I've learned a lot about how to put outfits together. I get a lot of people that show me a kimono, and they are like, "What would you pair with this?" So I'm kind of teaching myself different things that people might like.