Style
Helton's Home Furnishings
With decades of experience in the furniture and upholstery business, Helton's Home Furnishings Inc. is a can't-miss spot within 417-land's home furnishings market.
Written by Adrienne Donica | Photos by Vivian Wheeler
Dec 2016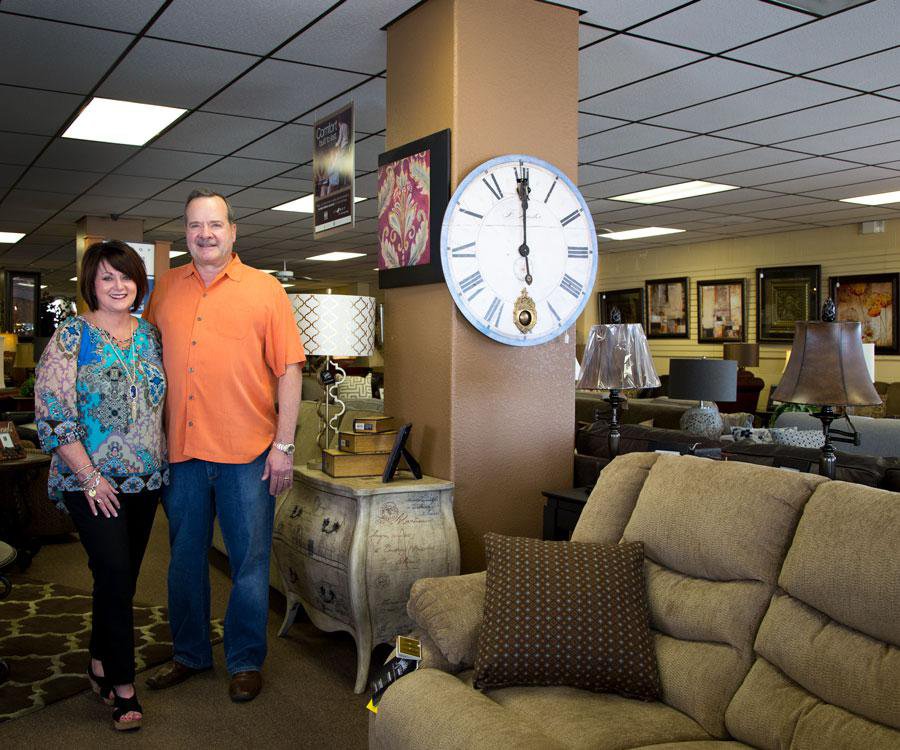 Springfield has many places to find one-of-a-kind furniture pieces to complete any room, but insiders of 417-land's home furnishings market know there's a gold mine of good finds at Helton's Home Furnishings in Lebanon. Inside its beige and tan walls covered with signs that advertise deals and furniture lines, don't be surprised if you find multiple generations of the Helton family waiting to help you find the perfect item for your home.
The regional furniture hub was opened in 1983 by brothers Larry and Gary Helton. "Before we ever sold one stick of furniture, we were in the repair and upholstery business," Larry says, referring to the repair shop his father, Bob, started out of his garage in the late '60s. 
Since its inception, Helton's has been a family venture. Larry, Gary and their wives, Beverly and Jonice, handle the day-to-day operations, while Norma, the boys' mother, helps out a few days a week. Beverly credits the family's long history with the store's continuing success. 
"I think Larry and Gary's knowledge of furniture has been a really good guidepost for us because they really know how it's put together," Beverly says. "They've done that. They grew up doing it." Likewise, both couples' children have all worked in the family business, and Gary and Jonice's daughter, Amy, continues to work full-time there. 
Regardless of what room you want to furnish, there's a good chance you can find what you need at Helton's, which is known for its competitive pricing. The 30,000-square-foot store, which has seen three expansions, is chock-full of inventory. One of the store's first lines, La-Z-Boy, is still one of its best-selling, but the store has many other major vendors. Other notable lines include Lebanon-based Justice Furniture & Bedding, Broyhill Furniture, Thomasville Furniture, Hooker Furniture and, most recently, the Magnolia Home line. An area of the store's bedding showroom is dedicated to that popular line by HGTV's Joanna Gaines.
OUR FAVORITE FINDS: 1. Giftcraft decorative bowl, $49 2. IMAX large serving tray, $89 3. Magnifying glass and letter opener, $69 each 4. Pulaski accent chest, $329 5. Ashley lamp, $79 6. Magnolia Home Carpe Diem chair in peacock, $699
And although you might not think of Helton's first for a mattress, the family loves helping customers find a bed that's right for them. "We were told years ago by a sales manager at Tempur-Pedic that our store sold more adjustable bases per square foot than about anybody," Beverly says. "Almost everyone in our family has one. We love them, and you can sell what you like." Larry says today's market has many high-end mattresses to choose from.
Modern, country and traditional styles blend together in each of the showrooms, and you're never far from fabric swatches or a variety of finishes to customize your buy. With boxed merchandise above the sales floor and a nearby warehouse, the store offers same-day delivery, which is always free in the 417 and 573 area codes. Whether you're looking to outfit your living room, dining room, bedroom or patio, Helton's is worth the trip.