Reviews
Chef's Table at Metropolitan Farmer
The chef's table at Metropolitan Farmer has been one of the best-kept dining secrets in Springfield. Until now.
Written by Vivian Wheeler | Photos by Brandon Alms
Dec 2016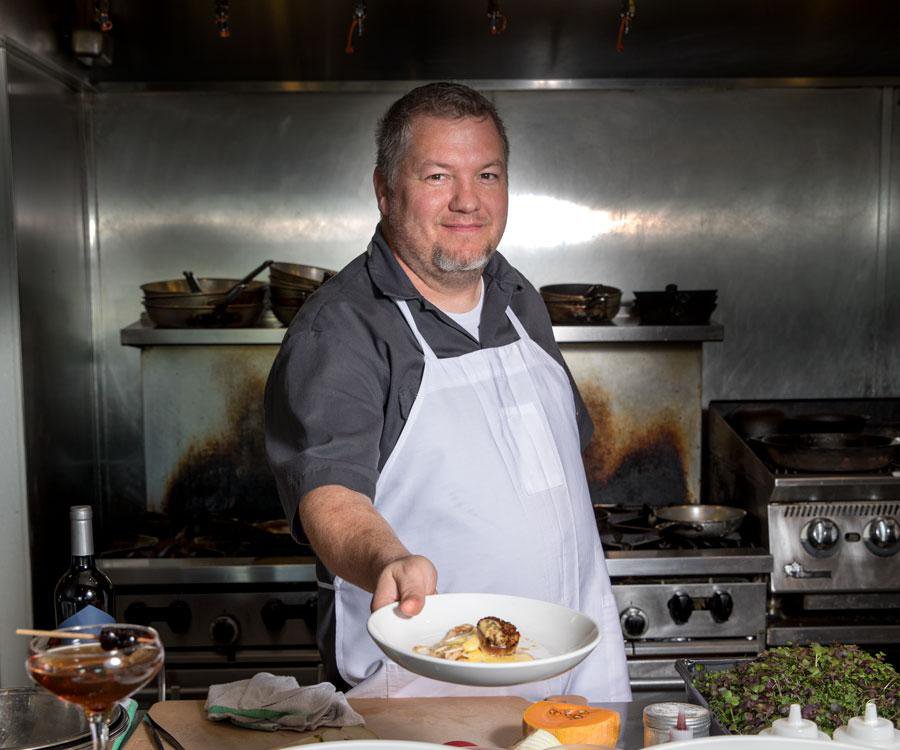 A friend of a friend told a friend who told a co-worker of mine who told me. That's how I found out about the chef's table at Metropolitan Farmer. Helmed by Wesley Johnson, the chef's table is a one-of-a-kind dining experience that's customized to each guest's preferences—a premise too tantalizing to pass up. Once I found out about it, I knew I wanted to try it, and last September a friend and I made reservations. 
We arrived and were walked back toward the kitchen, and it quickly became apparent that the chef's table could more accurately be described as the chef's counter. It was a tiny space directly in front of the kitchen. Our chairs were right next to the expo window, and they overlooked the stove and grill. We had front row seats to all the inner-workings of a commercial kitchen, and having worked in restaurants for years, I know what a scary place they can sometimes be. This chef's table was the work of either a very confident chef or a crazy one. It became clear throughout the evening it was the former, but I'm getting ahead of myself here.
When we sat down, Chef Wesley Johnson was finishing up cooking a cigar dinner for a large group upstairs at Barley Wheat & Rye. He greeted us without skipping a beat, asking about our days as he oversaw the plating of the entree course for the party upstairs. 
The grilled pear and donut capped off the meal for a not-too-sweet finish.
The chef's table is designed to be five courses. The menu is prepared on the fly in accordance with the diner's likes and dislikes. "I generally don't write the menu until I get a chance to talk to [the guests], because we really want to customize the menu to their experience." Johnson says. We sipped on old fashioneds as Johnson inquired about our food preferences and what we had for lunch. Johnson has that rare knack for making everyone he meets feel like a close friend. He had us laughing right out of the gate and he kept up the banter as he began cooking our food.
"Everything we tried was good, but the real star of the evening was Johnson and the experience he created."
The menu is never the same, and you never know what you're going to eat until a plate appears before you. "A lot of these dishes don't ever get replicated again," he says. "I'll make them in the moment for people, and they're like, 'That's great. You should put that on the menu,' and I'm like, 'I already forgot how to make it.'" Much of what ends up on the menu for the evening is shaped by the produce his farmers brought him that week. By incorporating fresh, seasonal ingredients and the preferences of the guest into the menu, Johnson is able to create a one-of-a-kind dining experience for each chef's table. After my friend expressed his distaste for liver and I shared my aversion to overly sweet food, Johnson began cooking the first course. 
He started us off with a zucchini pancake with house-made creme fresh and pickled onions. Zucchinis were in peak season, and the pancake tasted like the end of summer. The second course was a scallop smothered in a corn cream with a side of apple and fennel salad. The sweetness of three different components managed to complement each other rather than overwhelm the dish. For our third course, Johnson served up filet that had been seared, poached in bacon fat and then grilled. It was topped with flaked Maldon salt and butternut squash chips. A drizzle of red wine reduction circled the steak.
Bacon poached filet with butternut squash "chips"
Next came the duck. This was my favorite course of the evening. Johnson seared the duck to crisp the skin and then roasted it in the oven. Pickled shallots topped the dish, and a molasses glaze helped cut through the fattiness of the meat. If you don't like duck, let Wesley Johnson cook it for you. He'll change your mind. 
A grilled pear coupled with a donut was dessert. It managed to satisfy my semi-sweet tooth without immediately inducing a cavity. I ate every last bite. 
Everything we tried was good, but the real star of the evening was Johnson and the experience he created. If a less-engaging chef was running the show, the two-hour meal could have felt gratuitously drawn-out. Instead, we enjoyed every single minute we sat at that tiny counter.