Reviews
Review: CB Social House
Springfield restaurateurs Cody Smith and Jeremy Smith headed downtown to open their second restaurant venture—CB Social House—and it's a place that everyone's talking about.
Written by Savannah Waszczuk | Photos by Brandon Alms
Dec 2016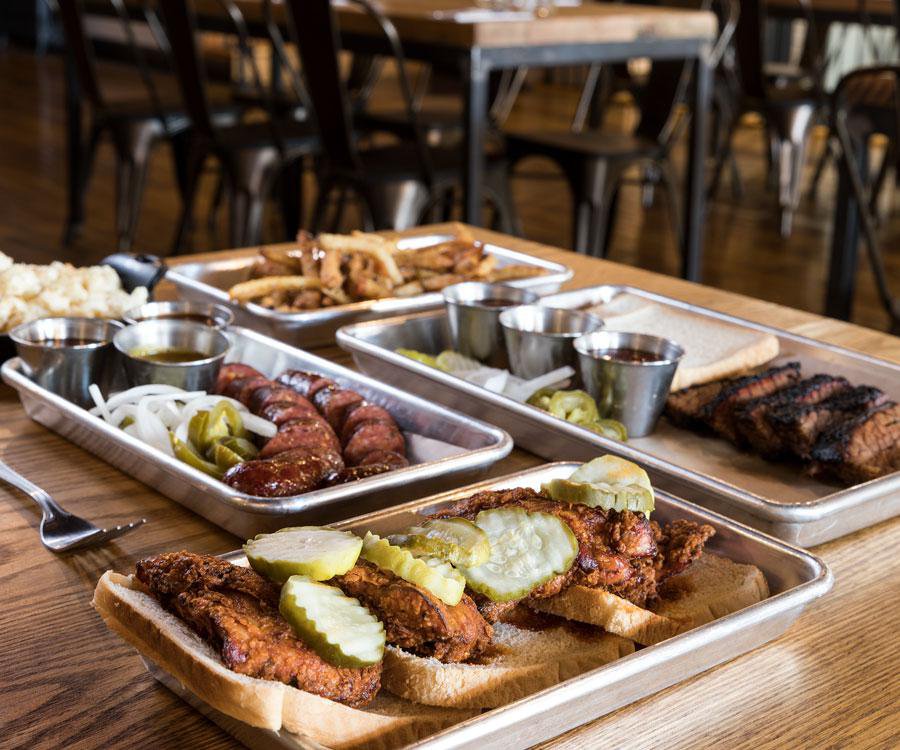 There are a handful of us who know what it's like to be the second born. You're constantly being compared to the older sibling who came first. You have the same parents, so you should be the same, right? 
When CB Social House opened in downtown Springfield last August, there was a bit of this second-born phenomenon going on. Since owners Cody Smith and Jeremy Smith started the south side's City Butcher and Barbecue restaurant in November 2014, they already had an identity as makers of wickedly delicious barbecue, and that's what people expected here. And for a little while, they got it—there were some barbecue selections on the CB menu at first. But the downtown restaurant recently revamped its offerings, and now they leave the barbecue makin' to City Butcher and invest their time into crafting all of CB's other tasty fare, including a droolworthy list of Creekstone Farm's premium steaks. 
After I heard rave reviews of CB Social House from a half dozen of my co-workers, I decided I couldn't live another day without trying it out. I grabbed a few of my favorite food-obsessed friends and headed to dinner there on a recent Wednesday. It was 6:45 p.m., and we snagged the last table available. The restaurant is two levels, and both levels have a bar (yay for us all!). Downstairs is the spot to go for drinks and snacks, and the second level is home to the dining area and a custom-designed wooden bar complete with a library ladder. This bar features five impeccable rows of shelving that proudly display the spot's collection of nearly 200 American whiskeys, a sizable collection of Scotches, tequilas and more. 
We started our meal with an order of Fried Chicken Skins that are tossed with honey, hot sauce and thyme. The skins were similar to a pork rind in texture and crunch, and they had a hint of chicken flavor paired with a super-addictive saltiness that kept me eagerly grabbing more. And more. A heavy drizzle of hot sauce added a kick.
Next it was time to order our entrees. I began to sweat as I navigated the menu. It was filled with many Southern-inspired favorites (think collard greens, pimento cheese spread, bread salad) as well as premium steaks that range from an 8-ounce bacon-wrapped filet to a 42-ounce Tomahawk ribeye. Since I went before the menu changed, there were also smoked meats up for grabs. I wanted it all. I'm pretty sure I hadn't had that much trouble deciding on something since finalizing my college major. Eventually, though, we decided to just order a whole lot of food and do a whole lot of sharing. 
CB Social House is located downtown on Patton Alley. Since press time, the meat market next to the restaurant has closed.
First came the Texas hot link. One bite of the sausage, and it was obvious that CB does meat well. The sausage inside was flavorful and a bit spicy, and the casing provided that brief snap with every bite. We also ordered the brisket, the St. Louis Ribs and the hot chicken. I rarely order brisket because it's a hard meat to master—I often find it to be dry and tough—but I'd heard good things about this brisket. Twenty minutes later, and I was two bites into what I would call truly the absolute best brisket I'd ever eaten in my life. The juicy, flavorful beef came perfectly marbled and coated with just enough crusty rub crumbs to give each chomp a salty finish. The moist end literally fell apart in my mouth. The ribs were what I'd call appropriately meaty and equally impressive, with a simple spice complementing the porky flavor. I was so in love with these meats that I secretly made a plan to eat here on my birthday every year for the rest of my life, so I was heartbroken when I later called CB Social House and found out they wouldn't offer barbecue any longer. "No!" I cried. But then co-owner Cody Smith said they'll still serve up all of this barbecue goodness at City Butcher and Barbecue, and I knew life was worth living once again.
The Texas hot link is a tasty treat with a snap, and it's sometimes a part of the sausage trio entree.
Our sides were hand-cut fries and mac and cheese. The fries are freshly cut and cooked to order (really, how can you go wrong?), and the mac and cheese was pure perfection. The best part was its smooth, velvety texture—I feel that mac and cheese dishes often separate, but this one was the perfect consistency on the palate.
CB's mac and cheese has a velvety texture and subtle smoky flavor. 
After eating way too much food and drinking two perfectly crafted old fashioneds, I left CB Social House even more impressed than I thought I'd be. This second-born spot serves up tons of first-class fare, and it had me planning my second-ever visit before I'd even finished my meal.
Q & A 

with Co-owner Cody Smith
417 Magazine: What was the concept for CB Social House?
Cody Smith: We wanted to have a place where we served very simple food that's centered around what we do in our butcher shop, and we wanted to pair all of that food with a great American whiskey bar that serves well-crafted cocktails.
417: How did you develop the restaurant's menu?
C.S.: We started by taking quality products and things we were creating at our butcher shop and built up a simple menu around it. A lot of the food is based on Texas and Southern-style cuisine.
417: What is the chef's table? 
C.S.: The chef's table is a table upstairs with a view of the kitchen. It is available for reservation, but we do seat people there if it's open and the dining room is full. We can create a custom menu for guests there based on flavors they like and specific things they're looking for, as long as they give us a few days heads up. 
417: What should people try on their first visit? 
C.S.: Come with a group of folks, and order the Tomahawk ribeye. Really, order anything with your group. Our entire menu is meant to be shared.  
417: Where is the beef from?
C.S.: Creekstone Farms. We cut all of our steaks in house.