Reviews
Divine Fruitcake
The Trappist monks of Ava's Assumption Abbey are making believers out of fruitcake cynics around the globe.
Written by Stephanie Towne Benoit | Photos by Abby Gust
Dec 2016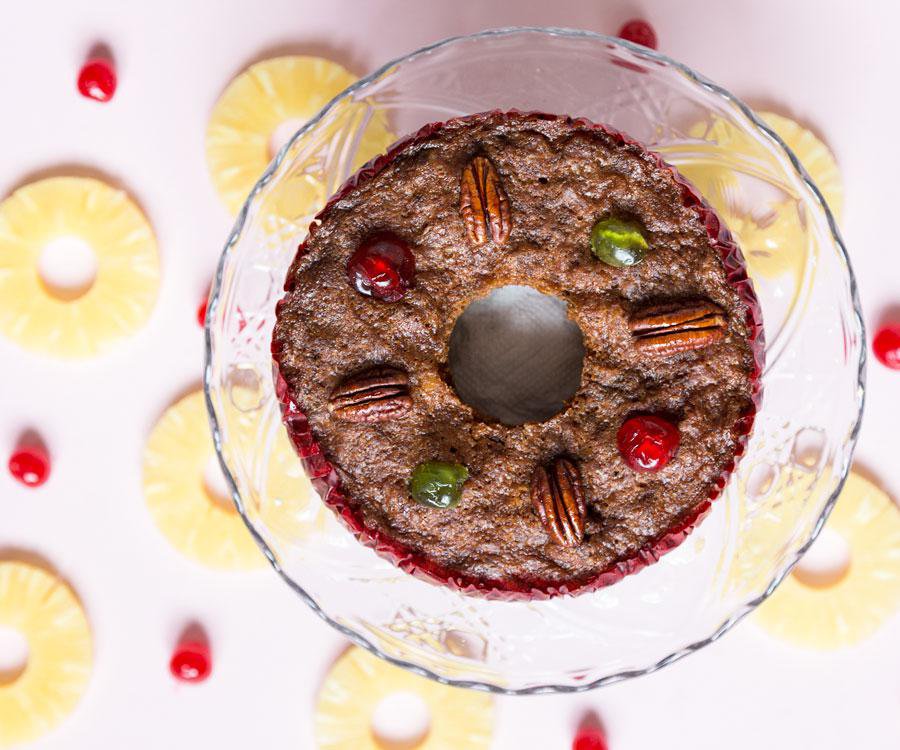 The much-maligned fruitcake has earned a reputation as the holiday gift nobody wants to receive. But in the rolling hills south of Ava, the Trappist monks of Assumption Abbey (888-738-0117, trappistmonks.com) are making fruitcake converts around the world with their handmade creations.  
"I never liked fruitcake until I ate this one," says business manager Michael Hampton, who oversees production of the cakes. "I just never cared for it. I'd just never had anything that was any good. This one is different."
Based on an English-style recipe from pastry chef Jean-Pierre Augé, who once worked for the Duke and Duchess of Windsor, the fruitcakes are essential to funding the abbey's operations. "The monastery probably wouldn't be here without the cake," Hampton says. The monks previously supported their prayerful lifestyle by making cement blocks but switched to baking in the 1980s when the cement enterprise became too laborious and its profit margin too slim. 
The baking business really got off the ground in the '90s when an associate of the abbey introduced the cakes to Williams-Sonoma, which has placed huge wholesale orders ever since. "I think that [Williams-Sonoma is] probably responsible in the beginning for people becoming familiar with [the cake]," Hampton says. Demand increased even further when People penned an article highlighting the fruitcakes. 
Today the monks sell about 30,000 cakes each year, which are often all snapped up by December. Despite that staggering output, the monks still make each cake by hand, starting with the roughly 30,000 pounds of raisins, pineapple, cherries and other fruits that are steeped in burgundy wine before being mixed into the batter. 
After the cakes are baked for two hours, they are injected with rum, decorated with pecans and cherries, packaged and aged for at least three months. "Some kind of magic happens in the cake with the aging process after it's been injected with the rum," Hampton says. "It seems to marry all of the flavors together." 
There's a final icing on the cake before the product is shipped around the world: The monks pray a special blessing over each batch in hopes that the cakes bring yuletide cheer to homes for the holidays. Fruitcakes are $34; call 888-738-0117 or go to trappistmonks.com to order.