Life
Slide to Branson for Year-Round Snow Tubing
One of Branson's newest attractions has a new kind of downhill thrill: synthetic snowtubing at Branson Zipline at Wolfe Mountain.
By Asia Key
Aug 2017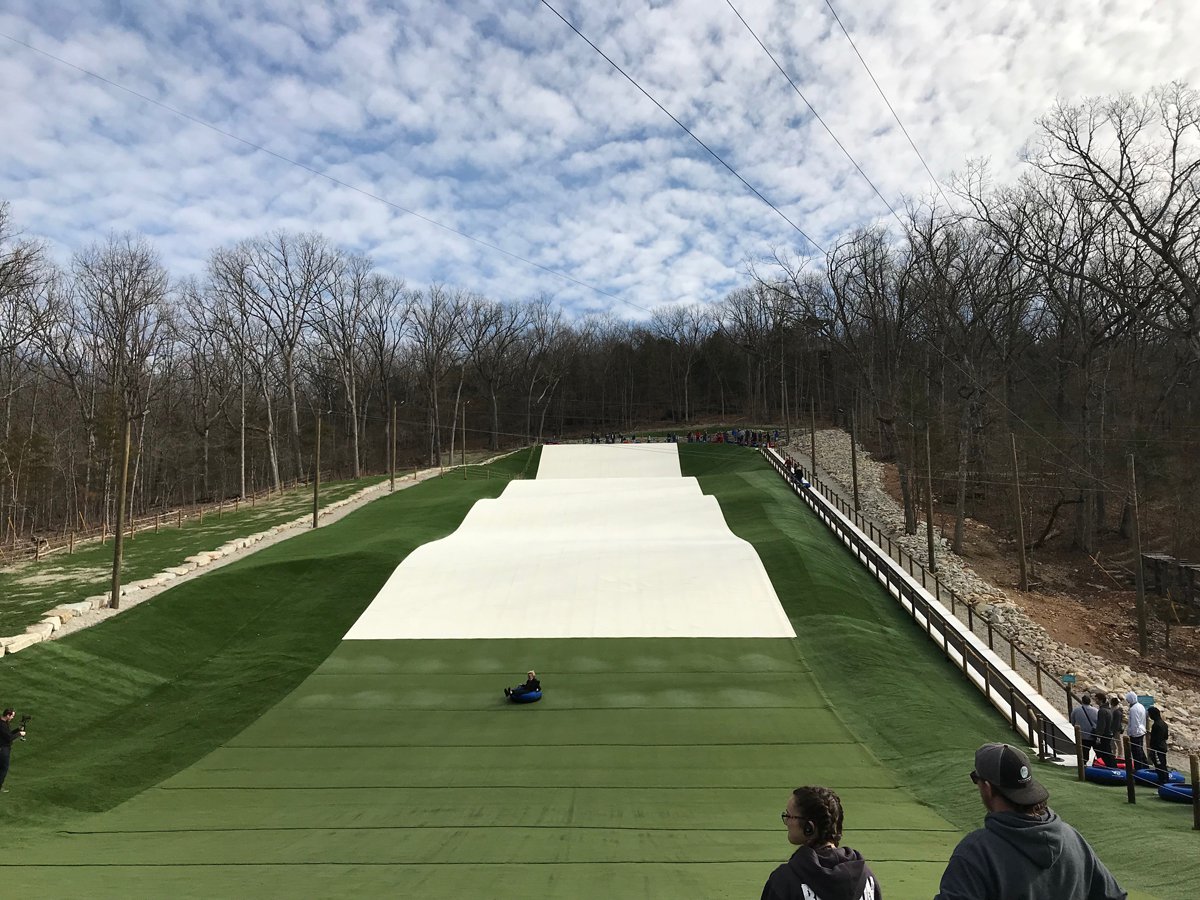 How do you go sledding in 85-degree weather? Easy! Take a trip to Wolfe Mountain Zipline & Snowflex Park at Branson Zipline, and slide a tube down the new synthetic snowy slope.
Craig Combs, owner of Branson Zipline, is giving visitors a unique way to keep cool with fake snow and colorful tubes. The artificial snow, Snowflex, was developed through U.K.-based company Briton Engineering and is composed of several layers of foam and plastic. It's designed to provide the proper balance needed to slide and allows control for skiers and snowboarders to cut and turn. It's slippery and smooth so you can gain speed but, like real snow, provides more friction on turns so that you can slow down.
While you can't ski there just yet, you can see the 360-foot-long tubing hill from Highway 65. After entering the park, travel to the top of the mountain riding on a Magic Carpet conveyor with your tube. The hill starts off steep for thrills and dissolves into several waves for a stomach-clenching ride. Anyone from experienced to novice tubers can enjoy this new addition to the Branson Zipline family of attractions. 
Aside from the slide, Branson Zipline offers high-flying tours as part of the Wolfe Mountain Zipline & Snowflex Park. Hit the Dynamite Drop and free fall 40 feet, or trek over one of the suspension bridges while a tour guide educates you on the Ozarks' running creeks and beautiful bluffs. Creating a totally new way to experience wilderness, the tour combines a fictional storyline with ecology and geography that brings the spirit of the Ozarks to life.
And of course, you'll be able to swing through the lush canopy on up to eight ziplines. The Blue Streak Fast Line is the speediest on the grounds. It starts at the 25-foot tower atop Wolfe Mountain and carries riders 150 feet to the undisturbed forest floor where you might see a bobcat or a deer in their natural habitat.
Hours: 8:30 a.m.–6 p.m. daily
Price: $29.99 per hour for kids 17 and younger, $34.99 per hour for adults
Location: 
2339 US Highway 65, 
Walnut Shade
Other attractions: 
Free falling, ziplines, suspension bridges, treasure hunts and photo safaris