Health
Kids Get Active at S.W.E.T. Hot Yoga's Kids Yoga Class
With a 5-year-old yogi in tow, we checked out the kids yoga class at Springfield's S.W.E.T. Hot Yoga and Fitness studio.
BY Katie Pollock Estes
Aug 2018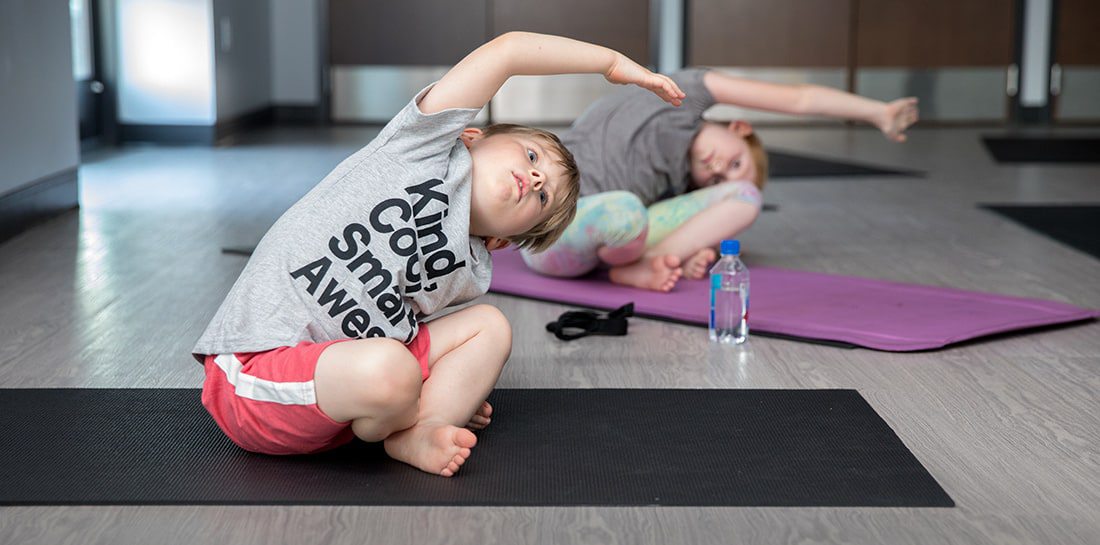 Two and a half years ago when I was pregnant with my daughter, Eloise, I enrolled in some local prenatal yoga classes that were the highlight of my week—my true moments of zen. At the time, my son, Oliver, was 3 years old and relentlessly curious. After the classes, he'd ask what I'd been up to. I would show him a few poses, and he was always eager to try them out for himself. He took it very, very seriously.
[MORE: Kids Summer Camps in Springfield, MO and Beyond]
Before long, he was gathering his friends on the outdoor stage at his preschool and doing a little light yoga instruction. He'd show his friends how to do his favorite poses—or "moves" as he calls them—and was so proud of his newfound knowledge. When another preschool parent donated yoga mats to the class so the kids could all join in regular outdoor yoga together, Oliver's new curiosity for yoga became a full-fledged hobby.
That's why, when S.W.E.T. Hot Yoga and Fitness (4216 S. Cox Rd., Springfield, 417-881-7938, swethotyogaandfitness.com) opened with some unexpected offerings like Broga (for the guys) and kids yoga, I knew we had to give it a try. I called S.W.E.T. operations manager Shelli Luke to see if I could bring our 417 photographer Brandon Alms and my 5-year-old ball of energy to one of the Tuesday afternoon classes.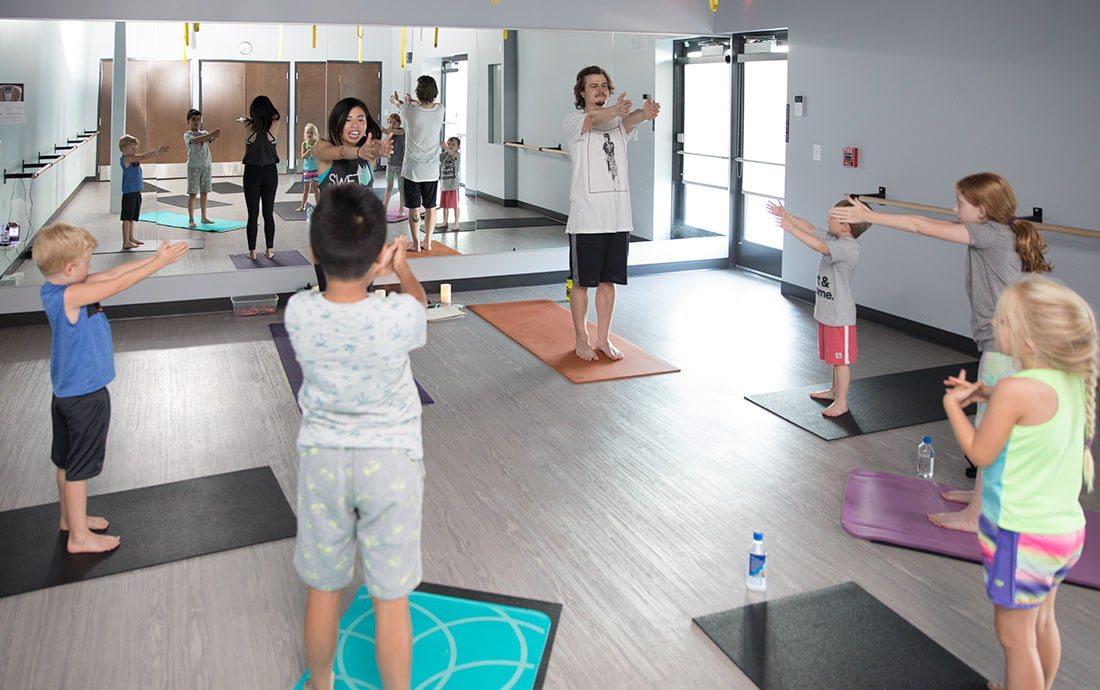 Instructors Tana Aguas and Bryant Johnson lead a kids yoga class at S.W.E.T. Hot Yoga and Fitness. Classes help kids focus on movement and mindfulness.
Purchase Photo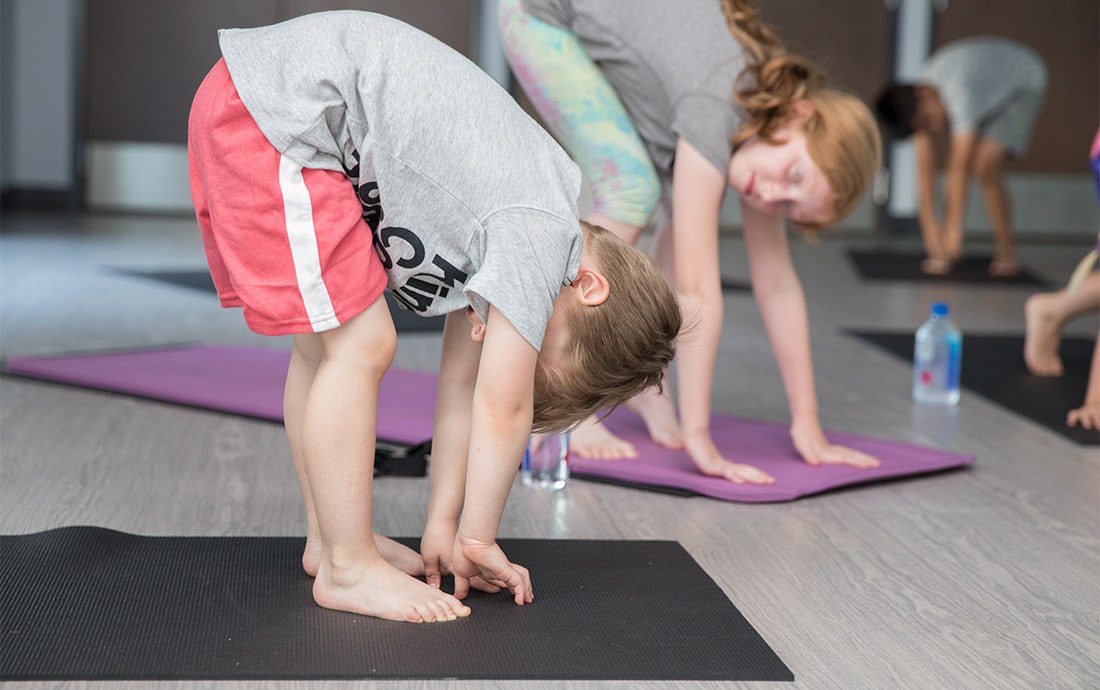 After his mom started a prenatal yoga class, 5-year-old Oliver Estes got interested in yoga. So his mom brought him to a new kids' yoga class.
Purchase Photo
Photos by Brandon Alms
The Class
Instructor Tana Aguas was teaching the class that day while the regular instructor, Kristin Tuter, was on vacation, and I could tell her bright energy and welcoming personality put Oliver at ease right away. Tana was joined by Bryant Johnson, who has a background in elementary education and who lent his expertise to the class.

Tuter and Aguas both told me class usually begins with a couple of activities that get the kids talking and help them expend a little energy before moving into the part of class that requires a sharper focus (and a bit more quiet). On this day, they began by talking about the class's theme: gratitude. The kids colored lotus flowers as they talked about what gratitude meant and what they were each grateful for. Then the group spread yoga mats around the room and pretended the floor was lava as they jumped, laughed and got the wiggles out. 

Then, it was time to stretch. For the rest of the class, Aguas led the kids through a yoga routine that was challenging, fun and age-appropriate. This included some buti-style movements and a simple and easy-to-follow gentle yoga flow. The class ended with the kids lying on their backs in savasana to focus on their breath and listen to a short, guided meditation that involved a kid-friendly theme: a walk through the jungle spotting animals.
5 Easy Yoga Poses for Kids to Practice at Home
1. Easy Pose
This is like the "criss-cross applesauce" position kids sit in on the classroom floor. They can do it with the backs of their hands resting on their knees. They should sit tall with good posture and focus on their breathing. 
2. Staff Pose
From easy pose, kids can straighten their legs out in front of them, making an L with their bodies.
3. Forward Fold 
Here kids can stand up and then bend their bodies at the waist, folding down toward the ground.
4. Five Pointed Star
From the forward fold, kids can open up their bodies, with toes and knees forward and arms open wide like an X. Tuter likes to have the kids spread their fingers wide and wiggle their toes—an added element to help them keep their focus and follow directions.
5. Unicorn Pose
This is a pose Tuter created for restless students to get their attention, and it was so fun it stuck! Kids stand tall with their feet together and their arms above them. Then they drop their hands right onto their heads and bend their elbows to create a unicorn horn. 
The Benefits
Tuter, who focuses her classes on women's, children's and prenatal yoga and is working on her CRYT (a special certification for teaching children's yoga), has a mission in mind for the kids who attend her class. "My No. 1 goal is movement," she says. "I want them to move their bodies. I want them to become one with their bodies and realize they can make all kinds of shapes and angles." 

What she didn't anticipate, though, was how much the class helped children with their focus. By the end of class, the kids are calm and ready to listen and follow instruction. That ability to slow down and focus can help them deal with their emotions, too. "I want to incorporate more meditation and stillness and more purposeful thinking—sitting and being in the moment," she says. "A lot of children don't know how to self-soothe. Yoga teaches them to regulate themselves, sit down, take a breath, relax."

And while the class is, of course, a lot of fun, it can also be a place for kids to find a kinship with fellow tiny yogis. Tuter says that she wants the children who attend the class to be able to leave their egos at the door and form a supportive yoga tribe with their fellow students. 

A week post-class, Oliver was still talking about his best poses and most challenging moves, but there was something else he got from the class that I love even more. I could tell Aguas and Johnson's message of gratitude had sunk in. In the car on the way home, Oliver said, "Mom, I am really grateful I got to go to yoga class today." 
S.W.E.T. Hot Yoga and Fitness
The Class
Kids Yoga

Who It's For
Kids ages 5 and older 

Price
$60 for 10-class punch card
Don't Forget
A mat if you have one, plus comfortable flexible clothing and water

Times
Tuesdays at 4 p.m.

Skill Level 
Good for beginners and kids who have had a bit of yoga experience