A Taste of Brussels
Three cheers for Brussels sprouts! These teeny tiny veggies are a menu staple this time of year, and we have three recipes that will have you crushing on these mini cabbages in no time.
By Ettie Berneking | Photos by The Food Channel, Shutterstock, Kevin O'Riley
Dec 2014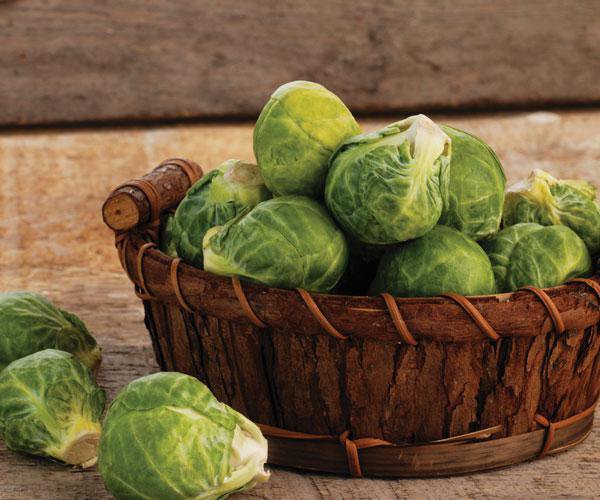 One of the best things about winter is the steady supply of colorful and hearty veggies that can be roasted, chopped, sautéed, pureed and everything in between. To pick up a few tips on how to best grow one of our favorite winter greenies—Brussels sprouts—we turned to expert Tom Lewis with Broken Wire Ranch.
Turns out, there aren't too many tricks to growing and harvesting Brussels sprouts. The only thing you need to know is this: Patience is king. "I plant them in late July and then wait," Lewis says. Besides requiring lots of water, Brussels sprouts mostly need time. In fact, Lewis usually won't harvest his crop until late October. "The average life cycle for my Brussels sprouts is around 85 days from the time the plants are sturdy enough to transplant to harvest time," he says.
But once the first bushel of sprouts is ready, it's not long before they find their way into casseroles, salads, stews and much more. These three recipes from the culinary pros at Springfield's The Food Channel, well-known Chef Wesley Johnson at Metropolitan Farmer and our very own editorial director, Katie Pollock Estes, will have you asking for seconds. Hope you're hungry!
Brussels Sprouts Quiche
From Editorial Director Katie Pollock Estes
Ingredients:
2 tablespoons butter, separated
1 shallot, diced
½ cup mushrooms, diced
1½ cups Brussels sprouts, shredded
1 11-inch pie crust, prepared 
4 eggs, lightly beaten
1½ cups half-and-half
½ cup cream
¼ teaspoon salt, plus additional
¼ teaspoon pepper
1 tablespoon fresh Italian parsley, chopped
½ cup shredded Parmesan cheese
To Prepare:
Preheat oven to 375°F. Melt ½-tablespoon butter in a pan. Add shallots, lightly season with salt and pepper, and cook until tender and browned. Remove, and set aside to cool. In the same pan, melt ½-tablespoon butter. Add mushrooms, lightly season with salt and pepper, and cook until tender and browned. Remove, and set aside to cool. In the same pan, melt 1 tablespoon butter. Add the Brussels sprouts, lightly season with salt and pepper, and cook until tender. Remove, and set aside to cool. Grease an 11-inch tart pan, and line it with the pie crust. Set it onto a baking sheet. In a medium mixing bowl, combine the eggs, half-and-half, cream, salt, pepper, parsley and Parmesan cheese. Add the cooled vegetables, and fold together. Pour filling into the pie crust. Place in oven, and bake for 35 to 45 minutes, until the filling has set (but is still slightly wobbly), and the edges are slightly browned. The quiche should looked puffed up when it's ready, then it will fall as it cools. Let cool 10 to 15 minutes, then remove from tart pan. Slice, and serve.
Brussels Sprouts with Bacon
From The Food Channel
Ingredients:
6 ounces bacon 
20 ounces Brussels sprouts, stem strimmed and sliced in half
4 carrots, cut into quarter-inch pieces
½ cup golden raisins
1½ cups low-sodium chicken broth
Coarse sea salt and ground pepper to taste
To Prepare:
Cook the bacon in a large skillet. Place the bacon on a paper towel, and reserve two tablespoons of the drippings. Using the same skillet, sauté the Brussels sprouts and carrots in the reserved bacon drippings until the sprouts start to turn golden brown. Stir in the raisins and chicken broth, and continue cooking until the sprouts are tender when pierced, about 12 minutes. Remove from heat, season with salt and pepper, and top with crumbled bacon. Serve hot.
Fried Brussels Sprouts and Bacon Salad
From Chef Wes Johnson at Metropolitan Farmer
Ingredients for the burnt honey dressing:
1 cup honey
1/3 cup cider vinegar
1 cup olive oil
To prepare the dressing:
In a large sauce pan, heat honey to a boil. Turn off heat. Do this three to four times until a dark brown color has been developed. Whisk in the cider vinegar and olive oil. Cool in the fridge before use.
Ingredients for the salad:
Oil for frying
3 cups Brussels sprouts, cut in half
1 apple, julienned 
8 strips of bacon, cooked and chopped
¼ cup burnt honey dressing
4 leafs of lettuce, torn into bite size pieces
To prepare the salad:
Deep fry the Brussels sprouts in 325°F oil. Drain excess oil from the sprouts. In a large bowl, toss the sprouts, apple, bacon, dressing and lettuce together. Serve. 
Other uses for Brussels Sprouts:
1. Season with salt and pepper, then roast. You don't need much else to highlight the great flavor of these veggies.
2. For a quick side, pan fry some sprouts in a heavy cast iron pan with olive oil, crushed garlic, white onion and salt and pepper. 
3. Combine chopped roasted sprouts with garlic, cream cheese, sour cream, mozzarella and salt and pepper to create a tasty, melty dip. 
4. For a crunchy salad that's fresh and easy, shred Brussels sprouts and combine with chopped kale, apple, cooked bacon and some toasted almonds. Drizzle with a tangy lemon dijon dressing and enjoy.