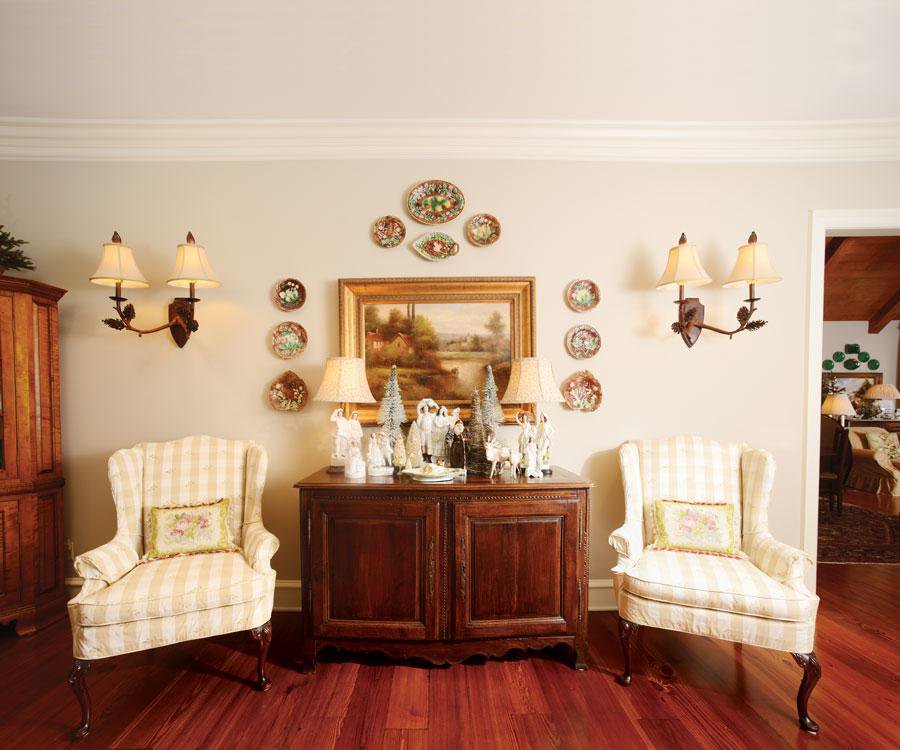 Some people really enjoy Christmas, and then there's Frannie Johnson and her husband Bob. They love Christmas. In fact, there's an entire room dedicated to housing and organizing the couple's collection of Santas, carolers and antique ornaments. The true owner of the impressive collection is Mrs. Frannie, and it's the Santas that she's really in love with.
Frannie has been collecting Santas for at least 20 years, and she's managed to curate her collection to her liking. Some Santas are cloaked in the classic red and white robes while others look more European in style and might be dressed in dark green garments and carry wooden walking sticks. It's the diversity that helps Frannie's collection come to life each Christmas when the Santas and delicate figurines emerge from their shelving and find their ways around the Johnsons' home.
When the Johnsons moved to Springfield from Texas in 1987, Frannie become good friends with Ron Johnson, who now owns The Thicket. Many years later, Frannie and Ron are still good friends. The two meet each November and start arranging Frannie's Christmas collection. Ron works to create a holiday atmosphere by incorporating the Christmas décor into Frannie's everyday home furnishings and collectables. Keeping the décor light and not cluttered is a day-long task, but there's one area where Ron doesn't use a light touch: The Christmas tree. "Ron likes the tree loaded," Frannie says. "I just get out of his way."
Even after working together for many years, Ron still comes up with a new theme each year, and the results are always flawless. With Christmas music playing overhead and boxes of ornaments opened and ready to use, the Johnsons' home turns into a winter wonderland each holiday season.
Soft Touches 
No space goes without some sort of holiday cheer. Even in Frannie's laundry room, Ron finds a way to bring in the excitement of the Christmas season. The wreath made of antique ornaments serves as a simple but eye-catching focal point, and the built-in shelving houses the many landscapes and figurines Frannie has collected. The decorations never seem cluttered or busy. Instead, they are thoughtfully arranged in a way that highlights the house's custom architecture and Frannie's much-loved pieces.
Cozy Retreat
Green garlands and deep red berries help make the white marble fireplace pop and give the living room a wintery atmosphere. 
Warm Welcome 
To truly set the holiday mood, Ron arranges a few of Frannie's Santas on a wooden chest near the front door. Several of her Majolica plates are used to hold holiday goodies and treats and even a few sprigs of berries and greenery.
Warm and Bright
The wooden vaulted ceilings add depth and warmth to the space and allow for plenty of room for the large Christmas tree that Ron decks with ornaments.
Simple and Festive
The simple white and cream color scheme of the Johnsons' home lends itself well to pops of deep greens and reds and golds that play into the holiday.