Reviews
The Tower Club
The Tower Club opens its brunch to the public, and the desserts that await are worth the long elevator ride to the 21st floor.
Dec 2014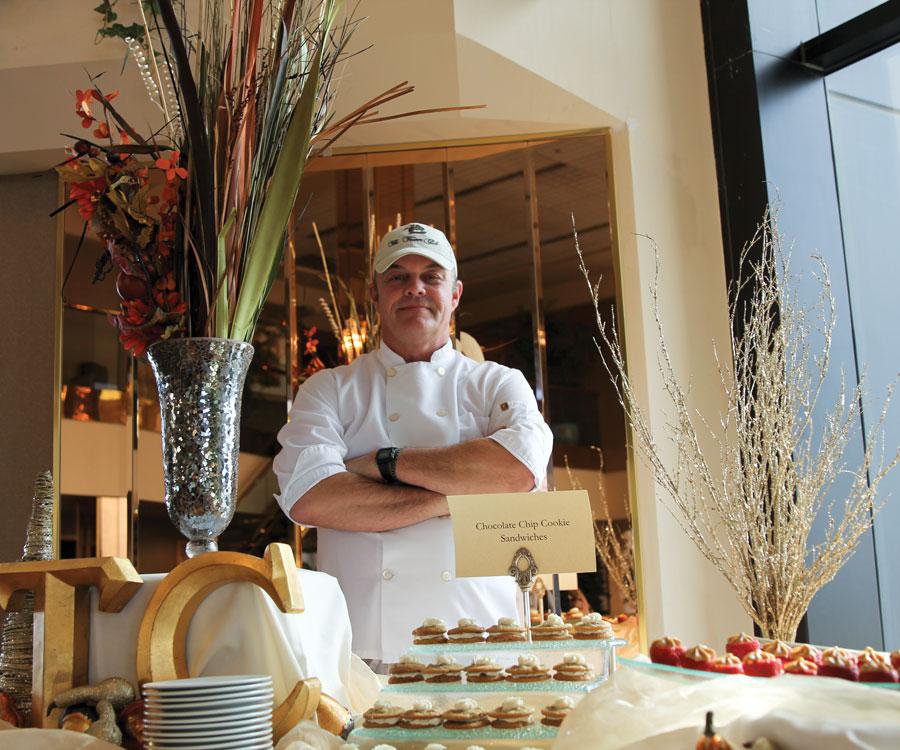 Those who frown at the thought of starting a meal with dessert haven't had brunch at The Tower Club. Besides the usual bounty of eggs, pancakes, sausages and pillowy biscuits, brunch up on the 21st floor includes a tempting lineup of bite-sized desserts. And when I settled in at a corner table on a recent Sunday morning, these hand-held treats served as the perfect first course. 
We last stopped in at The Tower Club, back in May, when this exclusive members-only eatery updated its tasty menu. So when The Tower Club announced it was offering brunch to everyone and anyone, I decided to try out the menu for myself.
My friend Jamie and I arrived at 11 a.m. sharp, which is when brunch kicks off. With a cozy corner table secured and two cups of strong coffee in front of us, we decided to take a quick tour of the buffet area before loading up our plates. Brunch at The Tower Club is done buffet style, so you can mix and match all you like, and the menu changes weekly to keep up with season offerings.
As the piano version of "Under the Sea" played overhead, we cruised around the dining area checking out our options, and boy were there options. On one side of the room there was a cold station where fresh fruit, parfaits and salads waited to be scooped up. Across the way chafing dishes revealed all sorts of delicious food including croissant French toast, Andouille sausage, scrambled eggs, biscuits and gravy, crispy battered fish, green bean casserole, mashed potatoes and much more. 
We circled the floor twice and still couldn't decide where to start first until we caught a glimpse of the dessert spread. A small table on the other side of the room was covered in sugar-encrusted sweets. There were delicate cream puffs, layered strawberry shooters, crunchy banana fritters fried to the perfect golden brown, mini cherry turnovers with that flaky, homemade crust I love so much and itty bitty peach pie bites you can't help but pop in your mouth. 
The question of where to start our meal was answered, and we loaded up our plates with one of each dessert. I'm not sure our server was used to the dessert-first approach, but his smile indicated approval. With such a flavorful spread in front of me, it was hard to decide which delicious morsel was my favorite. The cream puffs were filled with sweet cream that practically melted in your mouth. The cherry turnovers were tart and sugary and were bundled together with flaky pie crust. The filling of the peach pie bites was sweet and creamy just like the strawberry shooter, which offered mouthfuls of fresh, juicy strawberry mixed with velvety vanilla custard. 
But the dessert that won me over heart and soul had to be the banana fritter. Crunchy on the outside but rich, flavorful and almost creamy on the inside, these treats were worth going back for seconds… and thirds.
As we enjoyed our meal and the bird's eye view of downtown Springfield, our conversation dove deep into daily life, happenings at work and upcoming holiday plans, but every now and then there was a break in the conversation as we both eyed the dessert table again. Even as full as we were, there were still plans of sneaking a few of those warm banana fritters out in our purses. But by the end of the meal, we decided it would just be easier to return for brunch the next week.
Q&A with Tower Club pastry chef Vic Pace
417 Magazine: Since the menu changes weekly, are there any surprises?
Vic Pace: The cherry turnovers. I took some of those home. They were so good. 
417: Do any holiday treats return this year?
V.P.: Guests love the flavored cheesecakes, pumpkin roulade and pumpkin pralines.
417: What's your favorite dessert?
V.P.: Vanilla ice cream. I'm not a big chocolate fan. I have girls in the office taste test a lot of the chocolate desserts.
417: How long does it take to prep a new menu each week?
V.P.: We start on Tuesday, and by Thursday ingredients are arriving.
417: The banana fritters are heavenly! What goes into those?
V.P.: Flour, sugar, cinnamon, nutmeg and fresh bananas.