Travel
Profile: Pittsburg, Kansas
Head to Pittsburg, Kansas, for a lot of fried chicken and a little history.
by Katie Pollock Estes Photos courtesy Crawford County Convention and Visitors Bureau
Dec 2014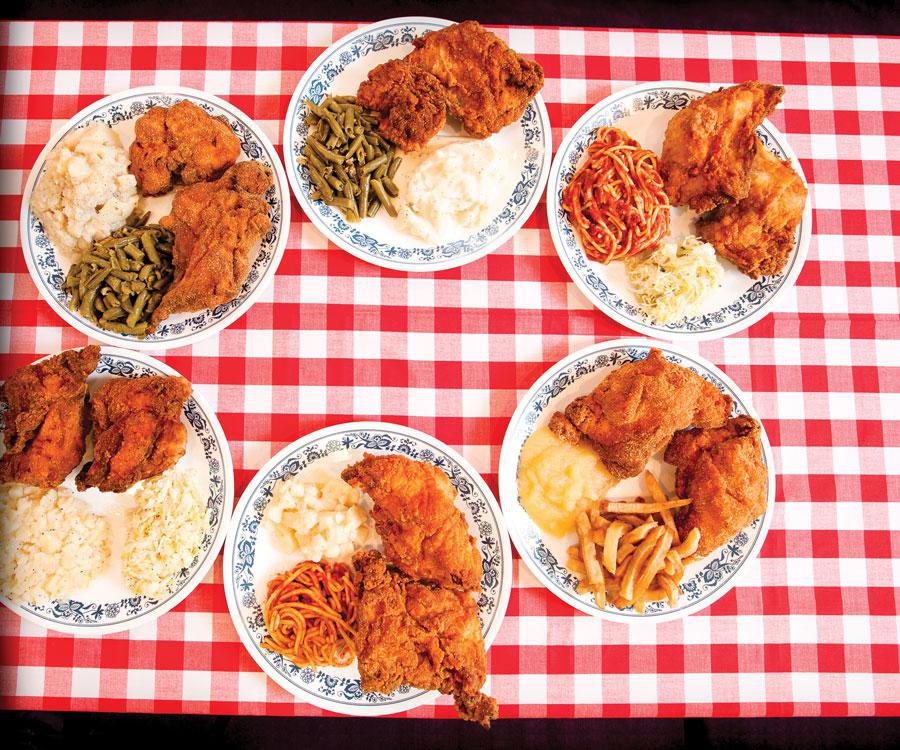 As far as feuds go, we really aren't in the business of settling them or getting into the middle of longstanding battles. But we have no problem telling our readers to go check them out! In Pittsburg, Kansas, just an hour and 45 minutes west of Springfield, there's an ongoing chicken feud. Two local restaurants—Chicken Mary's and Chicken Annie's Original—both serve up some pretty incredible fried chicken. It's so good, in fact, that people come from all over to sample their wares and try to decide which Pittsburg institution they like the best. Take a trip to this little college town (home to Pittsburg State University) to taste the fried goodness for yourself, then let us know which one won your heart.
Stay
Hole up for the night in a sweet little B&B while you are in Pittsburg. Open since 2002, the Himmel House (402 W. Euclid, Pittsburg, Kansas, 620-232-9497, himmelhouse.com) is located in a beautiful house that has a big front porch for relaxing and a cozy sun room. Bedrooms are brightly decorated, and you can head to the table for a hot and tasty breakfast every morning. 
Dine
Eat fried chicken, of course! The places to be are Chicken Mary's and Chicken Annie's Original. Both of them have been serving the crispy, crunchy and delicious stuff for decades and are located just down the road from each other—perfect rivalry setting.
Annie Pichler of Chicken Annie's Original (1143 E. 600th Ave., Pittsburg, Kansas, 620-231-9460)  started frying her famed birds in 1934, and today the menu features everything from fried chicken dinners to chicken fried steak, breaded cod and fried apps like onion rings and even the occasional gizzard.
At Chicken Mary's (1133 E. 600th Ave., Pittsburg, Kansas, 620-231-9510), the chicken dinners are, of course, the star of the show. But if you have a preference for barbecue or a taste of Italian, you can find something that will satisfy on this big menu. This spot was started by Joe and Mary Zerngast in the early 1940's, making it just a smidge younger than Chicken Annie's.
After all that chicken, satisfy your sweet tooth with a scone and fresh coffee from Signet Coffee Roasters (206 S. Broadway, Pittsburg, Kansas, 620-308-5326).
See
You can spy a little art during your trip to Pittsburg by heading to Pittsburg State University. There, you can peruse the University Art Gallery and Harry Krug Art Gallery (Porter Hall, Pittsburg State University campus, pittstate.edu). 
If you find your way to the Harry Krug Gallery by December 4, you can see Point Clouds, a sculpture and mixed-media exhibition by Neil Lawley. And at the University Art Gallery, you can see the bi-annual faculty exhibit through January 23.
Fun Fact
Pittsburg is located in Crawford County, Kansas, an area that has a rich mining history. There you can find your way to one of the county's most famous residents: Big Brutus, the world's largest electric shovel. It's really huge! If you want to feel really tiny, then make a stop to stand next to Brutus. Visit bigbrutus.org for info.