Profiles
Dr. Tim Woods
He tended to the wounds of one of the most famous soldiers of recent years, and now he's treating patients right here in 417-land.
By Katie Pollock Estes
Dec 2014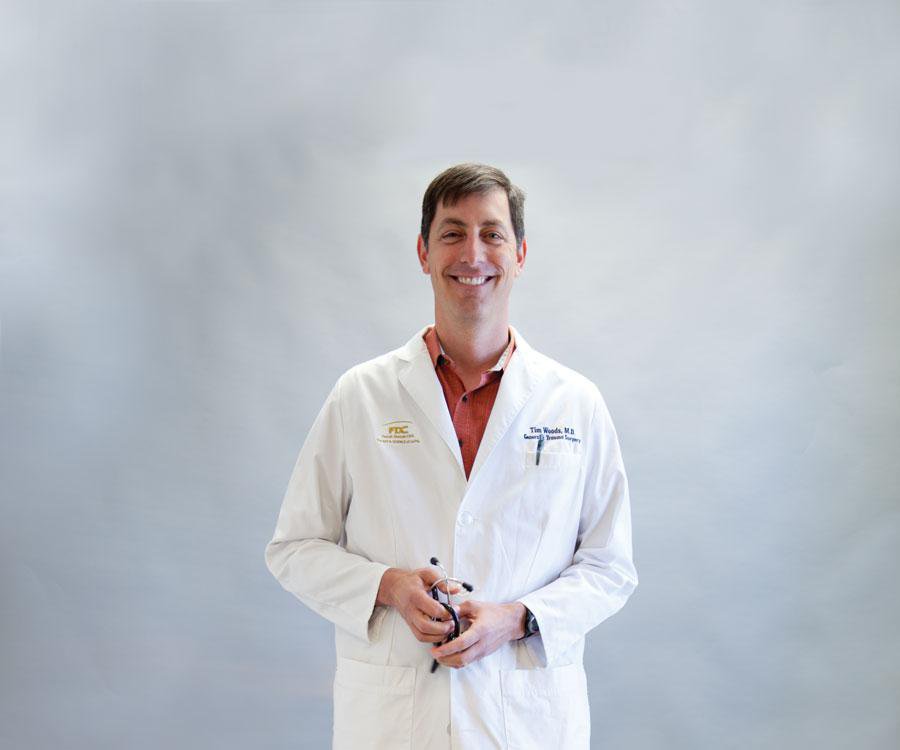 If you're a fan of war movies, Mark Wahlberg or just a good survival story, then you've probably seen Lone Survivor. The 2013 movie is based on a book by the same name that tells the true story of Marcus Luttrell (played by Wahlberg) and a 2005 top-secret Navy SEAL mission gone bad. In real life, Luttrell was truly the only man left alive after his team was ambushed in Afghanistan. After he was finally rescued and flown to Landstühl Regional Medical Center in Germany for treatment, it was United States Air Force trauma surgeon Dr. Tim Woods who nursed the soldier back to life. Dr. Woods is now the Trauma Medical Director at CoxHealth, and he shares the story from his own perspective. 
 
417 Magazine: How did you find yourself treating Marcus Luttrell?

Dr. Tim Woods: In 2005, I was a general trauma surgeon in Germany. I was one of about five to six trauma surgeons who took care of pretty much 100 percent of the casualties from the war. I was there from 2003 to 2006, and that was when the war was at its peak. I got called in by the hospital commander one day. He said, "Don't tell anybody you're coming in, and be there at 11 o'clock." So I went in there, and when I walked in they said, "You have to sign a non-disclosure form." I had no idea what it was about. There was a nurse with me, so it was a nurse, myself, and the hospital commander. When we were sitting in there, a gentleman came in and basically told us that what we were about to hear was top-secret and nobody can know about it. Then another gentleman came in and said, "Unfortunately there was a mission in Afghanistan that went bad. Multiple soldiers and Navy personnel were killed, and we are bringing the only survivor back from this incident." And I do recall, the one thing I for-sure remember is he said, "This is not just a regular soldier or Navy SEAL. This is a national asset." And they stressed multiple times how important it was to maintain secrecy at the time because the mission had not been made public at that point.


417: Were you the only doctor who took care of him? 

T.W.: I was told I had special access to him. When he landed in Germany, I met him at the airport and we brought him in. At the time, I didn't know his name. He was brought to an area in our hospital off the pediatric ward that I didn't even know existed. They put armed guards on both sides of the wing of the hospital and limited access in and out of the hospital. The hospital commander, the nurse and myself were the only people who could take care of him. 


417: How serious were his injuries?

T.W.: You could tell he was badly injured but awake and talking. He was kind of in shock because of everything that had transpired. But I just went in and introduced myself to him, and said, "Listen, I'm your doc. I just want you to know that I'm here to take care of you." The best way I can describe what he looked like is if you can imagine running through a rosebush that was 100 yards long. He had scrapes, bruises, cuts, tears everywhere. He appeared just sick. So I just took care of him. He was with me for 10 or 11 days. The first three or four days it was very medical. I would go in, and he had some medical problems that I had to address, kind of clean up some wounds. But then after that, I just started to get to know him. At first I didn't know his name, then I knew him as Marcus, then I knew him as Marcus Luttrell. He knew me as Doc, then it was Tim. Toward the end it was really where we just sat and talked because some of his healthcare issues had been addressed. 


417: Was it tough to be a trauma surgeon in the military?

T.W.: No, because I was trained to do it. And if I was in the military and we happened to be in a war, I wanted to be involved with it. I didn't want to be somewhere else and say I could have taken care of them. So for me to be able to take care of them for almost four years, that was just an awesome experience.
 
417: Does it feel different to treat people in that environment compared to the work you do here?

T.W.: The surgery itself is no different. You kind of have to put on your blinders when they come in, and just say, "I'm here to fix whatever it is." If they need an amputation or they have major head injury, you just do it. I don't know if it's a bond or empathy, but these are young kids who are 18 to 26 to 30 who are just doing what our country asked of them. So it was hard emotionally to take care of them, although I never felt it being overly burdensome. I would work 40 straight hours sometimes, and it wasn't hard to do because you just felt that you knew you were doing the right thing. I'm not sure I could do 40 hours straight here. It'd be harder. I love what I do as a trauma surgeon, but people become trauma patients because they do things they shouldn't be doing many times. Drunken driving and drugs and things like that. These guys over in Iraq and Afghanistan, they were just doing what our government said. So for me, if I needed to work 24 more hours, I'd do it. And there were plenty of days that we would go 30, 40, 50 hours straight, and it's just what we did.


417: Have you kept in touch with him?

T.W.: The 10 days went by. He left. Quite honestly I didn't think anything of it. I knew it was more special than any other event, but I had taken care of a lot of special operators, a lot of guys who were injured in the war. But then about five years later, one of my partners said, "Hey you've got to read this really cool book. It's about a guy who's injured in the war." So he gave me Lone Survivor, and I'm like, "Holy crap, this is Marcus Luttrell. I know Marcus, I took care of him for 10 days." So I read the book. I was very happy for him. He'd had a good outcome and was doing things to help himself and to get the word out for the cool missions that he did. I went and saw the movie. And I just thought it was the neatest thing to think that I had a very small part in his successful outcome and the fact that he's alive today. And then my physician assistant, Meredith Cunningham, wrote his publisher a letter and said, "My boss took care of Marcus in the war, and I would really like to see if he could sign a book for him. On Doctor's Day she presented me the book. My wife was in the office and she was in on the secret, and she gave me the book. Not only was it a signed copy, but it had a note that said, "Dr. Woods, wow, it has been years since I've heard your name. It's been a long time since we spent time in the pediatric ward. It'd be great for us to get together. I really look forward to meeting one day."
 
417: How long were you in Germany?

T.W.: I was there for three years and five months, I think. From the beginning for 2003 to the latter part of 2006. By the way, it's an interesting thing, my wife had two sets of twins in Germany while this was going on. We got pregnant, and she delivered four kids in Germany. So we have four kids who were born in Germany.


417: How did you end up in Springfield? 

T.W.: I got called by a head hunter because of my war experience. They were looking for a trauma surgeon. They were looking for someone to run the trauma program. I got a head hunter call and he kind of got me hook, line and sinker and then said, "Oh by the way, it's in Springfield, Missouri." And my first response was, "Where is Missouri?" and then "Where is Springfield?" But then we came here and really my wife and I had zero intention of probably coming here. We were interested in the position, but otherwise there was very little interest. Then we came here, and we were like, "This is exactly what we want." And so I'm still the trauma director at Cox. One of the group of surgeons at Ferrell Duncan, but I'm the trauma medical director, and we love it. We're here for the long haul. Five years is the longest I've ever lived anywhere in my life before I came here.