Style
Me and My House
New to the Springfield home décor scene, Me and My House offers shoppers everything from large furnishings to small seasonal accessories.
By Savannah Waszczuk | Photos by Kevin O'Riley
Dec 2014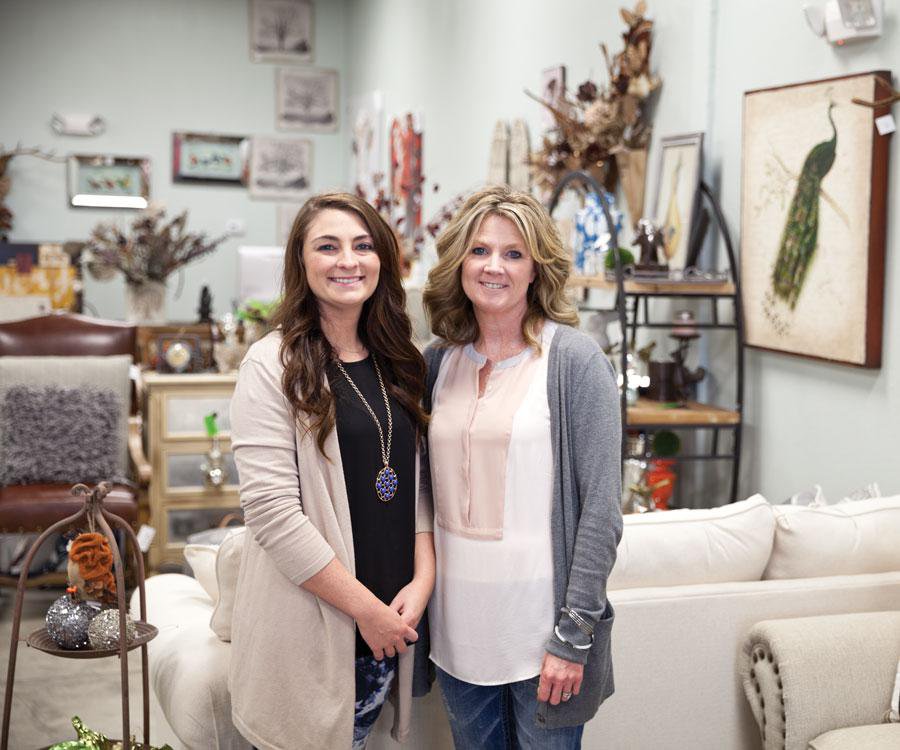 Me and My House
3405 E. Battlefield, Suite 128, Springfield; 417-720-1291; open Tues.–Sat., 11 a.m.–6 p.m.
The lovely mother-daughter duo of Stacia Massey and Miranda Eickmeyer opened Me and My House, one of Springfield's newest home décor and accessories stores, last July. "We've both always had a passion for decorating," Stacia says. And Stacia also has much experience, as she has decorated many homes over the years. "My husband was in the Air Force, so we moved a lot before coming here, usually every two years or so," she says. "It was always important to me to make our house a home for our family." She and Miranda also always helped friends decorate their houses over the years. "They would see our homes, like how we decorated them and ask for help." 
In 2002, Stacia's husband's career brought the family to Ozark. They settled in over the years, and they decided to build their own custom home nearly 10 years later. "We went to market to get furniture and things for their house when they were building," Miranda says. "We found a lot of great things that you couldn't find in Springfield. We thought it would be great to bring the items here and offer them at affordable price points." And Stacia agrees. "We wanted to be able to offer people an affordable way to make their house a home." 
Once they built up some inventory, the ladies opened Me and My House, which sells a wide variety of home décor and accessories. As you walk around, you'll find everything from sofas, chairs, dining tables and dressers to wall art, table accessories, candles and a variety of seasonal décor. "We offer a variety of styles," Stacia says. While Stacia's taste leans toward modern, Miranda prefers French country and shabby chic looks, and they can both decorate to fit nearly every style. "We offer decorating services and home consultations," Stacia says. Consultations are free, and they include the pair visiting your house to see what you have and offering suggestions to change up your space. This often includes small changes, like rearranging your furniture to give a room a new look. Miranda and Stacia's decorating services are billed at $50 an hour. "We also offer staging if you're about to put your home on the market," Miranda says. As for the name of the store, it was chosen with a purpose. "We're a Christian store," Miranda says. "The name is from the Bible verse—As for me and my house, we will serve the Lord."

Q&A 
with Me and My House Owners Stacia Massey and Miranda Eickmeyer
417 Magazine: Finish this sentence: The most important thing is that my customers feel…
Stacia Massey: Welcome. I don't want anyone to walk in and feel like they don't belong here.  
417: What are three words that describe your merchandise?
Miranda Eickmeyer: Fun, affordable and unique
417: When it comes to home décor, what's one item worth splurging on?  
M.E.: A couch. A couch is a staple piece. You can change out accessories and artwork, but your couch will always be a constant.
417: What makes a house a home?
S.M.: Creating a space that's comfortable and inviting. It's all about the atmosphere.
417: What colors are trendy in home décor right now?
M.E.: Navy is huge, especially in accessories. Gray is also big, especially for upholstery.