Reviews
Five Best Food Gifts
We've all been there: You're invited to a holiday party and want to bring a tasty treat for the hosts, but you don't want to arrive with a bottle of wine like everybody else. This year, bring some delicious food for your host to enjoy post party.
By Rose Marthis
Dec 2014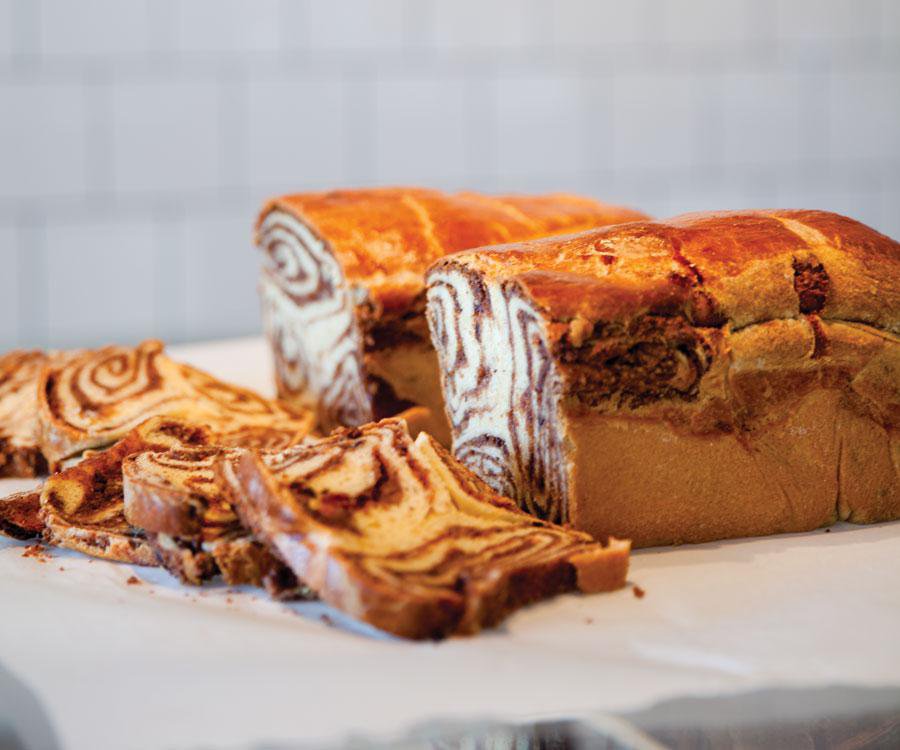 1. Babka 

(Editor's note: Legacy Bagelry & Bakery has closed since the initial publication of this article.)
$18.50 and up; Legacy Bagelry & Bakery, 3049 S. Fremont Ave., Springfield, legacybagelry.com  
Why we love it: These soft loaves start with all organic ingredients rolled into thin dough, covered with delectable nutty spreads, then tucked neatly into pans and baked to a golden brown top abundant with delicious swirls inside. The cinnamon and pecan babka and the chocolate-walnut babka (made with Askinosie nibs) are made fresh with no preservatives. You can even order them frozen to bake before your holiday party.

2. Snowflake Truffle 

(Editor's note: Elle's Patisserie has closed since the initial publication of this article.)
$48–58; Elle's Patisserie, 1454 E. Cherry St., Springfield, 417-832-2171 
Why we love it: Elle's Patisserie makes its truffles from scratch with luscious Belgian chocolate to create a rich chocolate shell filled with a velvety ganache center. It forms three pounds of snowflake goodness perfect for dessert or hostess gifts. The white chocolate looks beautiful as an edible centerpiece, and milk chocolate, dark chocolate and salted caramel are definite crowd pleasers. 

3. Kringle
$8.99–11.99; Supreme Bakery, 3314 S. National Ave., Springfield, 417-881-5226  
Why we love it: Supreme Bakery uses a recipe that's more than 100 years old to create this traditional Danish pastry made with light, flaky layers of dough and butter filled with fruits, nuts, cream cheese, or whatever scrumptious filling pleases your taste buds. This oval-shaped delight is then topped with homemade fondant made from powdered sugar, orange and lemon zest. Best of all, it serves 12 to 14 people. Celebrate!

4. Flavored vinegars and oils
(Editor's note: Dove Olive Oil has closed since the initial publication of this article.)
Prices vary; Dove Olive Oil
Why we love it:  There are a ton of tasty options at this store, so it's easy to pick a few to include in a little gift basket. Oils come in flavors like basil, chipotle, roasted garlic and more. Vinegars are just as creative, with flavors like Caribbean coconut white balsamic or French Champagne vinegar. Our favorite: Black cherry balsamic vinegar.
5. Smokin' and Snack Pack Baskets
(Editor's note: Horrmann Meat Company closed the Battlefield Road location since the initial publication of this article.)
$40–55; Horrmann Meat Company, 1537 W. Battlefield, Springfield, 417-886-6328, horrmannmeat.com   
Why we love it: Horrmann Meat Company packs a Christmas basket full of savory meats, delicious cheeses and flavorful rubs and sauces, all made in-house, to give you everything you need to satisfy cravings while watching the game over the holidays. The Smokin' Basket includes grilling planks to make the perfect meal, and the Snack Pack Basket has local candy for that sweet touch.