How to Travel with Kids
Whether you're driving across the state to visit Grandma for Christmas or flying across the globe for a big vacation, make sure you soak up our writer's handy must-read tips for making the most of kid-filled travel.
By Julie Sedenko Davis | Photos courtesy Julie Sedenko Davis
Dec 2014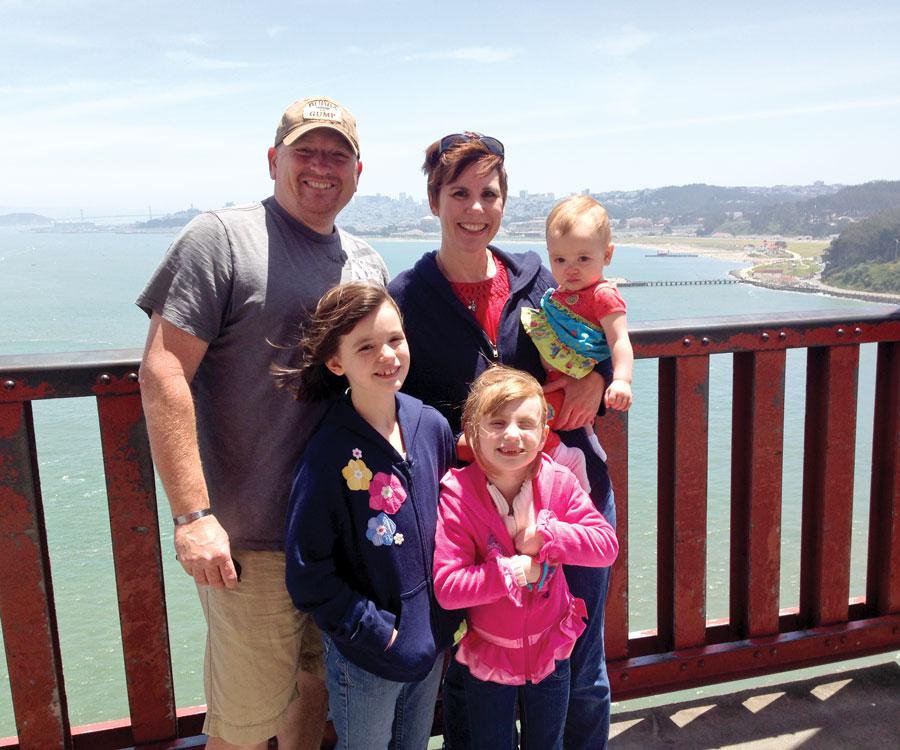 I thought it was a great idea. Instead of zooming through the state of California visiting family within the constraints of my husband's vacation schedule, he would fly home and I would stay behind for three extra weeks with three kids ages 9, 5 and 1. 
Fortunately, I love to travel. For me, having kids adds challenges but also adventure. I experienced my first "Mommy flight" when my firstborn, Nicole, was 5 weeks old. Since then we've added two more daughters and many more miles. 
Our recent month-long vacation turned out to be a great idea. In addition to spending quality time with family and friends, we walked the Golden Gate Bridge, tried surfing and even got splashed by a whale and pet a dolphin at Sea World. Our youngest, Mallory, even took her first steps at LAX airport! Our trip brought challenges but, as always, the adventure was worth it. But accepting the traveling-with-kids challenge can be difficult. I hope what I've learned (so far) will make getting to your own holiday destination half the fun. 
Before the Trip
• As soon you announce a trip, put your kids' excited energy to work on a paper chain. Let them tear a link off each day in anticipation. 
• Utilize your smart phone when packing. I use an app called "Saving Grace," which comes with pre-set lists for various vacations. 
• I love Amazon when traveling. I ship inexpensive baby gear, diapers and other items instead of packing them. If shipping to a hotel, write your arrival date on the label. Some people ship clothing, but I don't find it cost effective.
• The No. 1 trip-saver is communication. Make expectations simple yet crystal clear with kids (and possibly your spouse). Let little ones know what the trip will be like, how they are to behave and what consequences will be for wrong choices. And follow through every time!  
Driving
• A surprise DVD is priceless on a road trip. (You'll know when to bring out this secret weapon.) Use GPS to locate playlands, parks or even a nice restaurant for mom when necessary. Build in time for these stops. They really are indispensable!
• Have the kids keep a journal, even if it's just drawing pictures. While we were driving through the central valley, our 9-year-old, Nicole, listed various types of agriculture she saw growing. 
• Puzzlemaker.com is a great site for creating personalized word search puzzles and more. Customize them for your trip! 
• Consider giving kids a camera to really pique interest in their surroundings.

Help keep your kiddos interested by giving them the window seat.
 Flying
• When flying with children, it's all about mindset. You have every right to travel as a family, so don't feel guilty about needing extra time in security or boarding the plane. (Obviously, get there early so you don't feel rushed.) 
• Flying is also about organization. Before heading into security, have electronics and liquids (in Ziploc bags) easily accessible. Everyone should wear slip-on shoes, and kids should be responsible for carrying their own backpacks. Have empty bottles attached to carry-ons, and fill them with water on the other side of security.
• If you have babies, it's imperative they are nursing or sucking on a bottle or pacifier during takeoff and landing. This helps their ears adjust to altitude changes. Have suckers or gum for older kids.
• Arm yourself with a secret stash of snacks and new, small toys and books. Bring them out sparingly. Fully charged electronics are a life-saver on a long flight. When all else fails, barf bags make great puppets.
• Label kids with your name and phone number. You can create id bands at mabelslabels.com or personalized tattoos at safetytat.com. Once I improvised with an airline bag-tag around their wrists.
• Remember sanitizer and wipes. Use them on airplane seats and tray tables.
• Make sure kids wear comfy clothes and layers; airplane temperatures can vary greatly.
• Take a potty break as close to boarding as possible. There could be delays in takeoff or turbulence that prevents trips to the bathroom on-board. Bring extra diapers in case of any long delays. 
• Invest in car-seat travel bags! Most airlines don't charge for them (but you should check to be sure). Also, invest in a luggage scale to save potential overweight fees.
• Finally, check in and print boarding passes from home. 

Julie Sedenko Davis shares first-hand travel tips she learned while traveling with her three daughters.