Hunting for trees
Start a new family tradition this holiday season, and visit these four tree farms scattered around the Ozarks to find your family's perfect Christmas tree. Hot cider and many lasting memories await, so load up the car, and hit the road.
By Kelsey Berry | Illustration by Heather Kane
Dec 2014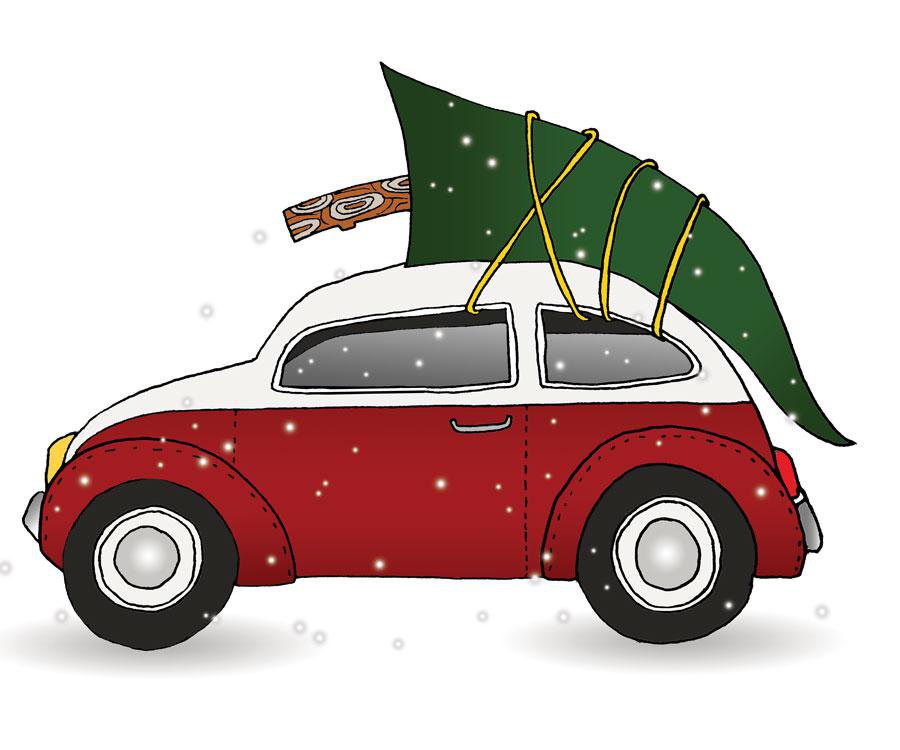 One of the best of all traditional sights and smells of the holiday season is the woody, sweet fragrance of a freshly cut Christmas tree. This year, start a new family tradition and scour the natural woods of the Ozarks in search of the perfect tree. These family-owned tree farms in 417-land are here to provide your family with the picture-perfect opportunity to harvest your own Christmas tree. So cut it down, set it up and wrap it with twinkling lights and beautifully ornamented garlands to enjoy the beauty and warmth of a nostalgic pine-scented holiday.
Bridgestone Christmas Tree Farm
Get bundled up and head out to this tree farm where you'll find a variety of pines and firs—maybe even covered in a sparkling blanket of snow. Saws are provided, so just choose your favorite evergreen and cut your own tree or pick from a selection of pre-cuts. The staff is there to help you tie the tree up and pack it into your car. While you're there, enjoy a winter hay ride, let the kids ride the barrel train or warm up inside the festively decorated barn filled with local vendors' handmade goods. There are plenty of great photo ops here, including two picturesque full-sized Christmas trees and a cozy fireplace you can warm up near inside the barn.
Types of trees: Choose and cut Scotch pine or Austrian pine. Also available are pre-cut Frasier firs, balsam firs and white pines.
Cost: Choose-and-cut trees are $6.50 per foot. Pre-cuts are $6.50–8.50 per foot.
Other products: 22-inch decorated or undecorated wreaths
Hours: Nov. 28–Dec. 24 (or until sold out) Friday 3–6 p.m., Saturday 10 a.m.–6 p.m. and Sunday 1–6 p.m.
Address: 9615 County Lane 251, Webb City, 417-529-8508, bridgestonefarm.com
Cole's Tree Farm
Choose from four kinds of Christmas trees at Cole's Tree Farm, each one with its own character, including the haphazard charm of the loblolly pine. Friendly staff assist you in shaking the tree, netting it and then loading it into your car or truck, so you can easily find and take home the perfect one.
Types of trees: Scotch pine, Virginia pine, white pine, loblolly pine
Cost: Varies based on height 
Other products: Wreaths, tree stands and Tree Life nutrients
Hours: Nov. 22–Dec. 23; Monday–Friday noon–sunset, Saturday and Sunday 9 a.m.–sunset
Address: 23352 Highway OO, Lebanon, 417-588-3008, facebook.com/pages/Coles-Tree-Farm
Ozark Valley Christmas Tree Farm
Catch a lift on the hay ride to this family-owned tree farm that features four kinds of Christmas trees, a gift shop, a narrated nativity scene in the barn on Saturday nights and a reindeer train and kids corner with Lincoln Logs and crafts. Even after you've chopped down you're tree, there's plenty of fun to be had by all. Sip on hot cocoa or take advantage of the festive sleighs set up in the barn for a great seasonal family photo.
Types of trees: Scotch pines. Pre-cut Frasier firs, white pines and Douglas firs.
Cost: Varies based on height
Other products: baked goods, handcrafted specialty items, evergreen and fir wreaths
Hours: Nov. 28–Dec. 21; 10 a.m.–5 p.m. on Black Friday; Saturdays 10 a.m.–5 p.m.; Sundays noon–5 p.m.
Address: 1090 Manning Road, Southwest City, 417-762-2276, ozarkvalleychristmas.com
Maggard Tree Farm
Be swept away by the natural beauty of this tree farm as friendly and experienced staff members let you pick out your dream Christmas tree, cut it down for you and then load it into your vehicle. Maggard Tree Farm has been in the business for almost 20 years and repeat customers will tell you that a visit to the farm is like stopping by to see family.
Types of trees: Choose and cut Scotch pines and white pines
Cost: $4 per foot
Other products: wreaths and tree stands
Hours: Nov. 28–Dec. 24, Monday–Sunday 10 a.m.–5 p.m.
Address: 2834 Bado Road, Cabool, 417-962-3852, facebook.com/pages/Maggard-Tree-Farm