Profiles
Meet a Staffer: Krysten Maloney
Every month, we introduce you to one of the people who make 417 Magazine happen. In this issue, meet Graphic Designer Krysten Maloney.
Photo by Kevin O'Riley
Dec 2014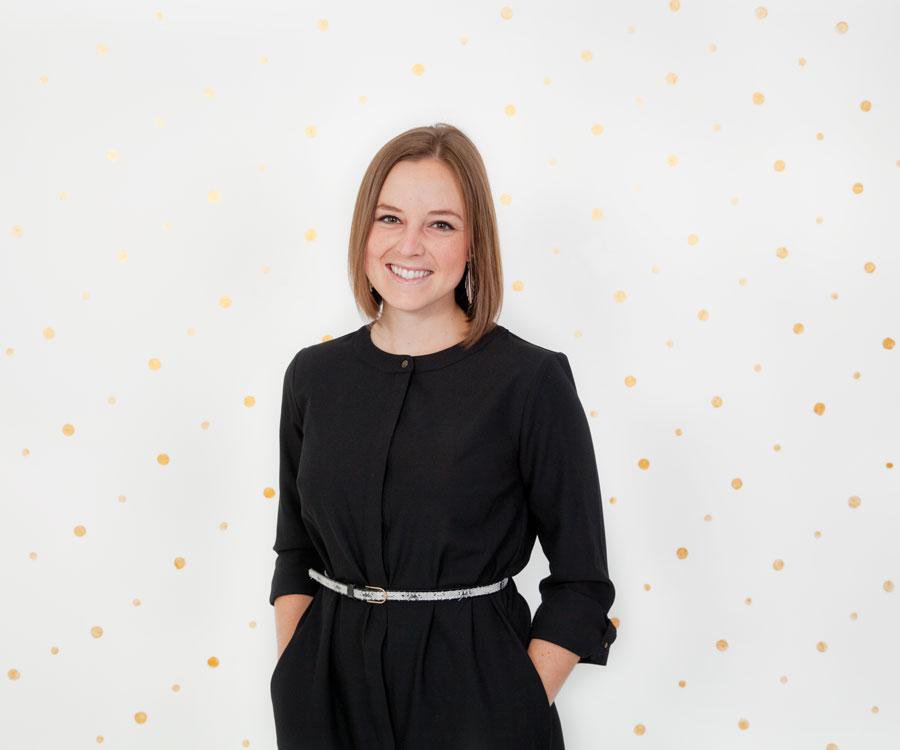 How long have you been working at 417 Magazine?
Seven months.
Describe what you do at work day-to-day.
I design of a lot of marketing and custom events materials as well as an occasional ad for the girls in the production department. Really, I'll take on just about any project that needs designing.  
Describe something you worked on recently or are working on right now that you're proud of. 
One of the first projects I was given after being hired was to update all sales materials for 2015 as well as design materials for a couple of new sales promotions. It was a huge undertaking, but I managed to get it all done on time and then took a week-long vacation. I felt accomplished. 
What's your favorite thing you've ever had to do for this job? 
Design a fancy invitation to a holiday party. It was the first time I had a say in the production and printing of the final piece. 
What's the weirdest thing you've ever had to do for this job? 
While I didn't have to, I did volunteer alongside Brittni Bynum to take a bite out of a smoked capelin fish for the August 2014 Global Eats issue. And no, I wouldn't do it again.
What's your favorite activity in 417-land?
My boyfriend and I love to head to the tasting room at Mother's Brewing Company on the weekends. Neither of us has a "usual" (there are too many beers to always order the same thing), but the staff still has us pretty well figured out.
What's your favorite piece of magazine lingo?
"Double truck," which is essentially just another term for a two-page spread within a magazine. It's a term that originated back when type was still set by hand, and it stuck.
What's your favorite thing to eat that you can only find in 417-land? 
Anything from Ott's Pasta. My best friends and I grew up eating Ott's at Phelps Grove Park and then tossing a Frisbee around until dark. 
If there were a movie about your life in 417-land, what would its title be? 
With A Little Help From My Friends.
What celebrity would you most like to have coffee and conversation with? 
Jimmy Fallon. But only if he would then write me a thank-you note. 
What do you do in your free time? 
I am a runner and just recently completed my first full marathon. Some think it's crazy, but I wouldn't be able to function without the physical activity and challenge.
What's your dream vacation, and what five people would you take with you?
I would travel through Europe with Robert, Leslie, Deanna, Kelsey and Dillon. Everybody would have a say in something we got to go do or see. 
What would you do if you won $1 million?
I would help my family in any way possible, make some strategic investments and then travel around the world. First stop: New Zealand.
What is your Facebook status right now? 
"I love a good 5K on a Saturday morning."
What would your co-workers say is your most distinguishing feature at work? 
I'm a laid-back individual, and I like to think that has a calming effect when people are stressed.