Winter Hideaways
By Ettie Berneking | Illustration by Heather Kane
Dec 2014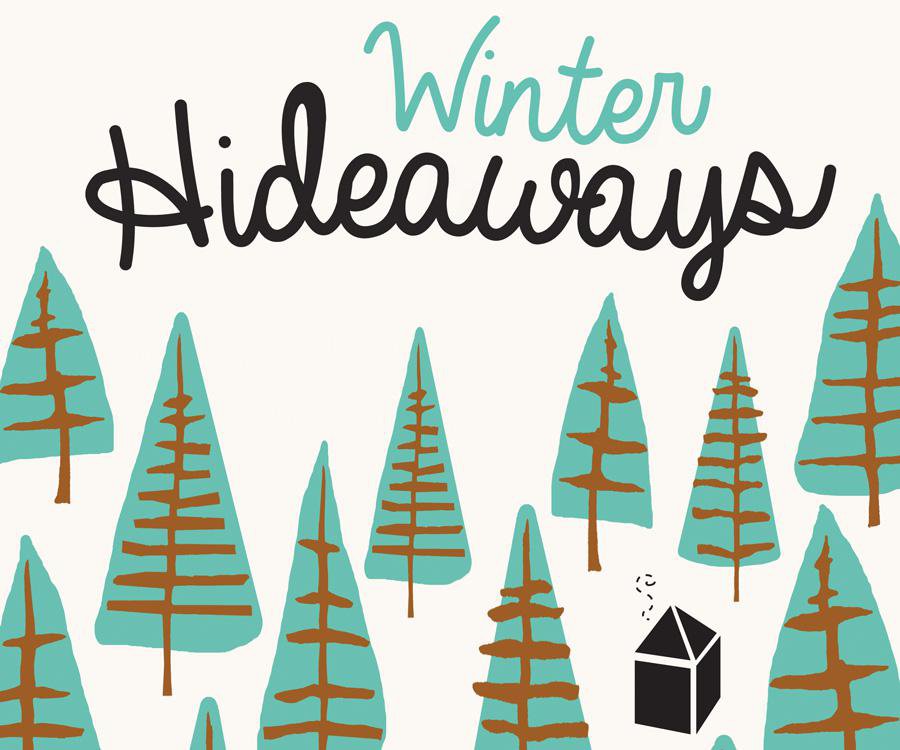 It's time to hit the open road for a cozy wintry getaway. Pack up the car, make a playlist of your favorite driving tunes and fill that Thermos with hot coffee. Yes, it's cold outside, but you can put those wool blankets and fleece-lined leggings to good use while you're unwinding in a multi-million dollar cave home or spending a few days high up in a treehouse. Whatever it is that calls your name, luxurious and relaxing or woodsy and serene, this roundup of nearby retreats is sure to cure those wintertime blues as you warm your toes by the fire.  
Best Chance to Feel Like Tarzan 
 
Surrounded by towering treetops, the River Lighthouse is extra beautiful when winter weather provides frost and snow.
River of Life Farm
Dora
There are several lodging options at River of Life Farm, whether you want to plan a weekend getaway with six of your best guys or are looking for a romantic weekend for two. Our favorite is the River Lighthouse that sits right on the banks of the North Fork of the White River. It sleeps six, which makes it great for the whole family or for that woodsy guys' retreat. There's a spacious porch that overlooks the river below. There are two private bathrooms with two whirlpool tubs and a full kitchen with an oven, a microwave and a full-size fridge. While you're here, turn on the electric fireplace, and unwind on one of the cozy couches in a main living area. The view is unbeatable, and the mix of rustic charm with modern amenities turns this weekend away into a much better version of camping. Oh, and the list of activities is endless: bird watching, star gazing, hiking, canoeing and kayaking are just a few of many. You can even get a relaxing massage while you're here. Just call ahead. 

The River Lighthouse cabin at River of Life Farm boasts all the amenities of a home, plus a large porch that overlooks the North Fork of the White River.
Things to Love
Perfect For: A fishing weekend with the guys
The Best Part: The view from way up in the trees is worth the drive.
Nearby Fun: If you're up for an afternoon of sightseeing, load up a picnic lunch and cruise around to check out the historic grist mills located nearby.
Don't Forget to Pack: Your best bird-watching binoculars
Cost Per night: Prices start at $359 
Where to Find It: 1746 River of Life Dr., Dora
More Information: Visit riveroflifefarm.com or call 417-261-7777

Outdoorsy types will love a weekend at River of Life Farm, where guests enjoy canoeing and kayaking on the North Fork of the White River.
Five More Places to Sleep in a Treehouse
​
1. Turpentine Creek Wildlife Refuge, 239 Turpentine Creek Ln., Eureka Springs, Arkansas, 479-253-5841, turpentinecreek.org
2. Branson Cedars Resort, 769 Hwy. 86, Ridgedale, 417-544-9051, bransoncedarsresort.com
3. The Grand Treehouse Resort, 350 W. Van Buren, Eureka Springs, Arkansas, 479-253-8733
4. Oak Crest Cottages & Treehouses, Eureka Springs,
oakcrestcottages.com
5. Treehouse Cottages, 165 W. Van Buren, Eureka Springs, Arkansas, 479-253-8667, treehousecottages.com 
Best Place to Relive Your Honeymoon

Dawt Mill is home to a handful of cozy wood cabins that are perfect for a weekend stay.

Dawt Mill Resort
Tecumseh
There's ample reason to cuddle up with your love in one of the romantic cabins at Dawt Mill. Be sure to snag one of the cabins that overlooks the scenic North Fork of the White River. The view alone is worth some quiet time, especially during the winter when the morning frost covers the surrounding woods with a wonderland-like shimmer. There are even plans for a murder mystery dinner and live music once Jack Frost settles in. Inside the cozy little cabins, guests relax on a king-size bed or enjoy some outdoor time on the front porch. With the woods on one side and the old grist mill on the other, an overnight stay at Dawt Mill is a great way to unplug and get back to nature. If you plan your visit during the summer, be sure to bring your tackle box. This is a true fly fishing destination. But if you're not an angler, don't worry, you can still get out on the water and paddle around in one of the resort's canoes. 

The Grist Mill Restaurant at Dawt Mill is the prime spot for enjoying a delicious meal. If you want an extra-special experience, reserve the Chef's Table on a Friday or Saturday night.
Where To Eat
There are several terrific dining options at Dawt Mill, whether you're in the mood for a quick bite at the deli, a casual meal at the bar or want to stop in at the Gristmill Restaurant. But we recommend making a reservation at the Chef's Table. This intimate dining experience is available every Friday and Saturday evening and can seat up to 12 guests. You're more than welcome to join other diners, or you can reserve the table for two as you watch Chef Ryan Van Winkle work his magic. Each course is $10, and you can choose 3 to 12 courses, each with a wine pairing.  

Visit Grist Mill Restaurant for a wide variety of fine dining options.
Things to Love
Perfect For: A romantic getaway
The Best Part: Even though the grist mill was built back in 1897, it still works! Be sure to take some time to see the mill in action.
Nearby Fun: Have the front desk help you arrange tours of the surrounding mills. 
Don't Forget to Pack: That novel you meant to read over the summer.
Cost Per night: $79 
Where to Find It: In Tecumseh, a short 40-minute drive west from West Plains along Highway 160
More Information: Visit dawtmill.com or call 417-284-3540. 
 Best Place to Feel Right at Home
 
Branson House Bed and Breakfast is located in a picturesque home just off of Main Street in downtown Branson.
 Branson House Bed & Breakfast
Branson
For those weekend staycations where you want to get out of the house but don't want to spend hours in the car, head to Branson House Bed & Breakfast (120 N. Fourth Street, Branson). Dayle Coursey and his wife, Carol, make you feel right at home in their cozy B & B. There are five spacious bedrooms that come decked out with king-size beds, but if you're up for some extra rest and relaxation, book yourself into the honeymoon room. The price per night doesn't change, but you do get some serious upgrades, including a two-person jetted tub, a wet bar and a wine cooler. Breakfast changes each day thanks to the culinary pros at Infused Catering, so those homemade blueberry muffins you devoured yesterday might just be a tasty memory. Once you've poured yourself a large cup of hot coffee, wrap up in a blanket and cuddle up with your loved one on the spacious stone front porch. Since this B & B sits high up on Fourth Street, you get a great view of the nearby Branson Landing and the bluffs off in the distance. You can also warm up by the gas fireplace out on the back terrace.

A team of experts from Petals flower shop decorated the Branson House for the holiday season.

Guests of the Branson House stay in one of five cozy rooms with king-size beds.
Night on the Town
Enjoy a candlelit dinner at Level 2 Steakhouse (level2steakhouse.com) before taking a leisurely stroll along the Taneycomo lakefront at Branson Landing. Before the evening is over, head over to Clear inside the Hilton Convention Center Hotel. There you can order a cocktail, and cozy up near the outdoor firepits.   

During your Branson staycation, search for treasures at Dick's 5&10.
Things to Love
Perfect For: Easy staycation with your significant other
The Best Part: You're in good company. Word has it that Charlton Heston and Joe Dimaggio also rested their tired feet here.
Nearby Fun: The Branson Landing is just four blocks away.
Don't Forget to Pack: Your softest robe and that bottle of wine you've been saving.
Cost Per night: $109
Where to Find It: Head to Historic Downtown Branson.
More Information: Visit thebransonhouse.com or call 417-838-8880.
Best Place to Get Off the Grid

Beckham Creek cave Lodge
Parthenon, Arkansas
Forget about cushy hotels, room service and walks around a bustling downtown. This woodsy retreat is just that: in the woods. Built in 1989, this 5,800-square-foot luxury home was built directly into Beckham Creek Cave. The lodge sits on 280 acres of total isolation and is surrounded by the beautiful Ozark Mountains. The original cave walls are used whenever possible, which makes this extravagant home unlike anything else in the area. But don't let the rustic exterior fool you. Inside you'll find a modern kitchen with stainless steel appliances and a game room with huge windows that look out across the valley to the bluffs. Upstairs is a master bedroom honeymoon suite that has rock walls and a Jacuzzi tub. There are three more bedrooms, each with a private bathroom. Once you've logged in all the quiet time you can handle, you can bundle up in your winter coat and head out into the surrounding woods for a leisurely hike on one of the many trails that runs along the Buffalo National River.
Things to Love
Perfect For: A family retreat
The Best Part: You're staying in a cave! Need we say more?
Nearby Fun: You can float the National Buffalo River during the rainy season, rock climb or take a drive along the scenic national Byway-Hwy 7.
Don't Forget to Pack: Your walking shoes
Cost Per night: Call 870-446-6043 for updated pricing once the cave re-opens in early 2015.
Where to Find It: In Parthenon, Arkansas; Head south on 327 from Jasper, Arkansas
More Information: beckhamcavelodge.com

Stop along the way
Stop for lunch at Ozark Café (107 E. Court St., Jasper, Arkansas, 870-446-2976). This old-timey joint opened its doors in 1909 and has been serving home cooking ever since. If you think you're up for a true man-versus-food situation, order yourself the Cow Patty: Two chicken-fried steaks served in a skillet. Or try the deep-fried burger, which is exactly what it sounds like. And the Excaliber Burger is really just two buttery grilled cheese sandwiches that hug a hamburger patty. 
Best Place for a Safari

The safari lodges at Turpentine Creek are located near the wilderness. A firepit and hot tub are located in the middle of the ring of lodges.
Turpentine Creek
Eureka Springs, Arkansas
You won't be the only one caroling this winter. The lions that call Turpentine Creek (239 Turpentine Creek Lane, Eureka Springs, Arkansas) home join in the fun as they let out their guttural roars late into the night. It's no wonder this after-hours serenade is called caroling. There's something surprisingly soothing about drifting off to sleep as lions bellow into the night. So pack your bags, invite a few other love birds, and head out for an adventurous couples' getaway. Be sure to book the Safari lodges. Each of these five cabins sleeps two people and is equipped with a queen-size bed, coffee maker and mini fridge and opens out onto a wooden patio with a firepit and a hot tub. These cozy lodges were built by hand by artists D. Arthur and Lisa Wilson so each one has its own African theme. There's bamboo and jewel-tone décor in the Kalahari cabin, and the Okavango cabin is complete with many hues of calming blues. Once you've settled in, lace up your walking shoes and head out on a Midwest safari. With more than 450 acres and some 80 large cats to see, Turpentine Creek is the largest wildcat refuge in the region. Spend the day with coyotes, tigers, black bears, those caroling lions and one lovable grizzly bear that loves being the star of the show. 

Guests of Turpentine Creek enjoy seeing a variety of animals, including tigers, coyotes, black bears and lions.
 
Things to Love
Perfect For: Memorable couples' weekend
The Best Part: You can get as close as 5 feet to some of the animals.
Nearby Fun: Warm up with some dinner at Local Flavor in Eureka Springs 
(71 S. Main St., Eureka Springs, Arkansas, 479-253-9522, localflavorcafe.net)
Don't Forget to Pack: A good pair of walking shoes
Cost Per night: $150 including two admissions into the wildcat refuge 
Where to Find It: Just a short 7 miles from Eureka Springs along Highway 23
More Information: Visit turpentinecreek.org or call 479-253-5841.
Get in the Holiday Spirit
As if the caroling lions weren't enough to get you in the spirit of the holidays, Eureka Springs has plenty of events this December that will have you writing letters to Santa in no time. The weekend of December 13 is filled with Christmas cheer from the Eighth-Annual Sweet Treats Cookie Tour to the Ozarks Chorale Christmas Concert. Visit eurekasprings.org and click on "Events" to learn more about all the festive fun that awaits. 
Best Getaway With the Girls

While its exterior still looks like a historic mill, the Inn at the Mill's interior features modern suites.
Inn at the Mill
Springdale, Arkansas
Call up the girls, and plan a winter retreat to Inn at the Mill (3906 Johnson Mill Blvd., Springdale, Arkansas). For a true girls-only getaway, book the Historic Mill Suites. These two multi-level suites are housed in the historic mill wing, which lends a certain amount of vintage charm to these otherwise modern suites. The lower level features a cozy living area with a convertible couch, and upstairs you'll find a queen-size bed, marble bath and Jacuzzi. Continue the pampering with a free continental breakfast before making dinner reservations at James at the Mill Restaurant. Besides boasting an award-wining wine list and cuisine that truly shows off the bounty of the Ozarks, this two-level restaurant has a view that's hard to beat thanks to floor-to-ceiling windows that offer a glimpse of the woods outside. 

James at the Mill Restaurant couples fine dining with an award-winning wine list.  

The Lambeth Suite at Inn at the Mill offers a luxurious setting for a first-class girls weekend.
Things to Love
Perfect For: A girls' weekend out
The Best Part: Treat yourself to the dessert menu at James at the Mill. Homemade pecan pie or warm banana cake are two must-try items.
Nearby Fun: Continue the indulgence at 28 Springs Restaurant (28springs.com) in historic downtown Siloam Springs where you can enjoy hand-crafted cocktails, craft beer and made-from-scratch seasonal fare.  It's a short 30-minute drive away.
Don't Forget to Pack: Your favorite rom-com
Cost Per night: $229 
Where to Find It: Just 7 miles north of Fayetteville, Arkansas 
More Information: Visit innatthemill.com or call 479-443-1800. 
Get in Touch With Your Artsy Side
No trip to this part of the state would be complete without a visit to the nearby Crystal Bridges Museum of American Art (crystalbridges.org). Spend an afternoon wandering through the exhibits, zip up your coat for a visual roller coaster ride in the colorful Sky Space art installation, and then keep warm with a round of hot coffee or hot cocoa while enjoying a brisk winter walk around the museum grounds. 
Best Time Warp

Laurel Brooke Bed And Breakfast
Weston
Head back in time with a visit to Laurel Brooke Bed and Breakfast (22520 County Rd. M, Weston). This 40-acre farm in Weston features an old-timey farmstead with plenty of antique charm, and the restored red barn with its classic white trim welcomes guests. Each room has those old push button switches and antique furniture to help you leave the 20th Century behind, while antique sinks and clawfoot tubs offer plenty of historic charm. Curl up by the fireplace, stroll through the grounds or relax in the hot tub during your stay. Be sure to bring a warm jacket so you can wander through the property's pecan grove, or head over to the fruit orchard and vineyard.   

A weekend trip to Weston pairs ultimate relaxation with scenic country views.
Things to Love
Perfect For: A quiet weekend getaway for two
The Best Part: The property offers a scenic and relaxing respite while still being close enough to downtown Weston, where antique shopping abounds. 
Nearby Fun: Load up on sweets to take back home at Main Street Galleria (westongalleria.com) before heading to Snow Creek (1 Snow Creek Dr., Weston, 816-640-2200, skisnowcreek.com) for some ski time.
Don't Forget to Pack: A picnic blanket and a jacket for a cozy picnic on the property grounds
Cost Per night: $140
Where to Find It: Weston is less than an hour northwest of Kansas City
More Information: Visit laurelbrookefarm.com or call 816-640-2525.

While you're here, enjoy pecans fresh from the grove.
Explore the Area
Historic downtown Weston has plenty to offer, whether you're in the mood for some antique shopping, are looking for the perfect home décor or are up for a spin through one of the many art and photo galleries. For a mix of art and history, check out The National Silk Art Museum (nationalsilkartmuseum.com) where you can find an impressive collection of woven silk tapestries that date back to the 15th century. For a history lesson that is both informative and tasty, pull up a seat at the 25-cent tasting bar at McCormick Country Store (816-640-3149). McCormick is the oldest distillery in the United States that still operates out of its original location, and you can sample some of the vodkas at its country store located on Main Street.
Best Nature Watching 

The Bluff house
Point Lookout
If you love the hustle and bustle of a weekend in Branson but want to escape the neon lights at night, The Bluff House is the perfect retreat. Located high above the water of Lake Taneycomo, this rustic lodge has some of the best views of the Ozarks hills and the Branson skyline. The steeple ceiling, massive stone fireplace, walls of windows and cozy leather couches make this the perfect place to unwind in luxury while still being surrounded by the beauty of the outdoors. And with several bedrooms (the master suite even has a wood-burning fireplace), you can bring the whole family and really live up the Branson experience. But at the end of the night, unwind on the back porch in the hot tub that's built into the side of the bluff or fire up the grill and treat yourself to a late-night snack.  

A Breathtaking View
Located 200 feet above Lake Taneycomo, no stay at The Bluff House would be complete without some time spent soaking in the killer views. To get the absolute best viewpoint, head up the curved staircase to the loft suite. There you'll find a secret door that leads to the crow's nest for amazing rooftop views.
Things to Love
Perfect For: A more rustic getaway in Branson
The Best Part: Location, location, location. The Bluff House is a short drive from Branson and just across the way from The Keeter Center.
Nearby Fun: Call ahead, and make a reservation for Sunday brunch at Dobyns Dining Room at The Keeter Center at College of the Ozarks.
Don't Forget to Pack: A swimsuit for those late evening dips in the built-in hot tub
Cost Per Night: Price varies by season.
Where to Find It: In Point Lookout, 8 minutes southwest of Branson
More Information: Make reservations by calling 417-239-1900 or visit keetercenter.edu and click on "Bluff House."
Best Outdoorsy Escape


Staying at Big Cedar Lodge while it's blanketed in snow provid
es ultra-gorgeous views and a few extra-curricular activities, like sledding.
Big Cedar Lodge
Ridgedale​
For an easy-to-plan getaway that's definitely splurge-worthy, book one of the private one-room cabins at Big Cedar Lodge. These retreats have all of today's modern comforts with just enough rustic charm and access to the outdoors to make a weekend trip feel truly luxurious. Get a good night's sleep in a super-comfy king-size bed layered with soft blankets. The main living area comes equipped with a full-size fridge and cooking area plus a rustic kitchen table crowned by an antler chandelier that adds the perfect touch of countryside charm that goes hand-in-hand with a weekend at Big Cedar. As the night winds down, you can curl up by the wood-burning fireplace and enjoy the sunset on the private back deck that overlooks the river below, or simply slip into the jetted hot tub. 

The private one-room cabins at Big Cedar Lodge are equipped with wood-burning fireplaces, jetted tubs and many more luxurious amenities. 
Things to Love
Perfect For: A romantic escape
The Best Part: The fresh cookies on your pillow each day are delicious! 
Nearby Fun: Throw on your coat and scarf, and head over to the End of the Trail All-American Wine Cellar for wine, cognac and cigars at Top of the Rock. 
Don't Forget to Pack: A cozy pair of slippers. This is one overnight trip where staying in is encouraged.
Cost Per night: Prices vary by the season, so call for details. 
Where to Find It: From Branson, head south on Highway 65 for about 12 miles until you get to Ridgedale. 
More Information: big-cedar.com 

Escape to Top of the Rock and enjoy a glass of vino at the All-American Wine Cellar. 
Ring in the New Year
Each New Year's Eve, the sky over Big Cedar Lodge is lit up with fireworks, so if you're still pondering over reservation dates, book your getaway for the end of the year. Cozy cabins, wood-burning fireplaces and snow-topped vistas make this a destination even Jack Frost would love. 
Best Place to Yahtzee

The Lodge at Sky Harbor Resort is a great spot to take the family for a weekend away.
​Sky Harbor Resort
Lampe​
This is one mini-vacation where packing light is frowned upon. With a massive dining room table that can seat 20, this winter retreat is ideal for game night with the family, so load up with your favorite board games, and don't forget to pack plenty of food and drink. The Lodge, one of the recently remodeled cabins at Sky Harbor Resort (1434 Trace Hollow Rd., Lampe), is the perfect spot for a day of family fun. With access to Table Rock Lake right out the back door, a cozy great room with a gas fireplace and a private bedroom and two bathrooms, you and the family will feel right at home. The oversized kitchen with its spacious bar will quickly become a buffet area as aunts, uncles and cousins race in for a quick bite before heading back out for another game of shuffle board or horseshoes. If it's not too cold outside, gather the family around the outdoor kitchen while dinner cooks on the grill. 

With seating for 20, this dining table can easily be transformed into the perfect spot for family game night.
Things to Love
Perfect For: Family get-together
The Best Part: The whole resort sleeps 49 guests, so after a jam-packed day of family fun, you can unwind in your own private suite. 
Nearby Fun: Pull on your walking shoes and a jacket, and head over to Dogwood Canyon Nature Park (dogwoodcanyon.org).
Don't Forget to Pack: Your favorite board game 
Cost Per night: $218 during the winter season
Where to Find It: Head south on Highway 13 before heading west on Highway 86
More Information: Visit skyharborresort.com or call 417-779-0090 

Road Trip!
The kids may be along for the ride, but that doesn't mean the adults can't have some fun, too. If you're headed down Highway 13, make a quick pit stop at Vino Cellars at the Lake (15038 Business Hwy. 13, Branson West, 417-739-1985, vcellars.com), and pick out a nice bottle of red wine and some gourmet chocolate for those s'mores you're planning on roasting later in the evening. Just because they're messy doesn't mean they can't also be just a little bit fancy. Go ahead. Treat yourself! 
Getaway to Your Own City
If you're ready to get enjoy a relaxing weekend away from home but don't want to spend half a day in the car, there are plenty of places to rest your feet here in Springfield. 
Walnut Street Inn
900 E. Walnut St., Springfield, 417-864-6346, walnutstreetinn.com
This boutique bed and breakfast provides a delicious breakfast by a C.I.A. chef, and the main house has six bedrooms, two parlors, a dining room, a kitchen and an expansive deck that's great for stargazing at night. 
Tudor Cottage
find online at airbnb.com
For more of a budget-friendly escape that will still whisk you away for an indulgent and relaxing staycation, we found just the place thanks to airbnb.com. This charming Tudor cottage calls the historic Walnut Street area home and is beautifully decorated with wood floors, marble countertops, unique art throughout the home, fur blankets on both beds and several chandeliers. Bonus: The home is owned by Springfield artist Julie Blackmon who originally bought the house to use as a studio space. But with a cozy wood-burning fireplace and a small brick patio that screams cuddle time, it's no wonder she opened it up to other Springfield natives who are looking for an easy getaway. 
Ramada Plaza Hotel
2546 N. Glenstone Ave., Springfield, 417-866-5253, ramada.com
If you think you've already seen everything this hotel has to offer, you haven't seen the Paradise Suite. This well-kept secret getaway opened a little more than a year ago, but few know it exists. With two stories, a king-size bed, its own entrance, an impressive spiral staircase, an overflow Jacuzzi and a TV housed behind the bathroom mirror, it's no wonder this secret getaway isn't advertised on Ramada's website. The cost per night starts at $279, and it's worth it.