Life
Anvil Customs
Find out how one local craftsman is combining patriotism and leather-working skills to create his own line of valuable merchandise.
By Jennifer Adamson
Dec 2015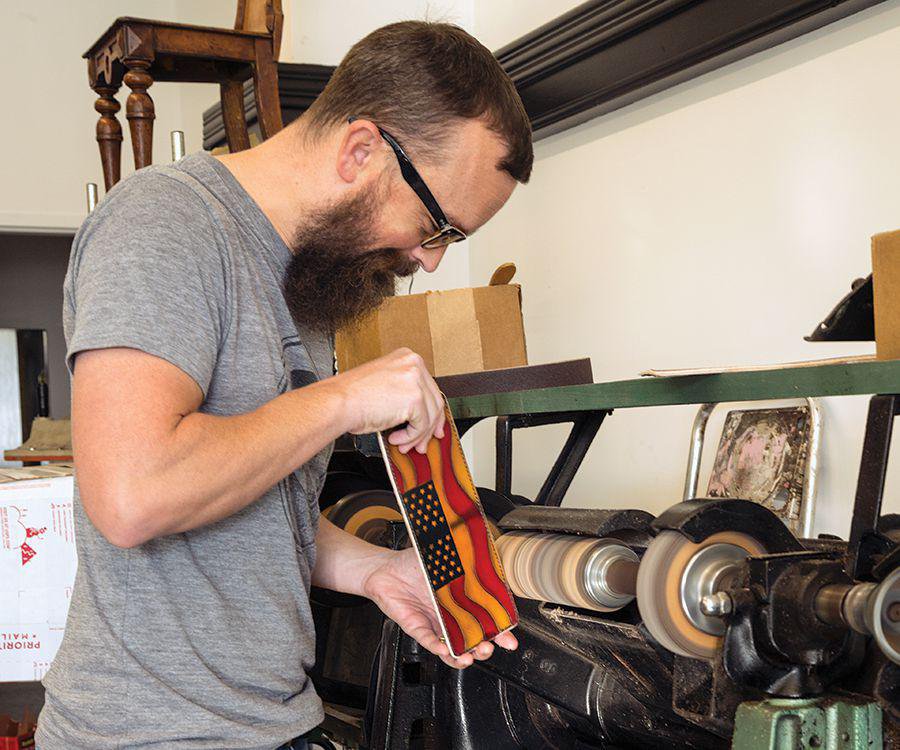 In third grade, Ryan Wasson made a wooden cart out of some old boards, wheels from a Radio Flyer, a high-chair seat and some rope. He made it down the hill, but after a few runs, the ride started to wobble.
Anvil Customs is a small operation, with only Wasson and his leather production manager, Mike Shepherd, filling orders. Wasson and Shepherd have a workspace at 134 Park Central West in downtown Springfield, but at this time, Anvil Customs only does business online. Wasson welcomes visitors to his workspace the first Friday of every month during First Friday Art Walk, when several of his creations are on display. That's a great time to see his products in real life before ordering through anvilcustoms.com.

With a resolve stronger than his fastening skills, he continued to tinker until several years later, when he decided to try his hand at building a motorcycle from scratch, a tall order for someone who'd never used the tools required to do so. In the end, he couldn't keep it running.
The only logical move was to sell the parts, including the seat, which he'd made for $15 from two sheets of metal, carpet padding and some black leather. He was surprised when someone bid $75 for it on eBay. 
"If I can turn 400 percent on an investment, that's a business," he says.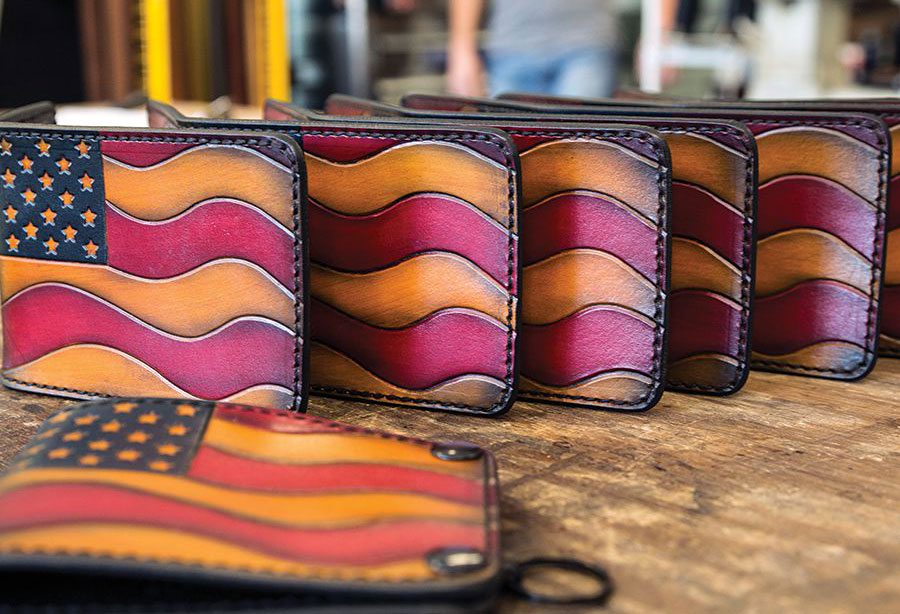 Wasson, who, at the time, was a youth minister who couldn't find work, sold the seat at a $60 markup and has since parlayed his financial prowess and improved fabrication into a full-time gig manufacturing his own line of high-end leather products as owner of Anvil Customs.
The business derives its name from Wasson's obsession with anvils, which he started collecting in high school because of their histories, most of them dating back to our country's primitive years when blacksmiths had nothing more than a piece of iron and a hammer to get the job done. The quality and pride these early manufacturers put into their work has become the ethical cornerstone around which Wasson operates his company.
The Anvil Customs line is made entirely in the United States and consists of motorcycle seats and side bags, messenger bags, belts, wallets and a variety of accessories. Two collections, Anvil Service and Anvil Limited, include products coveted for the materials used to create them, such as military boot cuff, firehose and rare, odd-lot leathers available only in small quantities (some of which come from right here in 417-land). 
Wasson has also made a name for himself as an artist. Many of his items are emblazoned with original hand-stained drawings inspired by sugar skulls, rockabilly music and old-school biker culture. Images are retired after being used 100 times, so once these valuable pieces are gone, they're gone forever. "We all want to be different, to make a statement in the world, and some people do that with fashion," Wasson says. "I'm going to make cool stuff for you that your neighbor's not going to have, and that's the big draw."