Health
Virtual Sweat Session
Our senior editor snagged a few fellow staffers and headed to Dan Kinney Family Center for a midday virtual workout.
By Savannah Waszczuk | Photos by Vivian Wheeler
Dec 2015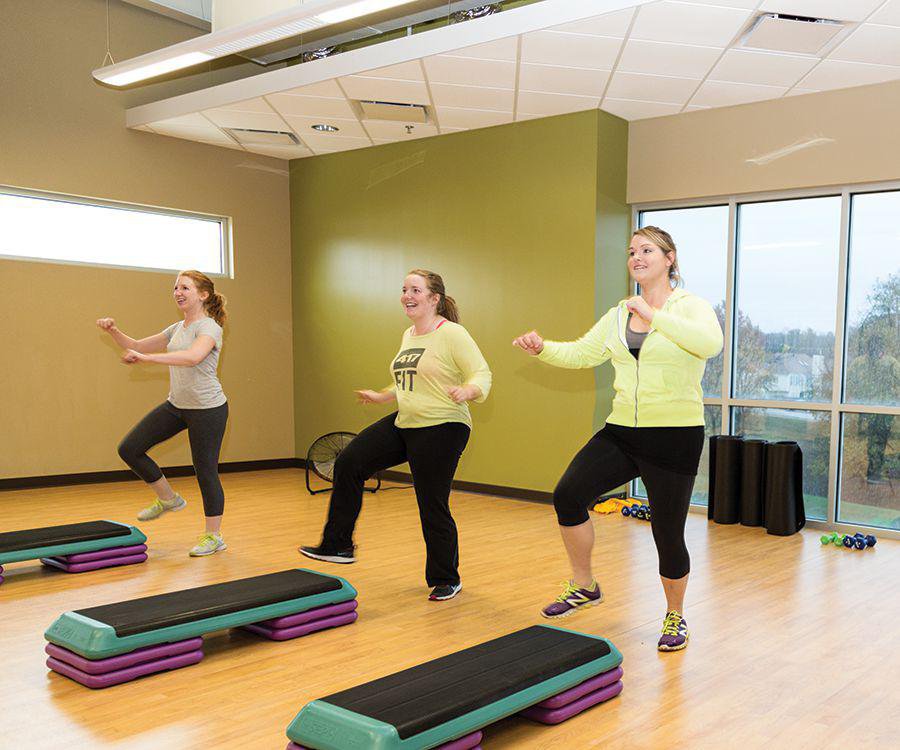 Dan Kinney Family Center
2701 S. Blackman Rd., Springfield, 417-891-1500, parkboard.org
I've never been someone who enjoys workout partners. I know it makes perfect sense—you have someone to hold you accountable, and you use each other for assistance and support. But jogging has always been my favorite cardio of choice, and I've never been one of those people who can carry on a conversation as I'm forcing my body to move along at 6 miles per hour. Honestly, I struggle enough just remembering to breathe. 
That being said, I opened my mind to working out with others when I tried the Circuit Shock Extreme virtual class at Dan Kinney Family Center (2701 S. Blackman Rd., Springfield, 417-891-1500, parkboard.org). Dan Kinney is located just down the street and around the corner from the Whitaker Publishing office, so I thought it may be fun to have a few co-workers join me on the lunchtime adventure. And after that 30 minutes, I had a new appreciation for working out with a group of pals.
The Gym
Dan Kinney Family Center is the Springfield Greene County Park Board's newest family center that opened in 2013. It features a gymnasium,  a 1/16-mile indoor walking and running track, a fitness center with a range of exercise equipment, an aerobics room, a game room, a community room, locker rooms and a childcare center. 
Located on the second floor, the aerobics room is a massive space featuring a wall of mirrors along one side and oversized windows along the other. The room is used for both instructor-based and virtual exercise classes that include boot camp, muscle fusion, yoga, spin, Pilates, taekwondo and much more. While the instructor-based classes are led by an actual instructor, the virtual classes are led by a video that plays on a large screen that drops down from the ceiling in the front of the room. 
The Experience
While many of the instructor-based classes sounded like they'd provide us with a great workout, we wanted to see what the virtual classes were all about. I headed to the center with fellow staffers Rose Marthis, Claire Porter and Krysten Maloney, on a recent lunch break, and we headed upstairs to the aerobics room. 
We were greeted by Jordan Kirbey, HFS, who is the Fitness & Wellness Supervisor at Dan Kinney. We happened to be the only ones attending the class that day, so Kirbey said we could pick whatever virtual class we wanted. "Virtual classes can be taken by members at any point during the day when there isn't another class going on," Kirbey says. "We schedule a few throughout the week at set times, but the classes are typically utilized by individuals or small groups who want to workout by themselves or with their friends." 
We decided on Circuit Shock Extreme, a full-body circuit workout. Kirbey helped us prepare for the class by moving out mats, aerobic steps and weights from the storage area, and then he turned the class video on, pumped the volume up to our liking and let us be.
Our virtual instructor definitely didn't mess around. Before the warm up was even finished she had us moving from left to right and stepping on and off the aerobic steps, so our blood was flowing and sweat droplets were starting to form. Then she jumped right into the exercises, which included things like lunges, push ups, squats and dumbbell curls. There was also a lot of jumping involved, and thanks to my special workout partners, plenty of giggling. Laughing my way through painful squats and dreaded jumping jacks definitely helped the sweat session fly by.
We tried the 20-minute class, so it was over before we knew it. I really liked the virtual aspect for several reasons, including the fact that there wasn't an instructor there to yell at me if I sat out a few beats. I know this could also be a curse, but we all have off days, right? I also liked that we could pick what class we wanted—there are 20-minute express classes, and there are even 35- and 50-minute classes you can try if you have more time. Some classes are aimed at working different body parts, ranging from a full-body workout to toning and strengthening and even yoga and Pilates. The only thing that I didn't really like, and the others agreed, was that the instructor of this particular class didn't really explain the moves well before we began, so it took us a while to catch on and do the right thing. But this may be better with other classes, and I'm sure it's better with the live instructors.
The Effects
I came to work a bit sore the next day, but it wasn't unbearable. It was the good kind of sore—the kind that makes you feel like you did something, but you're still able to walk around without pain. "The class you ladies took was a full-body circuit workout, meaning you worked all the major muscle groups in both your upper and lower bodies," Kirbey says. 
He estimates we burned a couple of hundred calories, which I was satisfied with. After all, it was only 20 minutes, it was with a few of my favorite office pals, and we fit it in over a lunch break. Group workouts can be pretty great, after all.