Style
How to Wear Lace
Bulky winter sweaters have you weighed down? Three style mavens share how to add lightness and a dash of flirtation to your winter wardrobe with the season's hottest look: lace.
By Ettie Berneking | Photos by Kevin O'Riley
Dec 2015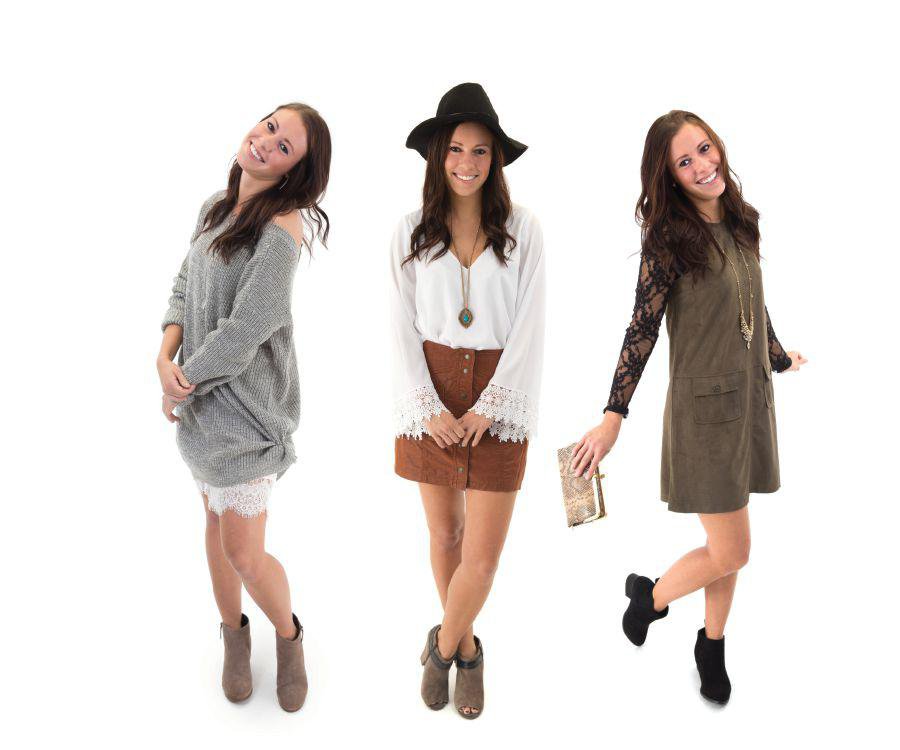 DO: Go au Naturale
"This winter, we're seeing mostly neutral colors like navy, black, forest green and cream."—Carissa Greenlee, with Torn Boutique in Ozark, tornboutique.com 
DON'T: Overdo It 
"You don't want stiff lace all the way up to your neck. It can make you look too matronly. You need to balance lace with something more modern. Mix it with leather or funky accessories for a chic look."—C.G. 
DO: Go Big
"While you can definitely have too much lace, lace is big this season. We've even seen maxi dresses with lace. But the key to pulling off that much lace is to show some skin. So if you have a lace maxi, make sure your arms are bare. It looks classy while still playing up the sex appeal."—Tara Hamilton, with STAXX, shopstaxx.com
DO: Get Flirty
"Lace has a flirty quality to it when worn correctly. For something subtle and feminine, wear a chunky sweater with a lace cami peeking out and your favorite skinny jeans."—C.G. 
DO: Mix Textures
"You don't want to look like Stevie Nicks with all the lace, so limit your lace to one piece. For instance, if you have a lace dress, layer it with a different material like leather or suede. Even adding in contrasting accessories can help complete the look."—Lisa O'Dell, with Blue Raven Emporium, blueravenemporium.com
DO: Remember Your Setting
"While I always love the look of lace, it's important to remember that there is a time and a place for lace. Lace almost always has some sort of flirty or sexy vibe, so just keep that in mind. If you want to wear lace to work, be sure to pair it with a tailored blazer or something a little more masculine."—T.H.
DON'T: Forget About the Intimates
"Lace bralettes are super-popular! These give people an easy way to incorporate lace into their wardrobe without it clashing with their usual style. These are especially nice to wear under loose, gappy tops."—T.H.
DO: Accessorize
"There are some great accessories that have lace tied into the details. This is an easy way to pull lace into your look without having to commit to a lot of it. One of the big items this season are boot socks that have some lace or delicate crochet around the top. Other accessories I'm seeing a lot of are crochet scarves, beanies and vests. The delicate eyelet pattern resembles lace but has a more bohemian edge."—L.O.
DON'T: Be Afraid
"If you don't usually wear lace but want to somehow incorporate it into your everyday look, pair it with a leather jacket or a fringe suede jacket. Both trends are in this season and the balance keeps you from looking too girly or too hardcore."—C.G.