The River Wild
Two 417 Magazine staffers hopped into a private four-seat plane and flew to the North Fork of the White River to learn how to fly fish and to see some of the most beautiful sights in 417-land, all from the seat of a 20-foot longboat.
By Savannah Waszczuk | Photos by Jessica Kennon Spencer
Feb 2014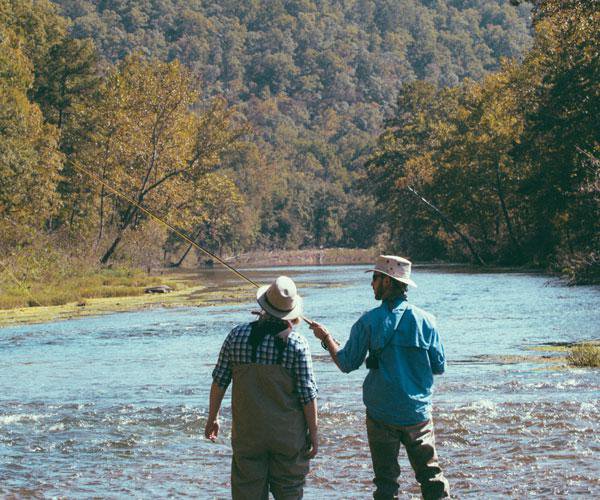 Ozarks River Adventure Guide and Naturalist Kyle Kosovich teaches Senior Editor Savannah Waszczuk the ins and outs of fly fishing. Kosovich offers instruction and adventure trips with his business, Longboat Outfitters. 
"No no no! It's a fish, it's a fish, it's a fish!" Kyle Kosovich's voice traveled down the North Fork of the White River as he stood towering over the end of his 20-foot wooden longboat. Standing in the middle of the rushing water, Kosovich, my river guide and owner of Longboat Outfitters, was working to steady the boat and yelling to me, a first-time fly fisher, to let me know that I wasn't yet again snagged on the jagged river bottoms. It was 9 a.m. on day two of our adventure, and no one had caught a fish by this point. In fact, no one had even come close. Then suddenly, Mother Nature decided I was the chosen one. I had begun an intense game of tug-of-war with a beautifully speckled rainbow trout who was trying to flop, dive and dip to freedom. 
Sunlight shone through swaying tree branches and gave me a great view of the flopping fish. With all his might, he worked to swim away from our boat, and with all my strength and the help of Kosovich, I worked to ensure he wouldn't be the one that got away. We won. Five minutes later, I held the slippery  fish in my hands, posed for a first-catch-of-the-trip photo and felt a surge of excitement that made me want to catch a whole lot more. 
Planning Our Trip
When we decided to start writing about more local adventures, a trip with Longboat Outfitters (417-293-3860, longboatoutfitters.com) was the first one on our list. Since we first featured Ozarks River Adventure Guide and Naturalist Kyle Kosovich in the magazine way back when, we've followed him on Facebook and Instagram and envied every photo he has snapped of his outdoor escapades. 
Kosovich grew up in the Ozarks on the North Fork and Bryant Creek, and he even shared his first date with Bethany, who is now his wife, canoeing the familiar waters. Rain or shine, in mid-summer or in the dead of winter, Kosovich is on the water. His degrees (a bachelor's in wildlife biology and a master's in natural and applied science specializing in fluvial geomorphology) plus a lifetime on the river make him more than an outdoor enthusiast—he's an expert. We knew if anyone could teach a couple of fishing novices how to cast a fly rod, he would be the guy.
After we contacted Kosovich and asked if he'd be interested in taking me and our Art Director Jessica Kennon Spencer on one of his company's trips, he immediately started pouring out suggestions. "You want an adventure? You got one!" one of his emails read. "We fly from downtown Springfield to Sunburst Ranch and stay at River of Life Farm tree house cabins and fish for two days." Whoa! A simple weekend of roughing it on a gravel bar with fishing poles in hand quickly transformed into a luxurious two-day trip complete with two private 30-minute flights and a night in a first-class cabin. We couldn't pass this up, so we met with Kosovich to talk details and counted the days to our adventure. 
Getting from Here to There
If I said Jessica and I were a little nervous about the flight, I would be lying. We were both beyond petrified. Not the biggest fan of heights, I've always been a bit apprehensive of planes, but you only live once, right? 
We met Ken Hiller of Pro Flight Air, LLC (proflightair.com) at the downtown Springfield airport. Hiller owns Pro Flight and was our head pilot. In a loose-fitting sweatshirt and worn jeans, Hiller was the farthest thing from the buttoned-up pilot type. But this was a good thing. He made me laugh and feel comfortable. 
Before I knew it, Jessica and I were buckled in the back of the four-seat yellow plane. We gripped the overhead handles as we watched Springfield get smaller. The ride was surprisingly smooth. Before I knew it, we were flying above the North Fork and Bryant Creek  and planning our landing on the grass strip at Sunburst Ranch (417-284-3443, sunburstranchcanoe.com). 
---
Tips for your trip
Don't forget to buy your fishing license. We forgot to buy our fishing licenses in advance, but luckily we remembered on the way. We bought licenses online via mdc.mo.gov with the help of our iPhones, but cell phone reception in that area comes and goes. Buy one early, if possible.
Plan to unplug. Speaking of cell phones, leave yours at home if you can (or in the car). There is hardly any cell reception along the river. It's the perfect opportunity to take a break from technology.
Bring reading materials. Since you'll be away from TVs and cell phones, bring a book or a magazine to occupy yourself before falling asleep.Dress in layers. It's hard to predict weather on the river. Our mornings were crisp and cool, but I got sweaty by noon. Dress in layers, so you can shed clothing if things heat up.
Protect your skin. No matter what time of the year you plan your trip, don't forget things like sunscreen and lip balm. You'll be in the sun all day, and you want to keep your skin safe. Wearing hats with wide brims and polarized sunglasses also helps. 
---
Our Great River Adventure: Day 1 
Kosovich met us at the ranch, and we piled into his Nissan Xterra and headed to the river. Kosovich loaned us our essential gear including rods and tackle and a pair of Cabela's waders and boots that took my look from fly fisher wanna-be to extreme outdoors woman. We got dressed and began our way downstream. 
Our transportation, a 20-foot wooden boat that Kosovich built himself, was truly a work of art. It was sturdier than a canoe, but we could still feel the water underneath our feet. Jessica and I had the privilege of being passengers on this trip, so we simply sat back, took in the scenery and threw out a few casts on a traditional rod and reel. Kosovich did all the steering and paddling, and he instructed us on where to cast and how to work our bait along the way. He worked educational tidbits of history, biology and geology of Ozarks streams into much of our conversation. The guy is a genius.
Lunch on the first day was our first meal of the trip, and it set the bar high. Jessica is vegan, so Kosovich didn't serve the usual grilled bratwursts or steak fajitas, but he went above and beyond to serve us first-class fare during the entire trip. This particular meal started things off right with grilled portobellos and squash, pickled beets, quinoa, white beans and seasoned grilled crappie for us non-vegans. Lunch was all set when we arrived to the gravel bar (thanks to a commissary boat manned by Jim Keener and Matt Keener), and we were joined for lunch by Jim Stouffer, owner of Plateau Fly Shop (417-889-6548, plateauflyshop.com). The guys welcomed us with a growler of Mother's Brewing Company's Mr. Pumpkinhead Ale, and they had banjo music playing. The mood was perfect. Were we in a movie?  
After a quick aquatic entomology lesson, Kosovich spent the afternoon teaching me how to work a fly rod. It's not as easy as it looks. I almost figured out how to cast by the time we got off the water, but I didn't have anything close to a bite that day. No one did. Around 5 p.m., we decided to call it a day and headed to The Lighthouse Cabin at River of Life Farm (417-261-7777, riveroflifefarm.com). Our cabin sat on stilts high above the North Fork. It was complete with cozy furnishings and a full kitchen and bedrooms and bathrooms for both of us. 
Jessica and I spent the evening getting to know Kosovich and Stouffer as we sat around a crackling campfire. Following our dinner of homemade bread, hand-cut seasoned fries, grilled asparagus and blackened catfish (with a giant salad for Jessica), Kosovich poured us wine and mixed up cocktails to accompany the conversation. As we sat under the stars, I was reminded of all that is great about camping and of the beauty the Ozarks offers. Walking upstairs to sleep in a big cozy bed was the icing on an already delicious cake.
Our Great River Adventure: 
Day 2
As we feasted on a gourmet breakfast of biscuits and gravy and oatmeal with fresh berries, walnuts and whipped cream, we talked about how much we enjoyed the trip so far. Day one was peaceful and calm and everything a day on the river should be… but that was day one. Day two was a whole new ball game, and it was time to get down to business. It was time to catch a fish.
After breakfast we ventured back to our longboats on the water just after the morning fog lifted. I spent some one-on-one time with both Kosovich and Stouffer, and my brain was practically bursting with all the information I needed to reel one in. Cast overhead. Let the bait fly land. Allow the fly to dead-drift. Be patient. I got it. I hopped in the boat with Kosovich, and we headed downstream. We'd float, we'd stop, I'd cast, and I'd snag my hook on the bottom of the river. Then we would start all over again. On roughly my 500th snag and when I thought Kosovich had to be beyond frustrated with my lack of skill, he started yelling. But it wasn't out of anger—it was excitement. He was yelling to let me know that I finally had a chance. On the end of my hook was that living, breathing fish I told you about earlier, and Kosovich and I were going to do anything we could to get it into the boat.
That fish broke our curse, and we went on to catch several more throughout the day. We caught rainbow trout, brown trout and a small mouth bass, and I even caught one beauty who had another fish in his mouth. (I counted him as two.) Each catch was a bit more exciting than the first.
For lunch, we feasted on perhaps the most delicious meal of the entire trip—grilled portobello fajitas with all the fixings and freshly made grapefruit margaritas. Then we headed down the river and sipped a beer on the last leg of our adventure. Two days prior, I was anxious as I hopped on the river with a complete stranger, but at that very moment, I didn't want it to end. I learned to fly fish on a beautiful Ozarks river, and I made a new friend and found my sense of adventure along the way.    
Plan Your Own Adventure
What: Guided day trips or overnight trips
Who: Longboat Outfitters, 417-293-3860, longboatoutfitters.com
Price: Starting at $450 for one or two people for a day trip; starting at $1,500 for one or two people for an overnight trip.
Extra: Trips are customizable and are available with upgrades on various rivers. Contact Kyle Kosovich at 417-293-3860 for more details.