European Flavor, Closer to Home
A quick jaunt up to Canada found 417 Magazine General Manager Joan Whitaker spending a weekend in Quebec City—an old town steeped in history and boasting a more European atmosphere.
By Joan Whitaker | Photos courtesy Shutterstock, Joan Whitaker
Feb 2015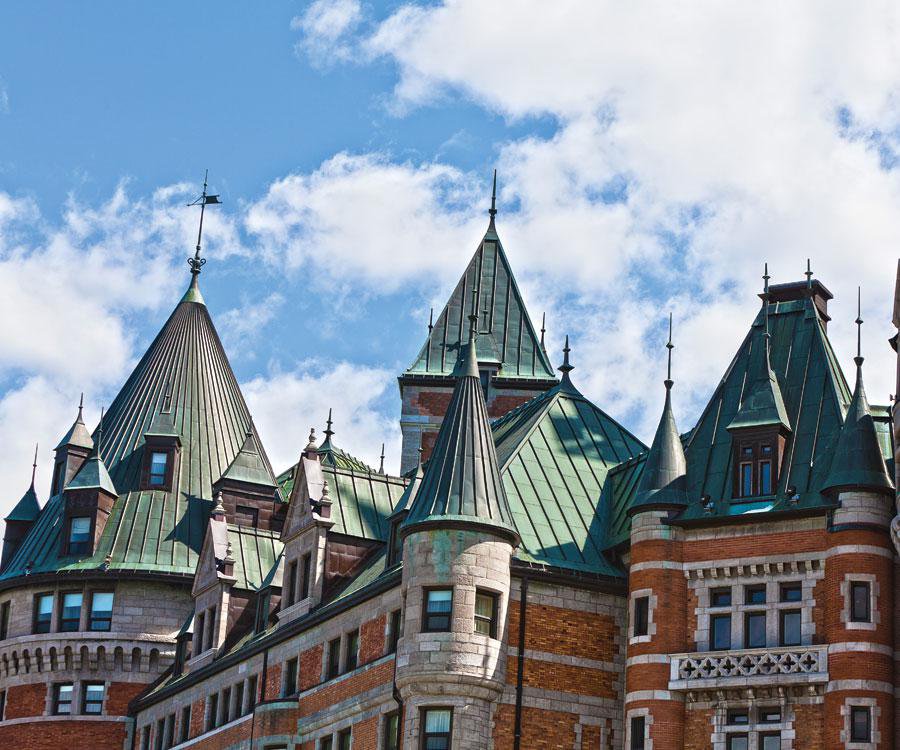 In about the same time it takes you to fly from Springfield to Los Angeles or New York City, you can escape to a foreign city steeped in history and brimming with culinary delights. Consider a long weekend to Quebec City. Leave Springfield mid-morning on a Friday, change planes in Chicago and be in Quebec City late Friday afternoon with plenty of time to check into your room and enjoy a memorable dinner chosen from a rich list of restaurant options.
Quebec City is more than 400 years old with the fortress walls, bridges and structures to prove it, so it feels more European than New World. Quebec City is northeast of Montreal in the French-speaking province of Quebec, so it sounds European, too. But don't worry, most servers and shopkeepers in the tourist-friendly parts of the city speak English. There's very little chance you'll accidentally order goat brains as an appetizer.
Quebec City is a popular tourist destination for both Canadians and Americans. More than eight million visitors pour through its city walls in the summer, and the lofty prices reflect the supply-demand reality. Add in tips and steep sales taxes, and you quickly realize the money you saved by having a European-flavored getaway without the hassle of actually flying to Europe is gushing out of your bank account and into Canada. It's not a cheap weekend, but it is a memorable one. And as expensive as the food and drink are, there is plenty to do for free. I suggest you go late summer—as we had the chance to do for a business conference—when the city is at its warmest, both in weather and in attitude.

417 Magazine General Manager Joan Whitaker and Publisher Gary Whitaker enjoyed a trip to Quebec City.
»
Day 1
Our conference hotel was Fairmont Le Chateau Frontenac, one of a series of château-style hotels built by the Canadian Pacific Railway company to promote luxury tourism by appealing to wealthy travelers. It dominates Quebec City's skyline, and its wood-paneled lobby hosts only three reception stations, so lines of arriving guests can create a loud and lively traffic jam of luggage-toting visitors. While we did not take advantage of it, there is a separate check-in desk on the 14th floor for access to 46 more upscale rooms. The hotel has another bragging point: Winston Churchill and Franklin D. Roosevelt strategized about World War II in the off-limits Rose Room.
After settling into our room, we took a one-block walk to dinner. The controversial delicacy foie gras is on virtually every French-flavored menu, and since it's rarely found on 417-land menus, we indulged. Our first meal was at la Cremaillere, a recommendation from the Fairmont's concierge after our request for a nice restaurant near the hotel. Only a block down Rue Ste. Ann, you climb three steps into a dramatic foyer with a grand circular staircase. The menu offers a wide selection of classic French and Italian dishes with well-seasoned plates, plus a sound wine list. 

Old Quebec City features winding cobblestone streets and the famous Breakneck Stairs.
»
Day 2
The next morning, through the Fairmont tour desk, we bought a combo ticket for an open-air, hop-on-hop-off bus tour of the city as well as a boat ride on the St. Lawrence River to see the skyline and Montmorency Falls. Instead of hopping on and off though, we opted to do the entire tour to get the lay of the land to decide where we wanted to spend our time. We also opted to split the bus and boat tours up. The tour desk was kind enough to give us a voucher, so we could do the boat tour at a later time.
The bus tour begins mere steps from the Fairmont. A guide stays with the tour for the entire time doling out history and information. A word to the wise: Even though Quebec City's summer is short, the sun can be quite intense. Not realizing that, we didn't pack sunscreen or a hat. That was a mistake, especially on the top level of an open-air bus.
We loved learning the history of the city, especially why they still speak French. When the British invaded and captured French Canada, they were already at war with the American Colonists to the south. To prevent unrest and in an effort to win the French Canadians over to the new British rule, the Brits allowed Canadians to maintain their French language as well as their Catholic religion. That ploy worked as far as bringing French Canada under British rule, but we all know how things turned out for them with the pesky Colonists. 
Old Quebec City is divided into two parts, the lower city along the north shore of the St. Lawrence River and the upper perched high above on a huge slab of rock. Getting from one to another is made somewhat easier with a connecting funicular. For the ambitious, take the Breakneck Stairs (L'Escalier Casse-Cou). You'll work off all the rich French food in a hurry.
Speaking of stairs, be prepared for gentle and steep cobblestone inclines everywhere you go. Wear comfortable, well-broken-in shoes. Your feet and legs will thank you.
After our bus tour we popped in to Aux Anciens Canadians for lunch. This small restaurant is located in the oldest home in Quebec City. It offers a three-course pix-fixe lunch with a glass of wine or beer for $20, a most reasonable price, and the menu boasts authentic Quebec cuisine. After a delicious meal, we lazed our way through the afternoon as we strolled the streets and explored the lower city and farmers' market.
Dinner was at Restaurant Le Continental, purported to be the best restaurant in Quebec. Think tuxedoed waiters, table-side preparation and lots of flaming dishes. Most enjoyable.

Quebec City tour buses are great ways to scope out the charming streets full of shops and restaurants.
»
Day 3
As wonderful as the dining scene in Quebec is, we had to devote at least one meal to the magnificent Fairmont. Buzz around the hotel was that the breakfast buffet was a must-try. After snagging a window table overlooking the river, we perused the offerings. This buffet is unlike any other. Instead of diving fork-first into heaping portions like you'll find in the U.S., the food here is beautifully displayed in small portions and courses are tucked away in sections throughout the restaurant. In order to try everything, you have to slow down and leisurely make your way around.
The Fairmont recently underwent a complete remodel, and one of the additions was a spa to complement the hotel's indoor pool and sun terrace. The spa is everything you would expect from a world-class hotel. Plush robes are offered to cozy into while you enjoy the terrace or indoor pool or wait for your spa treatment. It's easy to see how the indoor pool could be quite the haven during Quebec's cold, snowy winters.
After a nice happy hour in the Fairmont's wine and cheese bar, we strolled to dinner at Le Saint Amour on rue Ste-Ursule. Quebec is an extremely safe city, which makes evening walks a true pleasure as the city lights twinkle all around you.
On the short stroll back to the hotel, street performers filled the sidewalks with music, magic and acrobatics. Noticing large crowds gathering on the promenade in front of the Fairmont, we discovered that every Wednesday and Saturday night in August there are fireworks shot from barges parked in the St. Lawrence River. At 10 p.m. the show started, and it was a magnificent display and a perfect way to end the evening.

The luxurious Fairmont hotel looks out over the the Quebec City skyline at dusk.
»
Day 4
Our final day was when we decided to visit the places that interested us from the bus tour. We visited the perfectly intact Citadel, walked the fortress walls and strolled through the Plains of Abraham and the Joan of Arc Garden. We walked tree-lined avenues peppered with outdoor cafes just begging us to sit for a while. We boarded the Louis-Jolliet and cruised down the St. Lawrence to see the Montmorency Falls, which are higher, albeit narrower, than Niagara Falls. 
We discovered the Benjo bus. Benjo is a toy store located just outside the old city walls in an area not frequented by tourists. The store runs a free shuttle bus from the Fairmont and lower city to the store. We gladly took advantage and discovered where the locals spend their time and enjoyed a delicious lunch of blood sausage in a tiny bistro called Les Sales Gosses. 
That evening we were thoroughly worn out from rich French food, so the concierge recommended Bello, an Italian restaurant. The menu was exquisite, and we laughed and said it's a good thing we didn't find Bello first. We would have eaten every meal there. It was that good.
We had tired feet, full bellies and loads of photos, and the meal a perfect ending to our French Canadian getaway.
Plan It
Ready for a Quebec City getaway of your own? We put together some handy resources to help you make it happen. 
Travel Ideas
quebecregion.com
Fairmont Le Chateau Frontenac
1 Rue des Carrières, Québec, QC G1R 4P5, Canada, 418-692-3861, fairmont.com/frontenac-quebec
Restaurant La Crémaillère 
73 Rue Sainte-Anne, Québec, QC G1R 3X4, Canada, 418-692-2216, Lacremaillere.qc.ca
Aux Anciens Canadiens
34 Rue Saint-Louis, 418-692-1627, Auxancienscanadiens.qc.ca
Restaurant Le Continental
26 Rue Saint Louis, 418-694-9995, Restaurantlecontinental.com
Le Saint Amour
48 Rue Sainte-Ursule, 418-694-0667, Saint-amour.com
Les Sales Gosses
620 Rue St. Joseph, 418-522-5501, lessalesgosses.ca
Les Tours du Vieux Quebec
800-267-8687, Toursvieuxquebec.com
Bella Ristorante
73 Rue St-Louis, 418-694-0030, belloristorante.com