Style
Lines We Love: Baldwin Denim
We love to peek into some of our favorite boutiques to see what well-known brands they carry here in 417-land. This month, we stop in at Hudson Hawk Barber & Shop to scope out the latest Baldwin Denim.
By Ettie Berneking
Feb 2015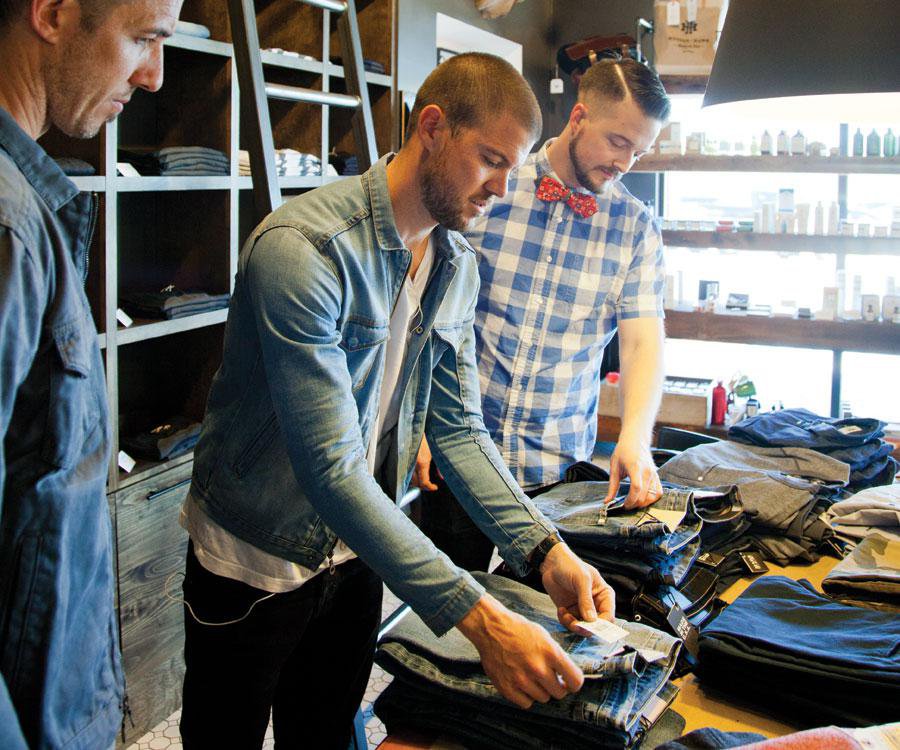 Levi Strauss made his fortune on them. Glamour magazine dedicates an entire issue to them, and Gap built its business around them. That's right, jeans. These go-to baby blues have become a national symbol for style whether you're rocking high-waisted, cut-offs or your most comfortable skinnies. So when Matt Baldwin started his own line of premium denim in Kansas City, this fashion staple entered a new realm of high-end style—and Baldwin jeans quickly became a No. 1 seller. 
Probably the most notable feature of these jeans is the care instructions: Don't wash them! Since every pair is 100 percent cotton, Baldwin fans suggest skipping the weekly wash you subjected your last pair of jeans to. The fewer washes the better with Baldwin, and don't even look at your dryer. A dip in some cold water and some line drying is all these bad boys need. 
And now, you don't have to hit the road in order to pick up your next pair of Baldwin jeans. Just head over to Hudson Hawk Barber & Shop (2144 E. Republic Rd., Ste. A104, Springfield, 417-883-3500, hudsonhawkbarbers.com). This glammed-up barber shop carries the popular Baldwin jeans along with menswear items such as ties, watches and more. 
"Baldwin Denim was the perfect match for Hudson Hawk with their focus on modern, classic design, quality textiles and American manufacturing," says Thad Forrester, co-owner and barber at Hudson Hawk. Look past the princely price attached, and it will become clear why great style and great quality are united under the Baldwin brand. 
"These never go out of style," Forrester says. "There's no embroidery, no flaps on the pockets, nothing but a timeless, classic pair of jeans."
"I have pairs of Baldwin denim that are at least 5 years old that I still wear on a weekly basis," Forrester says. "The value they present is something men are looking for." How many times these jeans have been washed is your guess, but damn, these blues look fly.