Profiles
Seven Questions With Nicholas Tarr
With artistic skills that lend themselves to large-scale fabrication, Nicholas Tarr leads the way as art director for one of the region's biggest music festivals: Wakarusa.
By Katie Pollock Estes
Feb 2015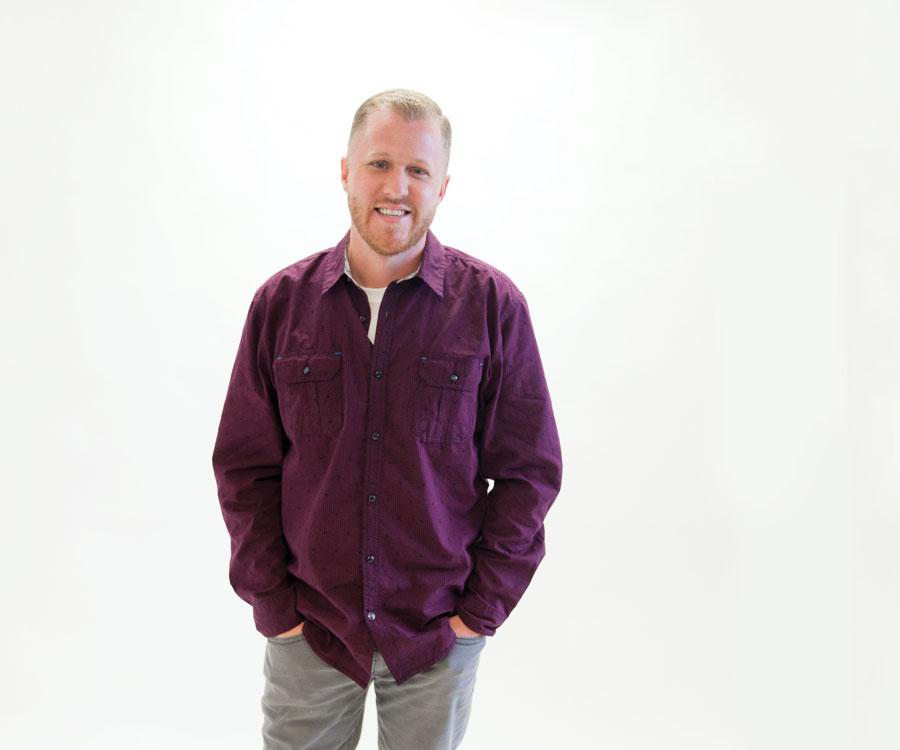 To create an incredible atmosphere at Wakarusa Music Festival—an annual camping and music festival on Mulberry Mountain in Ozark, Arkansas—Springfieldian and Wakarusa art director Nicholas Tarr has to think about more than just how art installations are going to look. He also has to take into account what it will take to build those large-scale works of art, and how well they'll hold up to the elements in that scenic venue. After contributing two installations to a past festival, Tarr was asked to serve as art director and curate the new projects and help choose which artists from across the country get to take part in the big event. When he's not art directing Wakarusa, 30-year-old Tarr is lead designer at Pinnacle Sign Group in Springfield.

Nicholas Tarr's sketches (left) were brought to life at the Wakarusa music festival in Ozark, Arkansas (above).
417 Magazine: How did you get involved with Wakarusa?
Nicholas Tarr: Two years ago, I was commissioned to fabricate some installations for the festivals. I had been going to music fests and wanted to contribute to that with my artwork. Originally I wanted to be involved in any capacity I could. Through discussions with the art director, I told her my background in signage and fabrication. They said they were looking for ideas for some entry points leading into each stage area, where they have environments that you walk through. So I came up with some designs, had some back and forth conversations and nailed down the designs. I had five weeks to produce two double-sided structures.
417: And how did you become art director?
N.T.:  Last year they reached out to me. It might have just been the right time and the right place. Their art director had moved on to bigger and better things, and they invited me to be art director. She was on the west coast, and they were looking for someone a little closer to help contribute on a yearly basis and be more actively involved and create a thriving arts community.
417: What do you do as art director?
N.T.: Last year we started an art grant opportunity program. We give artists three months to come up with proposals, and my role is to filter through those and organize them in a way that's easy to comprehend for the team. Once the art grants are approved, I coordinate with the artists and work on ambience and lighting, whatever elements we need. They have several weeks to fabricate their work and bring it to the mountain, and we install it for the festival. This year the grants are for up to $10,000, and we had several people from Springfield apply. We're trying to bring it back to the area, but there are artists from all over the country. We had some guys from Spain do animated projections onto trees.
417: What kind of installations have you created yourself?
N.T.:  I built two stage entrances the first year. Last year I built one, a man being shot through a cannon. They were moving forward with "Wakarusa: The Greatest Show on Earth," so they had an old world circus theme to match that feeling. I started out with a sketch, and then I pretty much designed it on the computer afterward. I transferred that to real-world measurements, made patterns for banners, hand-painted the lettering. Having a background in signage and design is very  helpful with large-scale installations.
417: Are all of the installations new each year?
N.T.: We try to encourage long-term installations that we can reuse. But our installations vary. Some are performance pieces, like huge puppets that interact with audiences. Some are reusable. But on the mountain, you're kind of at the mercy of nature with how well your installations will hold up from year to year. This year we had to do a lot of maintenance. We're in the middle of Mark Twain Forest in Arkansas, and the nearest hardware store is two hours away. You have to bring everything with you.
417: What is your background?
N.T.: I am currently the lead designer for Pinnacle Sign Group in Springfield. I like designing signs because it's also structural design. I design how they will be built and how they will work. I've worked in signage and fabrication, welding aluminum signs, wiring, digital printing and design, fiberglass work. I'm pretty well-rounded when it comes to large-scale projects and taking an idea and turning it into a reality.
417: What are your other creative outlets?
N.T.:  I have a shop at home, and I paint. I used to paint shirts and sell them at STAXX a long time ago, probably back in 2009. Then I sold them in LA and did a fashion show there. I lived above an art gallery in Newport, curating shows and working with artists. Then I came back to Springfield. Between Pinnacle, Wakarusa and my family, I stay pretty busy.