Dishes
Reuben at Sisters in Thyme
Plus six other things that passed the test of our taste buds.
By The Editors
Feb 2016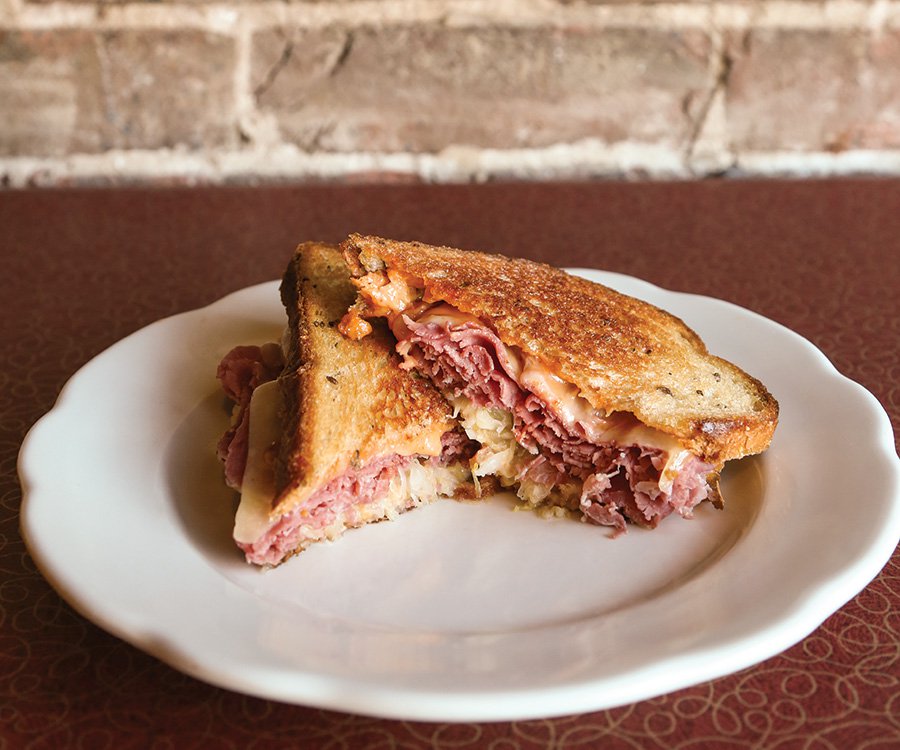 1. Served on Jewish seeded rye bread, the Reuben from Sisters in Thyme (306 E. Commercial St., Springfield, 417-873-9224) is filled with corned beef, Thousand Island dressing, sauerkraut and Swiss cheeses. One bite, and you'll see why it's a customer favorite. 
2. The chocolate pot de creme from The Order (305 E. Walnut St, Springfield, 417-832-1515) combines Askinosie chocolate with espresso from The Coffee Ethic to create a super decadent mousse-like dessert.  
3. What do you get when you wrap asparagus in mozzarella and fry the whole thing in tempura batter? A delicious appetizer that's found at both Haruno (3044 S. Fremont Ave., Springfield, 417- 887-0077) and Kai (306 S. Campbell Ave., Springfield, 417-832-0077). To make it even more incredible, the dish is served with a side of creamy avocado wasabi sauce. 
4. Order the number two at Anton's Coffee Shop (937 S. Glenstone Ave., Springfield, 417-869-7681) and you won't be disappointed. Good old corned beef hash is served with two eggs, choice of grits or hashbrowns and toast. Yum! 
5. Missouri Mountain Moonshine (1209 Branson Landing Blvd., 800-441-5053) Branson is serving up a tasty twist on pot stickers. Stuffed with pork shank and served with a side of barbecue sauce, these Pig Stickers are finger lickin' good. (Editor's note: This restaurant has rebranded to Smith Creek Moonshine since the publication of this article.)
6. Baby, it's cold outside, so warm up with a heaping bowl of curry noodles from Rama Thai Cafe (1129 E Walnut St, Springfield, 417-865-3204). Egg noodles swim in a fragrant coconut-curry broth and are topped with crunchy fried noodles. Fresh sliced onions, lime and chili oil come on the side so you can customize the dish to your liking. 
7. Tea Bar & Bites Bakery and Cafe (621 S. Pickwick Ave., Springfield, 417-866-7500) makes a mean chicken taco. Chipotle chicken is topped with an asiago cream sauce, mozzarella cheese and pico de gallo. Bonus: They're only $2 on Tuesday nights.