Health
Get Fit: Juvo Board
We headed to downtown Springfield and searched for balance on a Juvo Board, a locally developed product that's now found in exercise studios all across the country.
Written by Savannah Waszczuk | Photos by Kevin O'Riley
Feb 2017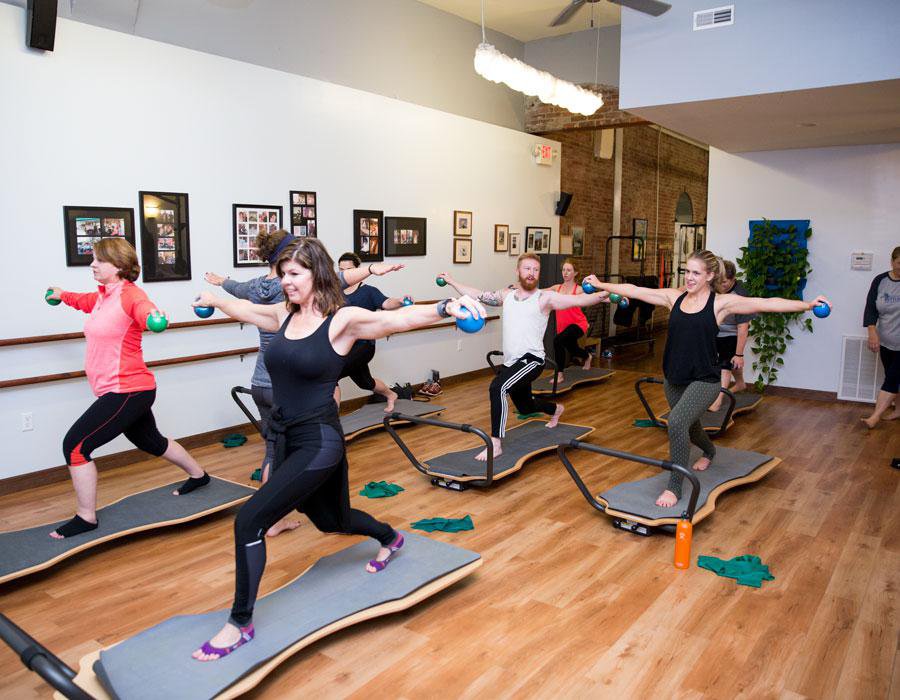 LET'S TALK BALANCE.
I'll make this quick: I don't have it. Not at all. And while I have a plethora of clumsy events regularly happen in my life—sprained ankles, strained back muscles, a bruised nose after dropping my new iPhone on my face—my lack of balance really shows when I try any physical activity requiring core strength. Stumble after stumble, I'm reminded of the terrifying solution to my clumsiness issue: I must develop core strength. But I absolutely, 100 percent hate doing anything that involves working my core. Then this job rolls around, and it makes me give it a shot. My latest assignment, trying the Juvo Board class at The Bodysmith Pilates and Fitness Studio (317 E. Walnut St., Springfield; 417-865-0500), is the perfect example of this. But could a klutz like me really walk in and do it? There was only one way to find out.
THE EXPERIENCE
I knew I was going to like The Bodysmith the second I walked in and noticed a cat leisurely pacing the floor between rows of Pilates reformers. A furry friend on the prowl fit perfectly with the studio's vibe—welcoming and relaxed, yet ready for business. Myself and a couple brave co-workers—Maggie Sholes and Claire Porter—headed straight back to the Juvo Board room and got set up.
A Juvo Board consists of two main components: the board itself and the adjustable bar system that stabilizes it. The board is heavy and sturdy, but it can become an unstable surface when it's locked into the "balance" position. Of course, this instability is on purpose—one of the main benefits of Juvo Board training is training on an unstable surface. "It's a challenge because it requires all of our smaller stabilizer muscles to come into play, as well as all of the other main muscles we are working," says Amy Presley, the brand manager for Juvo Board. The board's other position, "elevate," places the board at an angle and locks it into place for different varieties of training.
Senior Editor Savannah Waszczuk gets a whole body workout while working her core to balance. 
Our class was led by Louise Love. Love is PaddleFit certified and acts as a Juvo Board instructor, a Pilates instructor and an ACSM-Certified Exercise Physiologist. She walked us through various exercises with the board in both elevate and balance positions. And she was the perfect leader—fun, encouraging and quirky. 
We started class with the board in the elevate position, which gave us a chance to get the feel of the board while it's locked into place. The elevated position is benefitial because it allows users to work with gravity for assistance or against gravity for a deeper challenge. In a way, you determine the difficulty of your workout. After a warm up, we stepped our way into squats. Our later exercises with the boards in the balance position were a bit harder for me, but Love offered ways to modify each exercise to fit our own abilities. We walked up and down the boards with our hands and then moved into plank and downward dog positions. We did lunges, more squats and arm exercises. We moved side to side as we would on a paddleboard. 
As the class went on, I found myself having a lot of fun, and I was surprised at how adaptable the exercises were. Thanks to the variations and adaptability, it's definitely a class someone could attend regularly without getting bored or overworked. 
THE EFFECTS
Regardless of how much I noticed during the 45-minute class, my abs were aching the next day. "The cool thing about this training is you're always going to have your core working," Love says. "You may be doing squats or lunges, but your core needs to be firing to help you stay stable." And my favorite thing about the class was the simple fact that I could do it, and I didn't feel out of place. The board's lack of balance is fine for people like me—people who lack balance themselves. And after more classes and more exercises, people like me will find that balance.