Reviews
Find Nacho Ordinary Barbecue at Heady Bar-B-Que
At Heady Bar-B-Que in Republic, creative sandwiches and unexpected dishes turn the same-old, same-old barbecue joint menu into something extra-special.
By Katie Pollock Estes
Jan 2018
When I picked my kids up from day care one recent afternoon, I had a case of the forgot-to-eat-lunch jitters. The kids were both suffering through simultaneous growth spurts and were, apparently, starving to death. While 1-year-old Eloise screamed, "Cracker! Cracker!" from her car seat and 5-year-old Oliver kept bargaining for a "car snack," I wracked my brain to figure out where we could get quick service and extra-super-mega filling food. 
"Ollie, do you want to go get some barbecue?" I asked. His cheer answered my question, and we drove to Heady Bar-B-Que in Republic.
The simple storefront restaurant has a pretty unassuming atmosphere, with clean and simple decor and the best aroma of smoky meats wafting through the air.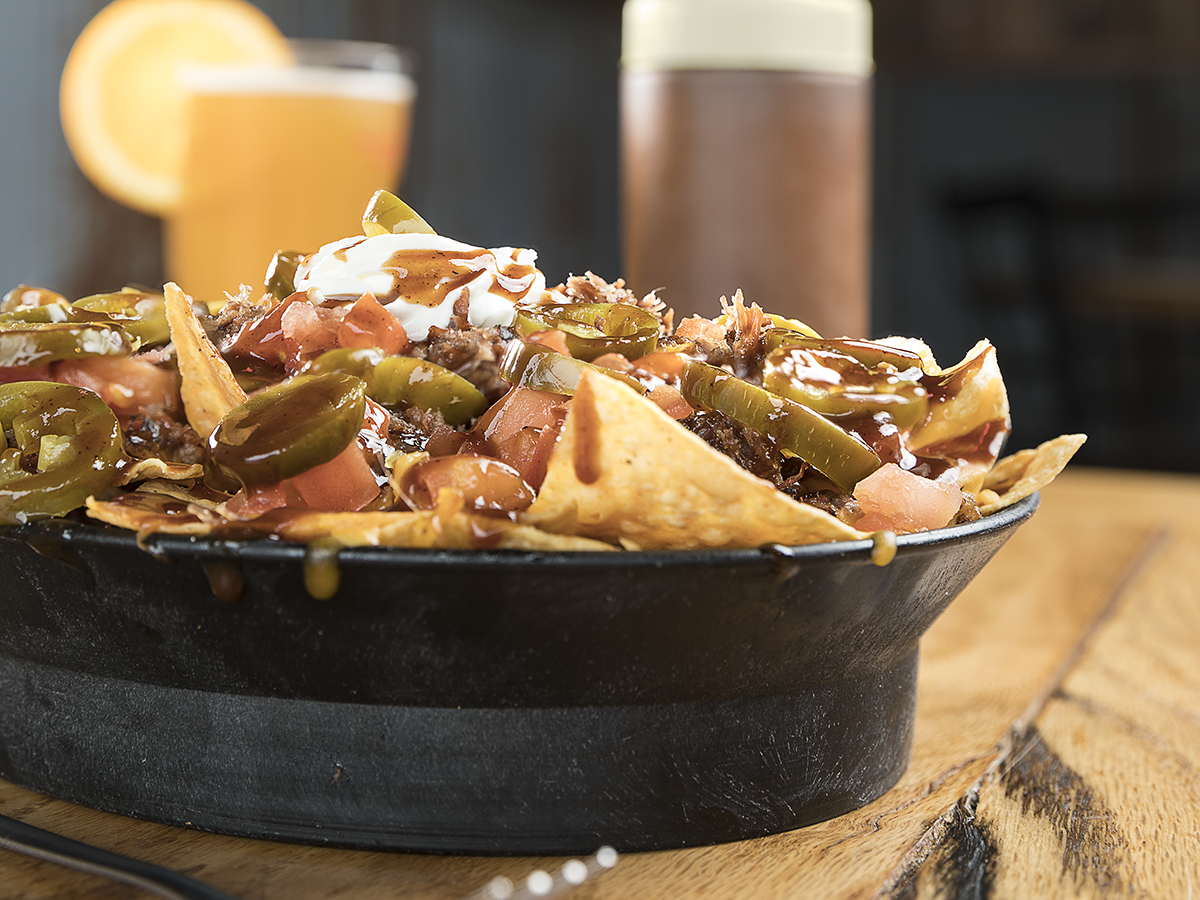 The first thing we dug into was an order of the Hillbilly Nachos, topped with everything that was an option on the menu: super-fresh and crunchy tortilla chips, a melty two-cheese blend, hunks of beef brisket, sweet-and-smoky barbecue sauce, tomatoes, jalapeños and sour cream. I dug around for the chips with the most favorable sour cream-to-brisket ratio, but Eloise preferred the ones that were heavy on cheese. Oliver's ongoing request was for "a really sloppy chip." He liked the drippy, messy, sticky bites topped with a little bit of everything. I'll admit, I enjoyed the nachos even more than I expected to. They were the ideal shareable app (provided you don't mind other people touching your food), and I loved the texture differences between the crunchy chips, tender meat and gooey toppings.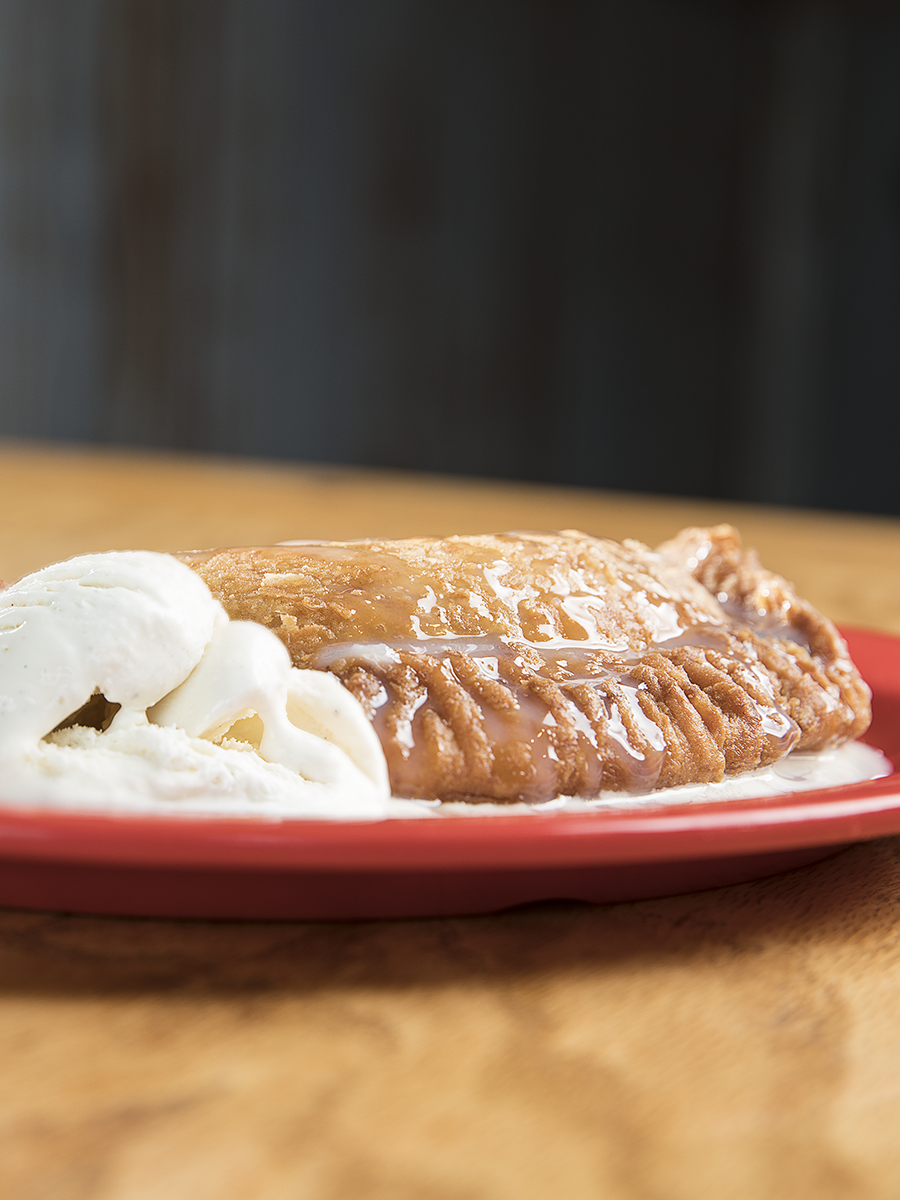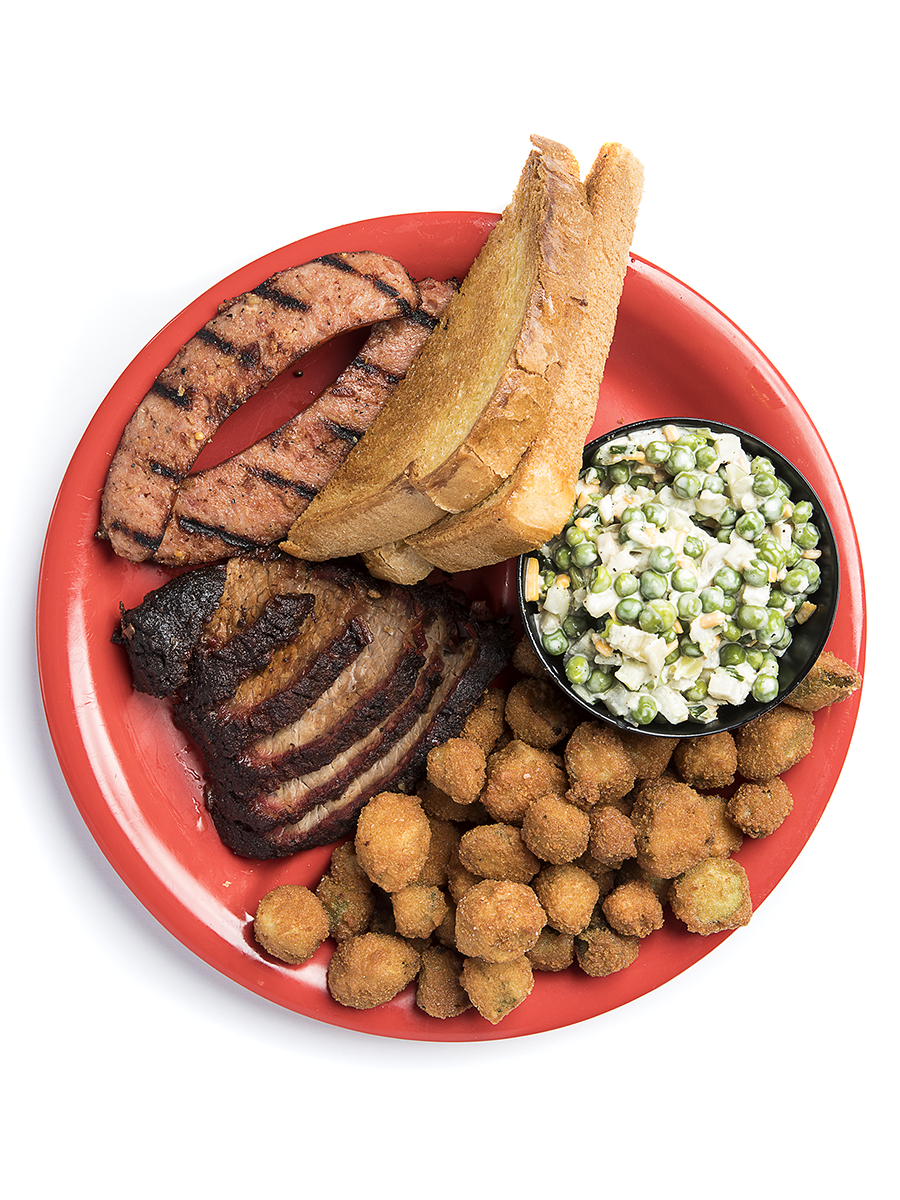 Photos by Brandon Alms (Left) Hot, flaky, gooey and sweet—the fried apple pie is all the things dessert should be. (Right) Two Meat Platter with beef brisket and hot links served with sides of fried okra and pea salad.
After that, the three of us split a two meat platter with beef brisket and hot links—plus sides of fried okra and pea salad. The brisket was hands-down my favorite part of the platter. The meat was so tender it fell apart under my fork and melted in my mouth. The hot link was a close second, and it had a hint of spice that was just right for me and Oliver but too much for Eloise. We also ordered The Mile High sandwich to take home to my husband, Eli. This sandwich was quite the monstrosity. A huge ciabatta roll just barely holds the ingredients in: beef brisket, pulled pork, peppered bacon, American cheese, tomato, lettuce, two truly enormous battered onion rings and sticky barbecue sauce. It stood so tall, no human being could possibly get their mouth around it without squishing the heck out of it. But that was okay with us. We aren't above using a fork on a sandwich! If you're brave enough to lift the whole thing up to bite it, be prepared with a pile of napkins on the side.
We rounded out the meal with dessert: a piping hot fried pie. Heady offers a handful of flavors, but we went with apple. The gooey filling was so sweet, and it was full of cinnamon flavor. After a trip through the frying oil, the crust is flaky and so tender it falls apart. It was the perfect indulgent ending to a super-indulgent meal. And the ride home was a lot less eventful. With full bellies, the kids napped and didn't screech for a single solitary cracker.


---
Six Tasty Ways to Blow Your Diet

1. Order ice cream with your fried pie. The creamy, cool scoops melting into the warm pie are to die for.
2. Related to No. 1: Don't share your fried pie.
3. Get everything except the kitchen sink served in a hot cast-iron skillet with the Skillet Style BBQ. You get cornbread, baked beans and all the meats and toppings from the over-the-top sandwich of your choice.
4. Combine the wonderful worlds of grilled cheese and barbecue with The Sammy: a Parmesan-encrusted melt on Texas Toast with three gooey cheeses encasing your choice of meat and veggies.
5. Pretend you're poolside with a Summer Breeze cocktail that's made with refreshing watermelon-lime juice. Oh, and vodka.
6. Get your protein with a side of baked carbs with the Loaded BBQ Spud—a big baked potato topped with heaps of meat, beans and more.