Dishes
Easy, Meaty Potato Soup
This month's reader recipe is a potato soup that's oh-so-quick to prepare.
Photo by Kevin O'Riley
Jan 2013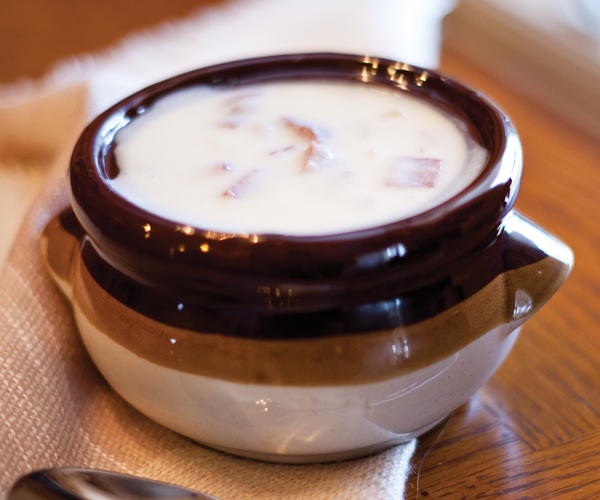 Change up the traditional potato soup with instant mashed potatoes, kielbasa and summer sausage.


We asked readers to submit their favorite soup recipes that warm them up on cold winter days. The winning recipe is a potato soup that includes some unlikely ingredients. It was created by Kristy Horton, who says she added kielbasa and summer sausage to please the meat-loving members of her household. They replace the more traditional bacon that's often found in potato soup, and Horton says they make the soup extra heavy and filling. But that's not the only thing that makes this simple recipe a little bit unusual. Horton also uses instant mashed potatoes to thicken the soup. It saves on potato-cooking time and adds a creamy texture that's a little different than the potato soup you might be used to. When you're chilly cold and looking for a warming, filling and easy dinner, give Horton's potato soup recipe a try.
Ingredients
1 medium yellow onion, diced
1 small baking potato, diced
1 can sliced mushrooms, drained
2 tablespoons butter
6 cups milk
1 - 2 cups intant mashed potatos
1/2 log of summer sausage, diced
1 kielbasa sausage, diced
Salt and pepper to taste


Recipe
1. Melt butter in soup pot. 
2. Saute onions. When almost translucent and tender, add diced potato, mushrooms and meat.
3. Saute for a coupe of minutes, then add milk. Stirring slowly, bring to a boil.
4. Slowly add an instant mashed potatoes stirring constantly. Turn heat down, and continue stirring until thickened. You can reduce the instant mashed potatoes so the soup is as thick as you like it.