Reviews
Florentina's Springfield MO Review
The Italian restaurant that offers everything from family-style pasta to brick-oven pizzas is a tasty and affordable dinner out, and now it has locations in both Branson and Springfield.
By Katie Pollock Estes
Jan 2014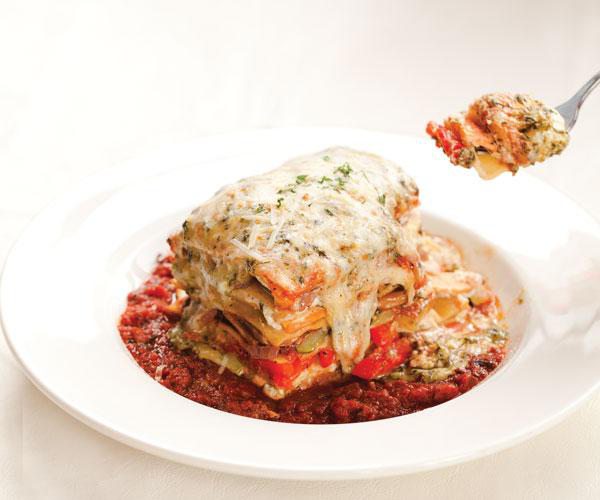 Florentina's Ristorante Italiano
900 E. Battlefield, Suite 140, Springfield, 417-883-5678
Open Sun.–Thu., 11 a.m.–10 p.m.; Fri.–Sat., 11 a.m.–11 p.m. $$, 
It had been a few years since my husband, Eli, and I had eaten at Florentina's Ristorante Italiano in Branson, and we were long overdue to revisit the spot—especially since the Springfield location had been open much closer to home for a while. On a Thursday evening, we bundled up and headed to the spacious eatery on Battlefield. The dining room was filling up quickly when we sat down with our menus.

ITALIAN FLAVORS: The house salad at Florentina's is topped with pimentos, onions and artichoke hearts. 


Our server brought out a warm loaf of crusty Italian bread and some olive oil and Italian seasonings drizzled with balsamic vinegar for dipping. After we dug in to the bread, we ordered some side salads to start our meal. Eli opted for the house salad topped with pimentos, onions and zesty artichoke hearts tossed in an Italian vinaigrette. I decided to try the Caesar salad with crisp romaine that's tossed in Caesar dressing and topped with Parmesan cheese and crunchy croutons. It was a tasty starter before my entrée: the seasonal chianti beef short rib ravioli. It's not a regular menu item, but it looked too tasty to pass up. Large half-moon shaped ravioli were stuffed with slowly braised beef short rib meat, a chianti reduction and both Parmesan and Romano cheeses. It was all topped with a marsala wine sauce and served with a side of crispy rosemary roasted potatoes and fresh green beans. Although the sauce was a little on the sweet side, I loved the super-tender beef filling and the perfectly cooked green beans. 
For his entrée, Eli opted for the Lasagna Giardino. It's a veggie lasagna that's just as hearty and flavorful as any meaty version we've tried. It's layered with grilled peppers, zucchini, red onions, mushrooms, sweet potatoes (Eli's favorite part), spinach and plenty of gooey, stretchy cheese. On top was a combo of marinara and a creamy basil pesto sauce. I stole more than one bite, and it was much tastier than some of the ho-hum vegetable lasagnas we've had in the past. The marinara added a little acidic zip to the creamier sauce.
We decided to take advantage of our baby's contentedness (a quality he doesn't always have at restaurants) and order a dessert. We couldn't pass up the cheesecake mezzaluna for something a little bit different. Graham cracker breaded ravioli are stuffed with your choice of filling and then fried and served warm. We chose the New York Cheesecake filling, which came with a drizzle of raspberry puree and sweet whipped cream. The ravioli came to the table steaming hot, and they smelled exactly like funnel cake. But after one bite, the warm filling's cheesecake tang and raspberry accent brought the funnel cake comparison to an end. Although they were super-heavy (share them with the table because you'll only want one), they were a tasty ending to a flavorful meal.