Life
Prairie Mountain Screening in Lockwood Goes National
One local couple has taken their business from Lockwood all the way to the edges of the country in a national success story that started right in 417-land.
By Kelsey Berry
Jan 2014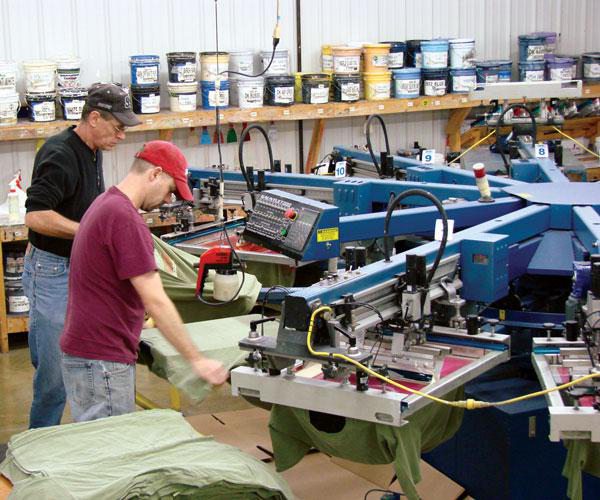 From the Smithsonian, the Statue of Liberty and the Grand Canyon to Alaska, Yellowstone and the Kennedy Space Center—this locally operated business has expanded its reach.
Prairie Mountain Screening has been printing and embroidering sportswear for national parks and vacation spots all around the country since 1980. Husband and wife team Mike and Renee Galer are the hardworking faces behind the operation, but they haven't always owned their own screening company. "Originally we printed for our (retail) store in Estes Park, Colorado," Renee says. "We had a friend in Colorado who drew up all our designs, and a lady located in Springfield, Missouri, printed them for us."
Eventually the Galers opened Prairie Mountain Screening in Lockwood and sold the retail store three years later. Prairie Mountain started off with just three employees. Today it has expanded to 10 salesmen nationwide and 75 local employees, many of whom have been with the company for more than 20 years.
The screen printing company offers a range of designs and specials. Renee says the stackers (two or three shirts banded together) and cap-and-tee combos are their most popular items. "Prairie Mountain is a price-conscious company," Renee says. "We offer competitive pricing, good quality shirts and great artwork."
The Galers have worked in countless locations across the country and have sold prints for a number of events including John Glenn's last shuttle launch in 1998. "Every location is an extremely interesting place with its own history and unique character," Renee says. "This can be a very educational experience to learn all the details of the areas you sell."
Prairie Mountain is a wholesale operation, so retail customers can't shop there, but the Galers recently opened an outlet store located in Lockwood, and they say their hopes for the company's future are high.
"The resort and souvenir business has shown amazing resilience to the recent economic problems in our country," Renee says. "Foreign travel and a change in travel patterns in the United States have kept businesses going. This has not been an easy change for us or our customers, but it has kept people going."
For more information about Prairie Mountain Screening, check them out online at prairiemountain.net, or visit the outlet store located at 713 Main St., Lockwood.