Reviews
Great American Taco Company Review
Springfield Gourmet Taco Company takes our favorite finger food—the taco—to a new level with a menu that ups the ante on what a taco should taste like.
By Dylan Whitaker
Jan 2014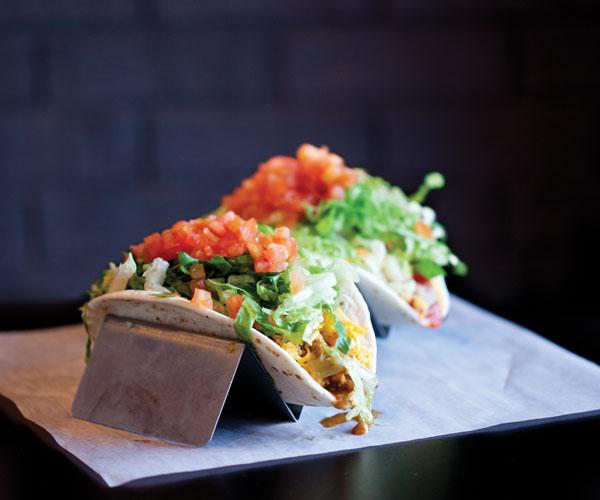 Great American Taco Company
2915 E Battlefield Rd, 417-315-8745
greatamericantaco.com

I have always been told I have a big mouth, but last week for the first time ever, I had a taco that I had to eat with a fork and a knife. The tacos at Great American Taco Company are big, as in after one I was ready to throw in the towel.
Associate Publisher Logan Aguirre and I dropped in to the Taco Company in need of a quick lunch since it's right down the street from our office. We started with Ozarks-style guacamole, which came with a mashed avocado mixed with cream cheese and bacon and topped with a deep-fried jalapeño popper. It was delicious to say the least.
Our server advised that one taco each would fill us up. I thought to myself, how big are these tacos? I can eat three to six tacos in my sleep. I wasn't really hungry, but I ignorantly ordered two tacos anyway.
I picked the Christmas chicken taco ($4) and the cheeseburger taco ($4), and out of the six shells to choose from, I went with a soft flour shell for both. You can choose a blue-corn hard shell, a flour hard or soft shell, a corn soft shell, jalapeño bread or a lettuce wrap, or for $1 you can get your ingredients stuffed into an avocado. 
The colorful Christmas taco came loaded with super-tender bits of chicken drizzled with spicy red and green chili sauces, and it was finished with finely shredded smoked cheddar cheese and fresh lettuce. 
The cheeseburger taco was chock-full of seasoned ground beef, caramelized onion and nacho cheese and was piled high with smoked cheddar cheese and shredded lettuce, then drizzled with a spicy jalapeño ketchup. I really liked the flour shell. It was thick and chewy and strong enough to hold all the delicious filling. 
Both tacos were huge. It was a three-step process to get my first bite. First, I held the taco with two hands to keep the tasty treats enclosed. Second, I pressed the sides of the taco together to create a manageable bite. And third, I did a little shimmy shake with the taco to get it into my mouth. My hard work paid off, and I was rewarded with a tasty lunch. But after the Christmas chicken taco, I only managed two bites of my cheeseburger taco and had to box it up to take home. Next time, I will listen to the server.