Reviews
5 Best Happy Hour Bites
It's the wind down to the day and the start of a good night—it's happy hour. The Queen City and its friendly neighbors offer menus featuring tiny meals and hearty deals that will pair perfectly with your favorite drink and after-work banter.
By Peyson Shields | Photo by Kevin O'Riley
Jan 2016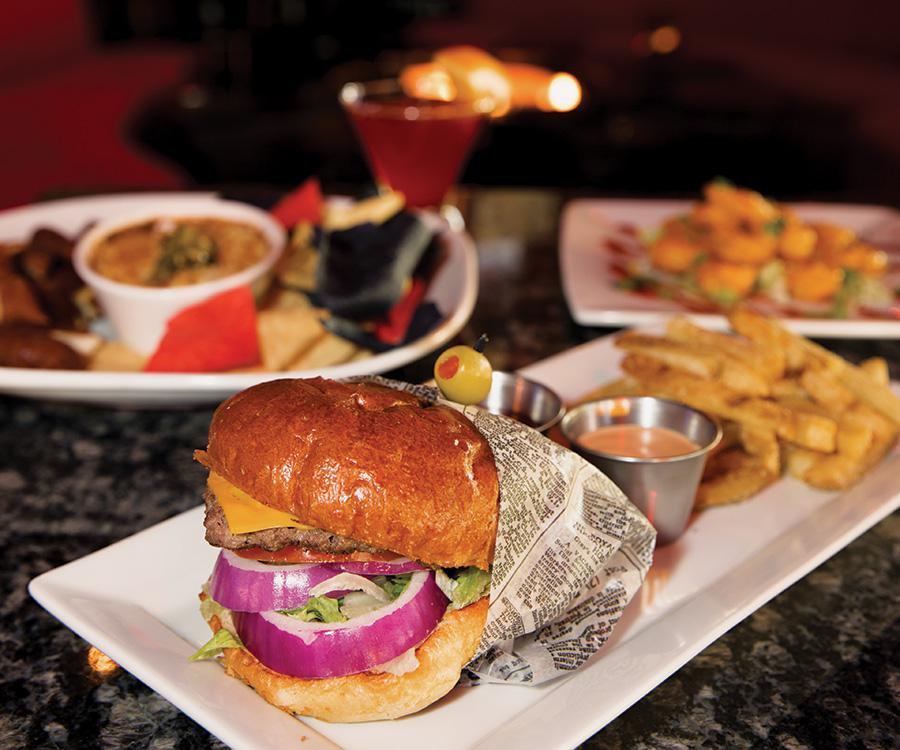 1. 

Parlor 88 Lounge & Eatery
HAPPY HOUR: Monday–Saturday, 3–7 p.m.; 1111 E. Republic Rd., Springfield; 417-882-8882, parlor88.com
WHY WE LOVE IT: This hip joint takes happy hour to the light dinner level with $7 appetizers. Grub Grande Nachos and Boom Boom Shrimp are just a few of the hearty shareables to lick your fingers about, as well as $2 off burgers on Wednesdays.
DON'T MISS IT: Jalapeño Popper Dip ($7) with three cheeses, candied jalapeños and soft pretzels 
2. Cafe Cusco
HAPPY HOUR: Sunday–Thursday, 3–5:30 p.m.; 234 E. Commercial St., Springfield; 417-868-8088, cafecusco.com
WHY WE LOVE IT: This Peruvian find is serving up flavorful dishes with the Andes Mountains in mind. We love the happy hour menu because it's full of unique items, like $1 leche de tigre (spicy shrimp shots) and $4 fried guacamole.
DON'T MISS IT: Two Tequenos ($2) featuring cheese wrapped in empanada dough and fried 
3.

 Crabby's Seafood Bar and Grill 
HAPPY HOUR: Monday–Friday, 4–7 p.m. and Saturday–Sunday 11 a.m–7 p.m.; 815 W. 7th St., Joplin; 417-206-3474, crabbysjoplin.com
WHY WE LOVE IT: We promise you won't be crabby once you leave this restaurant. Beyond drink specials, happy hour items are $5 to 7. Their shrimp and grits with bacon and a creole barbecue sauce will make you think you took a trip down south.
DON'T MISS IT: Pork Belly Tacos ($7) with crispy wonton shells, miso lime slaw and Thai aioli 
4. Farmer's Gastropub 
HAPPY HOUR: Monday–Friday, 3-6 p.m.; 2620 S. Glenstone Ave., Springfield; 417-864-6994, farmersgastropub.com
WHY WE LOVE IT: Under new ownership and dressed with a refined menu, happy hour has never looked better here. Specials ranging from $3 to $6 feature a craft beer of the week, sausage rolls made with Circle B Ranch ground pork and crispy triple-fried potatoes.
DON'T MISS IT: Mango chutney stuffed bacon-wrapped dates ($4 for seven)
5.

 Touch Restaurant and Lounge 
HAPPY HOUR: Monday–Thursday, 4–7 p.m.; 1620 E. Republic Rd., Springfield; 417-823-8383, touch-restaurant.com
WHY WE LOVE IT: The bacon-wrapped dates are to die for. The menu features several items ranging up to $4. We love their $3 mushroom taco stuffed full of sauteed baby portobellos, because it's a light and filling way to do Happy Hour.
DON'T MISS IT: Mediterranean Dip ($4) with feta, yogurt, charmoula, hummus and warm pita chips